The Mid-Autumn Festival is here again for 2010 and it falls on Wednesday, 22nd September 2010..
Other than have a blessed family reunion dinner, it's also the time to exchange boxes of mooncakes again and mind you, it's hell of a price this year..
According to a friend's mother who bakes mooncake almost every year, the price of lotus seed to make the lotus paste has gone up from about RM13 (2009) to RM30++ (2010) per kg..
So indirectly it affects the market price of the boxes of mooncakes as well..My family doesn't really has the formality to buy mooncakes so it doesn't really affect us..
But of course, it's a way to show our sincerity in any way to give someone close to our family a box or two..
I'm not quite a BIG fan of mooncake so it's alright if I don't eat it for a year or so, but of course I don't mind to have few slices if there is any
Well one must be thinking hard how to celebrate on that very day or any day close to the actual date..
You can always invite your friends and extended family to have a small gathering at your place and play lantern together..
Other than old fashioned-kiddo lantern-playing, as grown-ups we can also do it the Chinese style, gambling, but moderately..Don't get addicted to it, it's hazardous..

*Some old pictures from 2008*
If you are old enough to have kids, celebrate with them and teach them those Chinese customs that we have and we must cherish them in this modern day..
All these customs and traditions might be forgotten if one doesn't remember their own roots and when the world is becoming more technology dependent..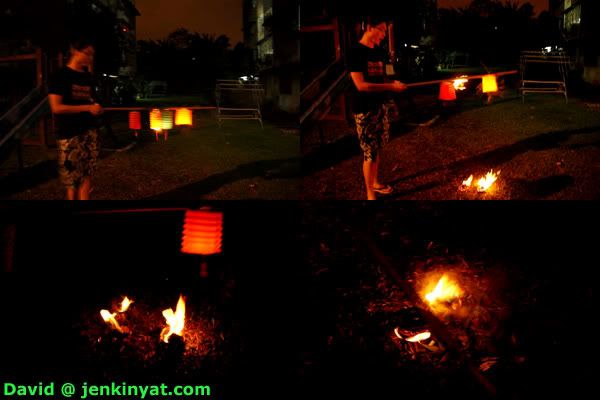 *Taken from 2008 pictures*
Well of course, if you were to play old school lanterns which require candles and paper-made lanterns, do play with caution, else you might end up with burning lanterns..
Check out what I did with my friends back in 2008, celebrating Mid-Autumn Festival the DGMB style..

*Pandan mooncake*
Plan well, celebrate well, and hope you will celebrate again in the next many coming years..
Happy Mid-Autumn Festival to you..Happy Mooncake Festival to you..Happy Tanglung Festival to you..Happy Whatever-You-Know-What Day to you