I'm still in CNY mood now but I have yet to receive photos from my friend's cam..So yeah, I have to turn back time and update my blog on some old stuff..
After all, it's my journal and it's my record..I can write anything and whatever at anytime..But of course, I want those photos from my friend's cam badly
Well, a little bit of recap..We had a joint celebration of Aaron's birthday and 2008 New Year's Eve celebration at Duta Vista, in Jalan Duta..
It's a time sharing service apartment so it's quite a private place to hang out with your group of friends..
We played games and all where you can check them out in Part 1, 2, and 3..
At about 2am or so, some people got tipsied and some had to leave because it's getting late or whatever..
Then the 2 special surprise guests arrived, Earl Ku and Wan Shen..
As expected, with the presence of Earl Ku, things would'nt turn out to be simple and easy..Things got kinky and a bit nasty..
So to make the drinking game more challenging and nasty, we played truth or dare..
Photos thanks to David..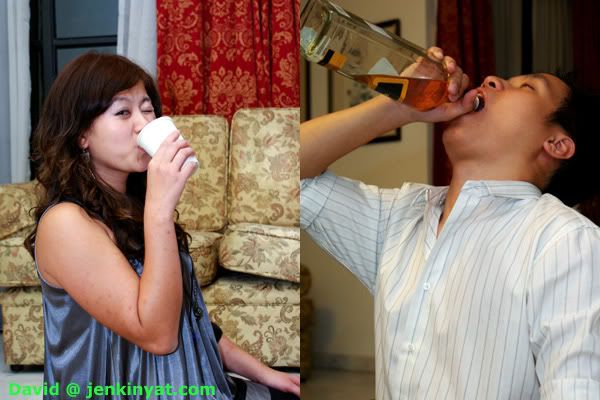 *Wan Shen and birthday boy downing the Black Label*
Aaron was being dared to down the Black Label for 5 seconds and he did it more than that, like about 7 seconds..You're da man..

*Aaron get kissed by Wan Shen and Earl Ku with the porn*
Then we dared Wan Shen to give Aaron a peck on the cheek..
Then we were running out of ideas, we just dared Earl Ku to carry the laptop around, with porn being shown, put it beside the ear of those people who were sleeping..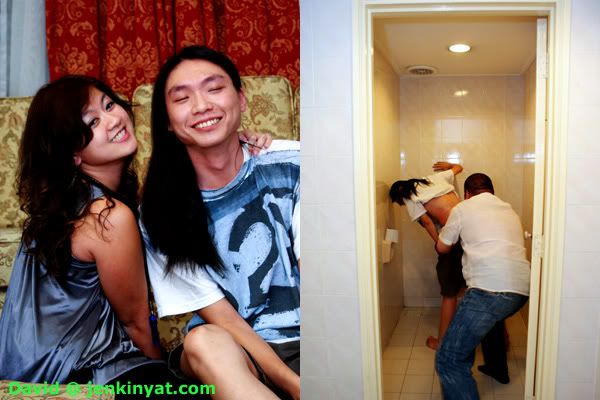 *I'm forced to let off my hair to be a girl and ambush by Earl Ku when I am pee-ing*
Being a bit tipsy, I was forced to let off my hair and pretended like a girl just for the sake of taking this photo wtf..
Then when I was in the toilet wee wee-ing, I definitely locked the door and god knows why, the lock is spoilt..
Earl Ku was able to unlock it without effort and pulled my pants down while I was wee wee-ing..
Check out the video of Wan Shen taking off her bra, Joshua drawing out the shape of his dick, and more of the aftermath..