The Uniqlo (pronounced as yu-ni-ku-ro) fever has been exciting, thrilling, overwhelming, and some said overrated..
Overrated or not, the marketing strategy has proved its success and people queued up to enter the newly opened first Uniqlo outlet in Malaysia at Fahrenheit 88 (formerly KL Plaza)..
Like it or not, every time a new brand is in KL there's always a wave of people queuing up for it, be it Uniqlo, Cotton On, Krispy Kreme, or maybe even Coach..This is just Malaysia..
After all, the Flanel Check Shirts are cheaper by 30%-40% (at original price) as compared to Topman's check shirts so you can't be blaming people flocking Uniqlo every now and then..
So you can't be saying it's overrated or it's not worth the queue (I didn't queue though) or whatever other reasons you have..
Why so? Keep on reading and you'll know why the queue was humongous over the weekend..
Since it's opening on 4th of November 2010, the crowd has been awesome, my sis, Daphne and I paid Uniqlo a visit today (Tuesday) at about 3.30pm..
By the way, all photos taken by BlackBerry Torch 9800
The crowd wasn't as packed from what I see in photos during the weekend but still quite a lot of people, for a weekday that is..
Upon entry, there's a so-called "Cash Voucher Validation Counter" waiting for you if you are planning to use the vouchers you have won on go-uniqlo.com..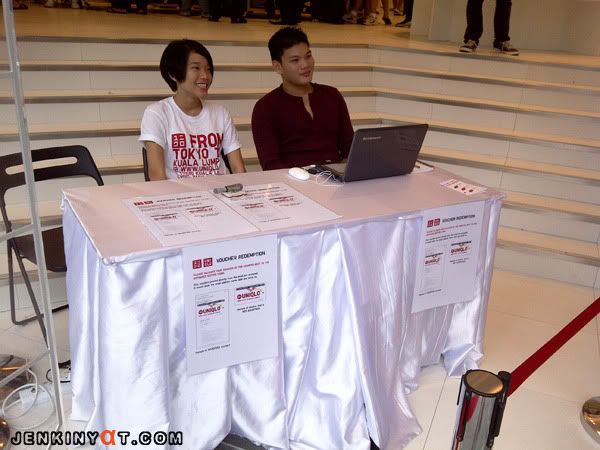 *The voucher validation counter*
Well I'm not sure how the whole voucher thingy works on its opening day (4th Nov) or during the past weekend but THIS is how it works from now..
I believe this counter is to speed up the cash flow at the cashier counter so they don't have to validate the vouchers one by one..
Print out all of your vouchers to validate everything in one go, no hassle..
How to print out the cash voucher? EVERYTHING~!!!! Continue on!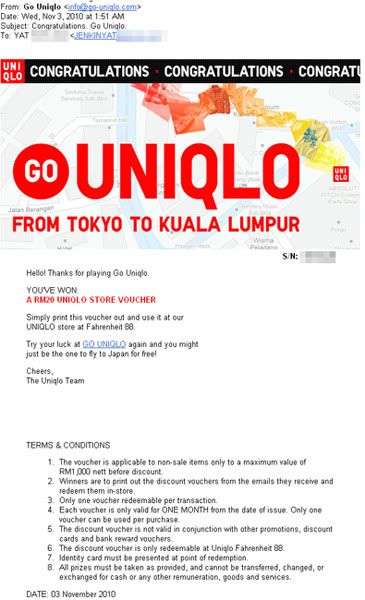 *Here a sample of my print out cash voucher*
You have to include the emails (sender and recipient), the Uniqlo image banner, the S/N code, the cash prize you have won, the T&C, the date of issue, and of course your IC for verification..
This is the correct way to get your vouchers validated..If you have print out just the Uniqlo image banner with S/N code, sorry you can't use it..
If you have printed out the whole page but left out the emails, sorry you can't use it..Yeah, I've printed out like that (without emails) and I have to print out again, for 10 freaking sheets!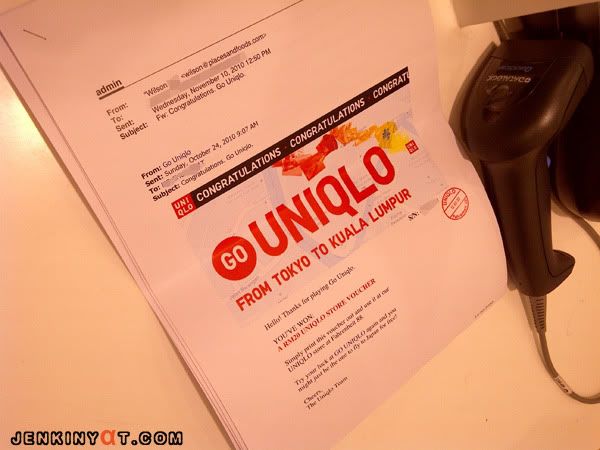 *A red stamp upon validation on the bottm right of the Uniqlo banner*
After you vouchers have been validated, they will stamp a red thingy on your printout vouchers like what you see in the photo..
It's also CONFIRMED that you can use the cash vouchers for all promo items as for now..Means whatever price you see on the apparels, you can still deduct it with your cash vouchers, but it's 1 cash voucher per transaction (or apparel), depending on how you wan to spend your money, that is..
Promo items :
Mickey Mouse T-shirts = RM24.90..After RM20 voucher deduction, it's Rm4.90..
Anime T-shirts a.k.a UT = RM29.90..After RM20 deduction, it's RM9.90..
Selected Uniqlo Jeans a.k.a UJ = RM49.90..After RM20 deduction, it's RM29.90..
And many other items as as well..Hence the result of long big queues over the weekend..
So choose all the apparels you want with however many vouchers you have, head to the counter, the cashier will help segregate the vouchers for each apparel you have..
Meaning, you might have one receipt for each apparel you bought..In that case, that receipt is not applicable for Fahrenheit's FREE parking promo..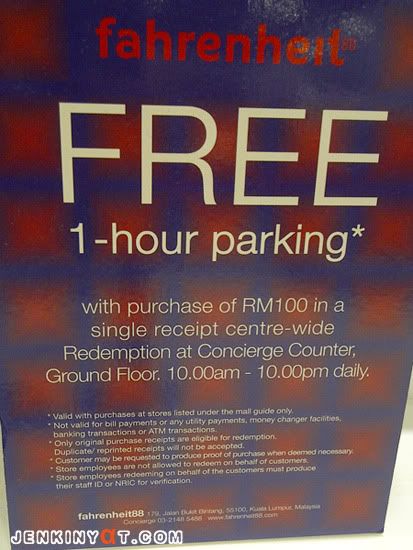 *FREE 1-hour parking*
Purchase up to RM100 in a single receipt and redeem FREE 1-hour parking at Fahrenheit 88..
The parking rate at Fahrenheit 88 is RM3 for first hour and RM2 for subsequent hour, and RM15 max..
So that's a so-called tutorial on how to print/use your Uniqlo cash vouchers
By the way, the time I got there, there aren't much of anime T-shirts left..At least I didn't see any Eva, Ghost In The Shell, or One Piece (if there is any)..
What's left is just Mickey Mouse, Galaxy Express 999, Dragon Ball, and some other random animated printings..
Other non-promo items worth checking out are the Men's Oxford Shirts (RM99.90), Men's Flanel Check Shirts (RM99.90), Men's Formal Jackets a.k.a blazers (RM349-RM799), Men's Fine Cotton Shirts (RM129), and some Men's Check Pants (RM129-RM169)..
Fleece Jackets are quite awesome too..The bulu-bulu feels good and it's not THAT hot when you put on it..
So that's all from me about Uniqlo KL, Malaysia and Fahrenheit 88..