After a wholesome dinner and some crappy havoc we did inside, we invaded the playground and literally scared some kids away..LOL~!!
And actually the equipments at the playground is not for ordinary kids..Us, grown up "kids" can't even take it..It's too dangerously to stay healthy wtf..
Well at least this so-called high cost housing area has a playground, instead of promoting tech gadgets like PSP, Nintendo DS Lite, and motorized bicycle..
Photos credit to David and Aaron..

*The playground*

*Merry Go Round*
First, we tried the Merry-Go-Round..It is a very dangerous equipment and please don't do as what you see from the pic..
All actions were done by professionals with proper trainings wtf..

*Swing, swing, swing*
This is no ordinary old school 2-metal-chains-hanging-a-metal/plank-and-swing-front-and-back swing..
The chains are centralized so that the seat/swing can be swung in any other direction..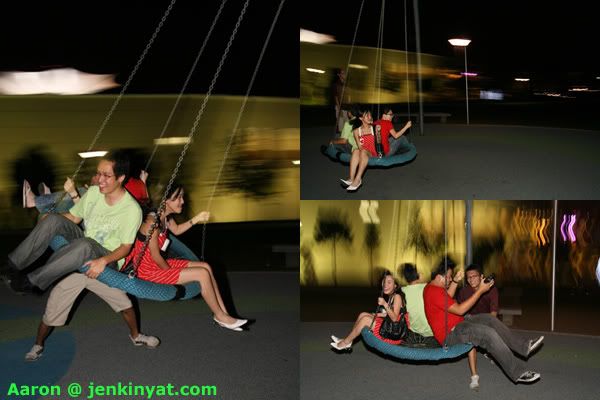 *Wheeeeeeeeeee~~~*
More extreme games from the modern playground..Don't play play, not literally..

*Roller*
Then, they tried out the roller..Okay I called it the roller coz it rolls from left to right to left to right and keeps going on and on and on..
It wont's stop until your legs and hips are tired..Simply say, until you want to stop wtf..LOL

*Kelli, Nigel, and Pamsong take on the challenge*

*Stanley seems to be having fun with it*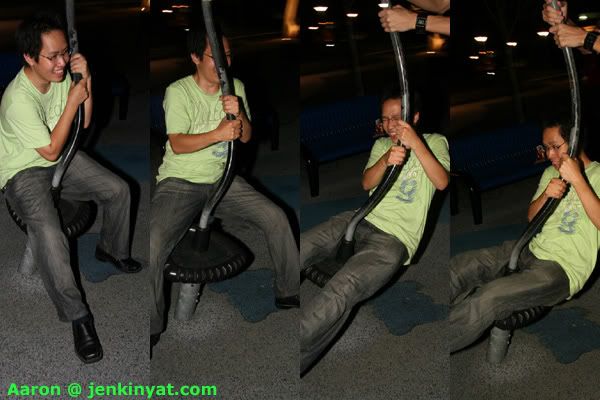 *Aaron trying the single pole whatever shit*
The combination photos show how Aaron failed his pole-dancing attempt..
He should either start paying tuition fees to master his pole dancing skills, or he can just save the money for more big ass camera lens =P

*The mind twister*
I call this the mind twister coz you will twist and turn non-stop til you get dizzy wtf..

*Pamsong the challenger*

*Nigel and Dillon the conqueror*
This proves that the guys can handle twists better than girls wtf..I also don't know what I'm trying to say..LOL~!!
But hell yeah..I think you can burn tonnes of calories by playing these games every single day..
After the body sweating cum tiring activities at night *cough cough*, we proceeded with our Secret Santa plan before the lights went off at 12-midnight sharp..

*The people and their gifts*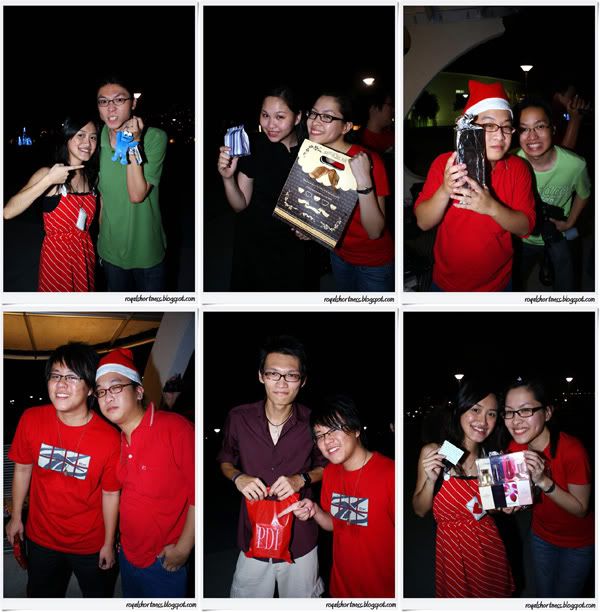 *The givers and receivers*
Everyone seemed to be happy with their gifts especially the chocolate sent all the way from UK by Amy..
Well, it was a fun-filled night with some calories burnt after the sinful dinner wtf..Michelle, Hsu Jen and I actually skipped most of it coz too dangerous wtf..LOL~!!
So we decided to leave the playground as it was getting dark coz the lights will go off at 12-midnight sharp..
But then, something caught our attention..The big ass spotlights shining on the wall..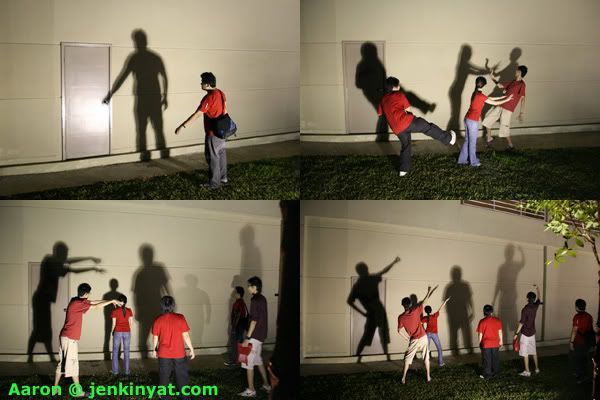 *This is how it started*
Top left, Nigel played with the shadow by trying to open the door knob..
Top right, Pamsong joined the fun with Thomas, while Joshua kicking her ass from behind..
In the end Joshua and Stanley couldn't stand it anymore and their shadows took part in it too..

*Grown up people*
Well, grown up people like us are bound to be kiddy once in a while where there's still a tiny bit of kids DNA/hormone in a little corner in our body wtf..
It was a fun outing after so long..Everyone was busy with their own stuffs and didn't get to meet up every once in a while..

*Good bye Desa Park City*
Days like Christmas or birthday celebration is always the best reason or excuse to give yourself some free time and start to meet up with your love ones or close friends..
Here I'll wish you all a merry Christmas and a joyous holiday..