GATHERING FUUUUUUUUUUUUUUUU~!!! *raise hands up in the air and profusely shaking crotch*
At last, it's the bloggers gathering entry from me..It's a nice gathering on Friday, 23rd of November 2007, a pilot project by Princess Eileen and Evie..
Although it's kinda weird looking at these people shooting here and there with their Don't-Shoot-Like-Rifles (DSLRs) and flashing here and there with their flash lights, I must say it's quite a successful one..
Attended by some fresh photographers and lesser known bloggers..Umm, I would much prefer it to be like this, rather than having too many well-known bloggers in it..
Just a few will do, and I guess everyone knows each other quite well because we are from the same circle..Hence, no one is left out in the gathering..So, it's better..
I've heard of most of them in the gathering coz I've mingled with that circle for quite some time in the blogosphere and due to my current job, in an advertising company..
To name out (in another word, to pimp) those bloggers who attended is quite a task coz all I know is their names and have to make some wild guess on their URLs..
Those that I already know are, Eugene, Nkwai, Huei, Fattien, and no one else..
Those that I first time meet are, Boon, Princess Eileen, Evie, Jonny, Kim Fei, Calvin, Maegen, Hung Wei, Ah Kwong, Mich, Anston, Louis, AbbyC, and Kok Fye..Sorry if I left out any because I didn't get to talk to all of them..
Anyway, I enjoyed the talks with Boon, Jonny, and Louis..We all have quite a similar interest, which I think is a bit odd compared to the others who has a DSLR in their hands..
Umm, talk no more, let's proceed to pics right away..

*These are the organisers, Evie (left) and P.Eileen*


*L>R – P.Eileen, Maegen, Jo, Louis, and Evie*


*L>R – Maegen, Evie, Calvin, Jonny, Jonny's GF*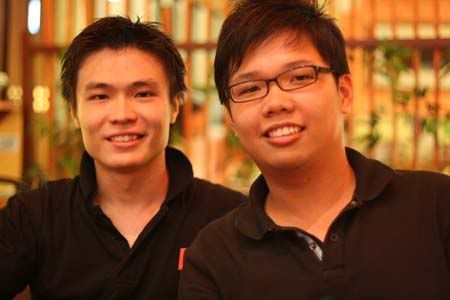 *Boon (left) and Kim Fei*


*L>R – Anston, Eugene, Joshua (I think)*


*L>R – Back>>Eugene, Fattien..Front>>HungWei, AbbyC, Ah Kwong, Mich*


*AbbyC (left) and Huei*


*Nkwai (left) and Eugene (again coz all these pics I took from him)*


*Me and my girlfriend*
All pics are courtesy of Eugene's Canon 400D..
Frankly I'm not too pleased with the way we behaved in Marche but the staff didn't seem to care..So, what the heck..
We stayed there until around 10-something 11pm, then we left to CineLeisure's Scarlet, a new clubbing joint (is it?) which is affiliated to Sanctuary..
Scarlet (I know it sounds like the lingerie undergarment brand name) was so damn packed..The crowd was okay, not bad, ranging from early 20′s to middle-age working people..
The music was okay, alternately switching from house-trance, R&B, Hip Hop, and Oldies of 70′s and 80′s Hits Remix..I guess it's something like Sanctuary, Thai Club, and Rush..
We were there until it closed at 2am..
At that time, we met Michael Song before we left Scarlet..There and then, he offered to give out free VIP tickets of TVXQ concert on Saturday night, at Stadium Merdeka, KL..
A big thank you to Michael for the free tickets but due to some reason, I'm not able to go..So I gave it to my youngest sister instead..And she went there with my dad..
In the middle of SPM-war is nice to relax a bit and shout out from your lungs to release tension..
After that we headed to Kayu Nasi Kandar at Tesco Mutiara Damansara..There Hiew joined us for the yamcha session coz he just finished his workin the midnight..
So I think that's all for the bloggers gathering entry..The next entry will be TVXQ concert thingy..