As everyone knows, the hip and happening topic about Malaysia generally, is the "Eye On Malaysia", which is the 60-meter high ferris wheel..
*The Single-Eyed Of Malaysia*
*Visit Malaysia 2007*
*Eye On My Ass*
As I heard from the media and my peers, the ferris wheel is somewhat quite a big thing nowadays..
Fireworks display for 1 whole month-long..And each session takes about 15 minutes..
Yes, you guessed it..I'm going to talk about the pros and cons of the creation and building of this hoo-hah..
And you might have guessed it again..I'm going to talk more on the cons rather than the pros..
So, where should I start.? The bill of the 'thang'.?
It costs RM30million for 1 year period..It's some kinda rental fees..And the great thing is it was built in only half a month, like, 2 weeks.?
Great, a RM30mil toy could be built in less than a month..Will it fall.?
But I guess if it falls also, it wouldn't be a problem, coz it's placed right beside the Titiwangsa Lake..
*The Wheel and the lake it is*
So if it falls onto the lake, it might spare some lives, ironically..Problem solved..What a strategic place they could think of..Bravo bravo *claps*
And additional money that the garmen have to fork out for the 1 month-long fireworks display of 15 minutes for each session.?
I don't think it will be cheap for the fireworks..Somewhere near millions of ringgit for each session.? *looking into the sky and counting fingers*
Hmm, for that tens of millions of ringgit, I don't think anyone would even care if a FEW million ringgits spilled out of the account and accidentally entered into few of the big brothers' pockets..
Well, they still need service tax, and GOVERNMENT TAX, mind you (pun intended)..
The very main purpose of this Eye On Malaysia is actually to promote our very own Visit Malaysia 2007 (VMY 2007) campaign..
By this way, the garmen is trying to woo more foreign tourist to spend their holidays in Malaysia, and most importantly to spend money in BolehLand..
Thus, foreign currency will flow-in and will increase our country's capital, coz tourists are spending their money in our Land..
But then, think again..Is there much foreigners that you could see anywhere near the ferris wheel.? I don't know coz I have yet to pay a visit to the ferris wheel..
Ok, it might be still early for us to expect tourist there, coz it's just 3-weeks old..Sorry bout that..My bad..
Hmm, as far as I'm concerned, Taman Tasik Titiwangsa is actually a lake garden right.? (duuh~)
So I don't think there's any shopping malls or complexes around that area.? Except for the nearby Tawakal Hospital and General Hospital (GH)..
I know, Sogo is just somewhere down the road at Jalan Tuanku Abdul Rahman, and Suria KLCC and Avenue K is at Jalan Ampang..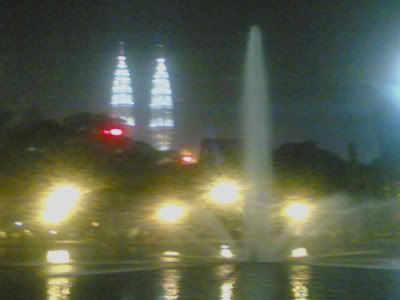 *KLCC so near.? Not quite*
These 2 are the nearest shopping complexes, which is about 5-10 minutes drive from Titiwangsa, provided the traffic is crystal clear and silk smooth..
Basically, the ferris wheel is not placed anywhere near to the city centre..This will be a hassle for tourists..
Why.? Coz there's nothing else to do at Titiwangsa other than to try out the ferris wheel..
Ok, maybe they can still pay a visit to the nearby Istana Budaya or whatsoever..But is there any event at any time all the times.? I guess not..
This actually quite a turn off for tourists, or maybe even Malaysians..Do you want to go.? At least, I won't..
Purposedly drive or take public transport to Titiwangsa, pay RM15 for a long queue under the hot sun, just for a 12-15 minutes ride to see the KL view, which actually you could do so by going to KL Tower or KLCC's hanging bridge wtf..
Not to mention taking public transport to Titiwangsa is quite a hassle too..
And now let's talk about the place and the thing itself..
From what I've heard, there were heaps of people visiting Titiwangsa around 7-10pm, which I guessed the people go there after work..
The crowd was so huge, until to find a car parking space would be a problem, not to even mention bout the traffic congestion..
*The crowd.?*
So here's another problem arise..Small space for big event, resulting in bad traffic congestion..
But then again, I guessed the big crowd is just a temporary hoo-hah, due to the fireworks display..
The crowd will gradually decrease coz there isn't anything to be at Titiwangsa anymore..
No fireworks, why bother to join the crowd and stuck in the jam.? You can go there anytime, that is when the crowd is getting lesser and lesser..
For the ferris wheel itself, people have to queue up to get onto the gondola to have a ride..
Considering the recent weather in Malaysia, heavy downpour anytime at anywhere, yet, there's no shades or covered walkways for the people to stay away from the rain..
Although it has been told that the ferris wheel will still be operating under the rain, but there's no way for the people to queue up under the rain..
Not to even mention under the hot sun..So we can assumed that there's not much visitors in the daytime, when the bright sun is hovering like an egg yolk above the sky..
Other than that, it's quite a hassle to get to the toilet/loo washroom..
The nearest washroom is somewhere on the otherside of the lake, which is about at least 10 minutes walk from the wheel..
I think that's all for my rants and something that has been boggling in my mind for quite some time..
I'm somewhat quite relief now that everything has been blurted out..Aaaaah~!! The air is so refreshing..
And oh, to get some fresh air and the bright light of the sunshine, remember to queue up for the ferris wheel at Taman Tasik Titiwangsa to get some breath-taking views..
Oops, I have forgotten that the gondolas are all sealed up and it's air-conditioned..So that's why it costs a whooping RM30mil..
Now only I know, you know, and we all know..
Naiklah Eye On Malaysia Untuk Negara~!! Malaysia Boleh~!!
*The Golden Eye*
*Or is it LOTR's Sauron's eye.?*
*Or maybe Cyclops' eye.?*
*Ooooh, it's the Eye on Malaysia wtf..LOL*
For a some nicer pics with effect, visit TV Smith's Dua Sen : Eye For An Eye..