After a chaotic wonderful booze party on Christmas' Eve, I joined another gang the next day at Michaelangelo's in Pavillion Kuala Lumpur for a Christmas Dinner cum secret Santa outing..
We did it last year at TGIF in Pavillion too..Was supposed to eat at La Bodega but it was damn packed..So we changed our route..

*The people*
Attendees were, Hikaru, Rames, Hiew, Junn, Jason, Ryan, Jed, Jen, Cherrie, Eunice, Kate, Jacklyn, Madeline, and ME..
Michaelangelo's is another Italian restaurant, serve spagetthis, pastas, pizzas, steaks, etc etc..Like any other Italian restaurant..
I would say I was surprised with the price on the menu..It's very affordable albeit its nice interior design, which I thought was a true fine dine restaurant..
Well too bad there is no food pics in this entry coz we were too hungry to take photos of the foods. We had our dinner at freaking 9pm okay..
But, I really must recommend this spagetthi that I had..I've forgotten then name as it's in Italian..I only remember the descriptions, beef, mushroom, and olive oil..
It's oh-so-yummy creamy and the portion is quite big, and creamy..The beef was damn nice and creamy..Did I say creamy?
If you want something different, try to order a pizza, I don't know the name..The description is moon-shaped pizza..That's all I remembered..LOL..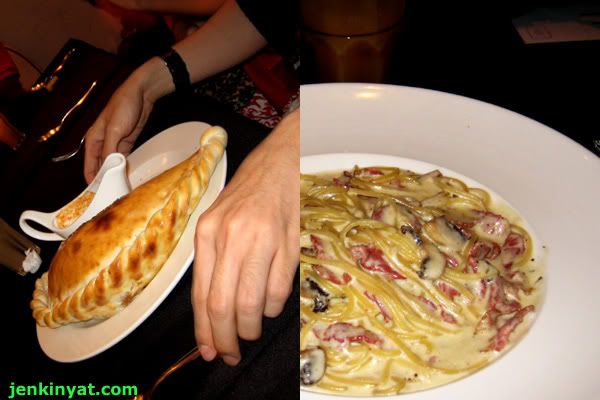 *The moon-shaped pizza and my beef spagetthi*
After eating,as usual, we did some camwhorings and all before our secret Santa thingy..Well, that's the bunch of DSLR users we have..