First of all, congratulations to Daniel and Raven once again on their lovely wedding to mark a new beginning in their life together as husband and wife..
Known Raven for 9 years since the heydays of STPM..Time flies and everyone has moved on to a new journey in their life and Raven is the first from our batch to tie the knot on 20th November 2010..
If there's a first, for sure there'll be second, third and so forth..As expected, few more from our batch would tie the knot in 2011 should everything goes as planned..
Once we were close friends, and we shall remained as close friends for as long as can be..So I wish all of you all the best and we shall see each other again in such inaugral reunion dinner..
As promised, got up pretty early (on a Sunday) and headed to Raven's house for the morning ceremony to be the unofficial photographer..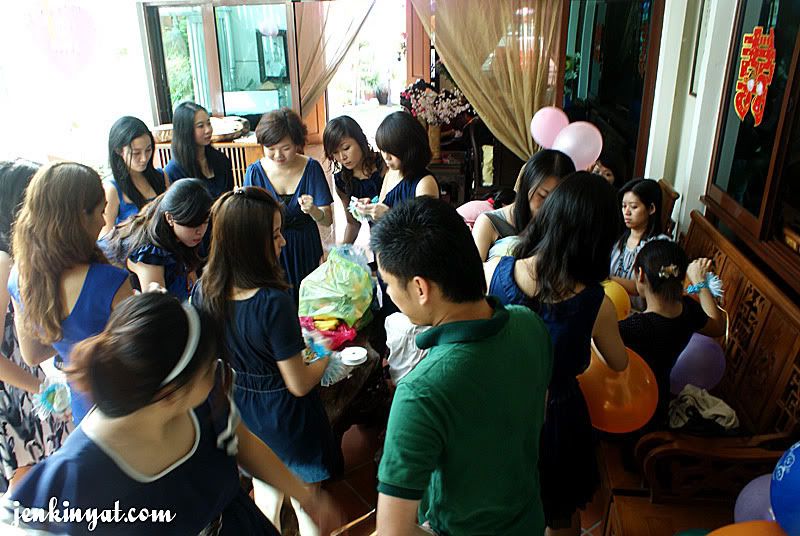 *Preparing for the games*
Here you can see all the maids of honor aka bridesmaid were busy getting their things ready because they didn't prepare it earlier!

*The Ultimate Killer Drink*
This I call it the Ultimate Killer Drink, contained Pepsi Twist, raw eggs, chilli boh, and a bit of wasabi paste..
Now here's a little story to  the games they played in that morning..
We had a little gathering at Raven's house the night before wedding, heard the plans from the one in-charge of the games, BeeYan..Few of us guys, weren't very happy with the games..
Not that they were too cruel, but they were rather too lenient..So when all of the bridesmaids have left, few of us helped alter the games a bit here and there to make it much more interesting..
The Ultimate Killer Drink was one of them..I'll continue with the games as we move on..

*The groom, Daniel*
Now, if you are an avid fan of Hong Kong TVB drama, you will definitely know who is this guy..Can be seen in Forensic Heroes 1 and 2 and many other notable drama where he's usually with the police force..
Ok just kidding..He's not that HK actor but I can tell you that Daniel is 90% looks exactly like that actor, Chou Weng Nin (or however you pronounce/spell his name), in terms of face sturcture and even his smile..

*The groom and his groomsmen*
The groom had his warriors groomsmen wore their 'uniform' ala football style, short pants, knee-length football socks and sports shoes..
Daniel had about 15 groomsmen with him that morning and I applaud to that..It's not easy to gather your best warriors to help you get Rapunzel off the tower..
So back to the games..It's understood that the games provided by the bridesmaids for the groomsmen is a symbol of support by the groomsmen to help the groom in anyway they could in order to marry the bride, or something like that..
Earlier, we were told that the elders might not like something to extreme or raunchy hence the lenient games..
We thought that marriage is a once in a lifetime thingy..So I think it's okay to have some fun which is not too extreme just for the sake of a lovely event on a lovely day..
First off, we have this..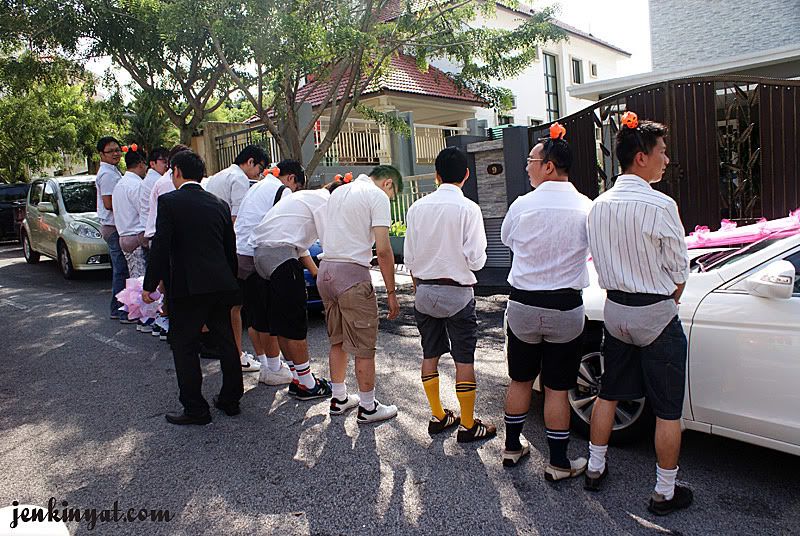 *Groomsmen in ugly briefs*
I know this is normal but it wasn't even in the initial plan! Wicked I know..I had it on for Wilson's wedding and now I'm on the audience's side for something funny and interesting..
Then we had the groom to use a marker pen to write "Daniel <3 Raven" on the butts of his warriors by using his mouth..
Then we got them to kiss each other wtf..
Much more raunchy stuff after we've consulted the bridesmaids..