HAPPY BIRTHDAY TO NICHOLAS FUUUUUUUUUUUUUUUU~!!!! *raise hands up in the air and profusely shaking crotch*
Well, another Nuffie's birthday and it was quite a wicked plan..It was Christmas' Eve, 24th of December 2008, where it was quite a tradition for Nuffnang to work somewhat half day..
Then the Boss have a plan in mind, to throw Nicholas a surprise birthday party..Not really the exact date though..His is on 28th of December..
The whole office had MSN conference without him knowing it, despite sitting beside Pinky with the monitor facing him..LOL~!!
During our conversations, everyone was like held themselves from laughing because the conference was a bit spammish rather than a master plan to topple Chee Ching's surprise birthday celebration, masterminded by Nicholas..
We waited for the Boss' signal and we went starving coz it's 2pm and we haven't have our lunch yet..And the Redbox reservation was at 3pm-6pm..
So Boss dragged Nicholas to Pavillion and tricked him that they need to search for a Xmas gift for KY's Xmas' Eve Party later on that night..
They walked and walked and walked and I'm not sure whether they bought anything or not..
But we had a bad experience with Pavillion's Redbox Plus..We reserved our room at 3pm for check-in, yet we were still waiting in the waiting corner at freaking 3.15pm..

*The whole commotion, from waiting to makan coz starving*
We complained this and that and in the end they only let us in around 3.30pm..Then I texted Boss says we got the room and cake readied..
Then, there comes the birthday boy..Okay, the video is a bit dark..Set your monitor brightness to higher specs or something..
[youtube=http://www.youtube.com/watch?v=_74rdeyfCfc]
So yeah, our plan went off very well..Muahahaha *devilish laughs*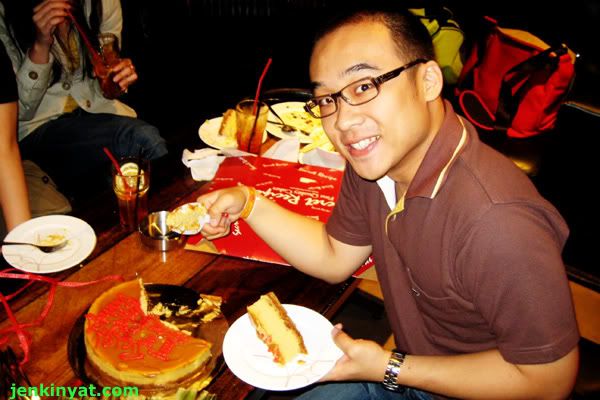 *Birthday boy Nic-Chay*
More of the karaoke sessions..Nice~