After a wholesome dinner and some crappy havoc we did inside, we invaded the playground and literally scared some kids away..LOL~!!
And actually the equipments at the playground is not for ordinary kids..Us, grown up "kids" can't even take it..It's too dangerously to stay healthy wtf..
Well at least this so-called high cost housing area has a playground, instead of promoting tech gadgets like PSP, Nintendo DS Lite, and motorized bicycle..
Photos credit to David and Aaron..

*The playground*

*Merry Go Round*
First, we tried the Merry-Go-Round..It is a very dangerous equipment and please don't do as what you see from the pic..
All actions were done by professionals with proper trainings wtf..

*Swing, swing, swing*
This is no ordinary old school 2-metal-chains-hanging-a-metal/plank-and-swing-front-and-back swing..
The chains are centralized so that the seat/swing can be swung in any other direction..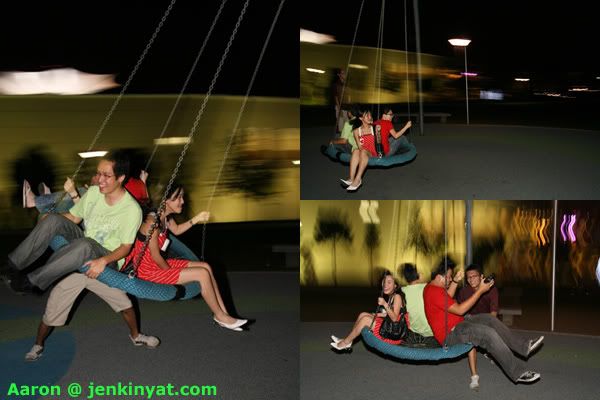 *Wheeeeeeeeeee~~~*
More extreme games from the modern playground..Don't play play, not literally..