On Tuesday, 18th of November, it was Chee Ching's 20th birthday..None of us in Nuffnang knows about it..
That was until stalker Nicholas checked on Chee Ching's profile and that's how we got to know about it, at freaking 2pm, after lunch..
So our stalker masterminded a surprise celebration for Chee Ching..Nicholas went out meeting with Yeehou and on their way back to office, they stopped by Strudels Cafe and bought a cake..
And everything was set up when Pinky gave her loads of works just to make her stay coz usually she would leave quite early as soon as her works are finished..
Then, came this part when Nicholas and Yeehou came back to office around 5.30pm..
[youtube=http://www.youtube.com/watch?v=OSFyixbyMak]
See we damn nice wtf..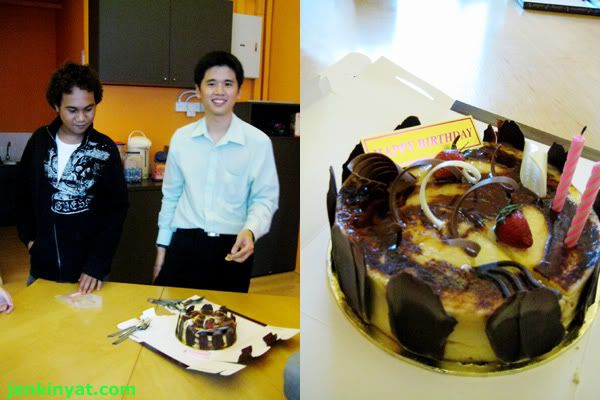 *Firdauz and Yeehou with the birthday cake*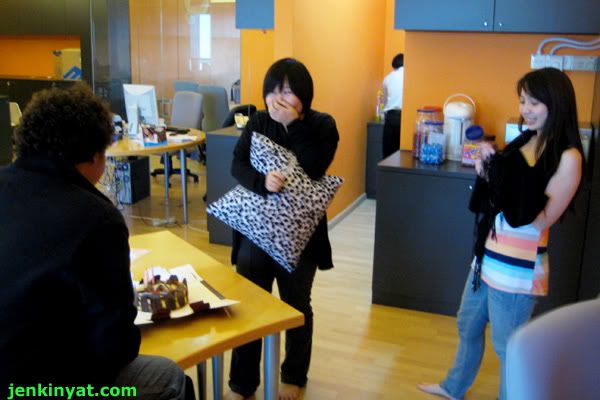 *Okay..Chee Ching is not crying in this pic*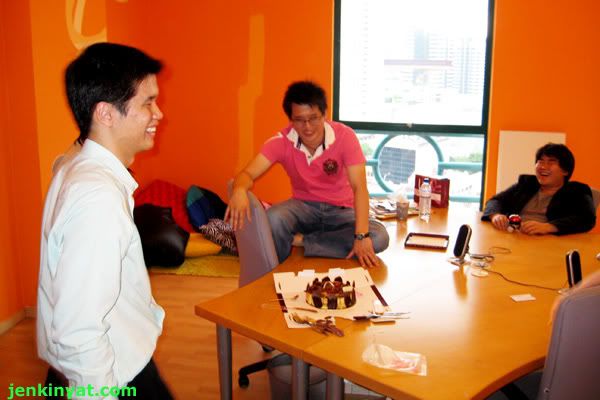 *Our boss is waiting to bash Chee Ching*

*Our bad boy Yeehou trying to bash Chee Ching, and she seems like it wtf*
Okay the bashing part I just made it up..We didn't bash her lah okay..But, we did bullied her, in a way, funny way..
Watch the video and yes, that's the working environment in Nuffnang..Stressed yet relaxing wtf..
[youtube=http://www.youtube.com/watch?v=0PTOFnsvtk0]

*Bully session finish*
After we bullied her, everyone was waiting for the cake..The cake was quite nice..But if given more time, could have got a better one..
It's not complete if we don't have a group photo..

*L>R – Raff, Nicholas, Pinky, Firdauz, Yeehou, Chee Ching, Robb, Julia, Tim, Kelvin, me*
Actually we have special privilege on our birthday for being a Nuffnang staff..Well that's for you to find out..LOL..
And from the picture above, you can see that we didn't slack off from our works..See Robb behind there? He's attending a client's phone call..
We are still doing our best to serve the community better even when we are playing wtf..
Til then, enjoy the weekend!