Last Saturday where Manchester United clashed with Liverpool, a bunch of bloggers were attending a night out with Digi at Friendster Cafe in Damansara Perdana..
Before the event started, we were given a bit of head-ups of what we are expecting from the night out gathering..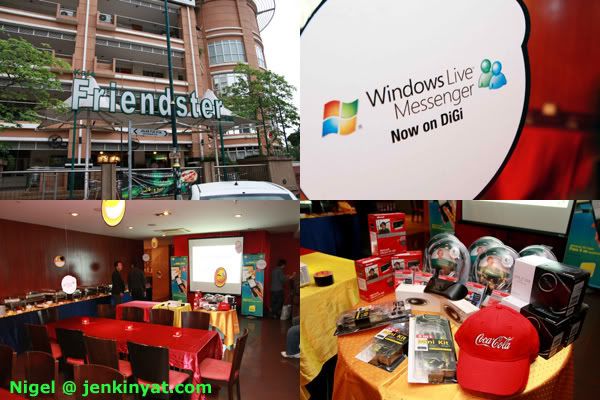 *The place, the theme, the seats, and the prizes*
Yes, it's none other than the preview of Windows Love Messenger on DiGi network..
From what you can see, dinner was provided and prizes to be won..

*DiGi's Windows Live Messenger Contact List*
All of the bloggers wrote their MSN status on the board and it definitely created the feeling of being online, even without your PC nor laptop..
That's what the whole idea about the DiGi Night Out, where you get to online everywhere, anywhere, anytime..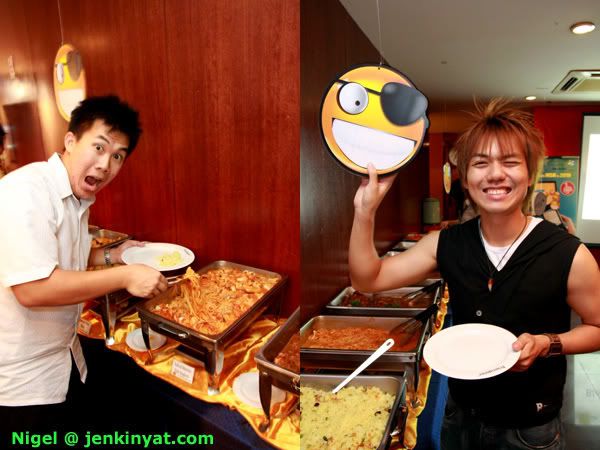 *Andrew and Robb with the emoticon*
Dinner was catered by Friendster Cafe itself and the food was awesome, especially the dory and mutton..
After the dinner, the host, Jonathan, wasted no time and went straight to the highlight of the event, that is to give us a first-hand review..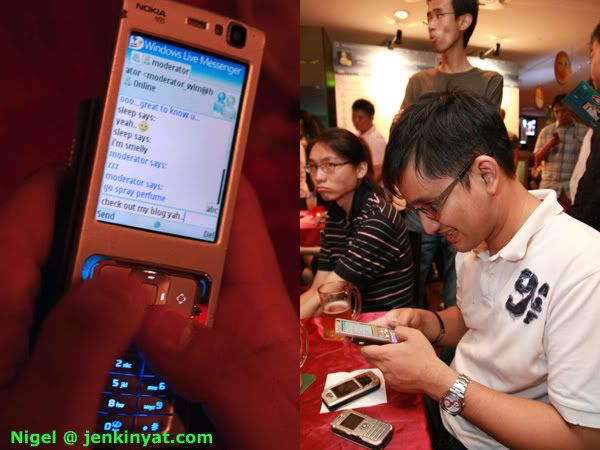 *Chatting live on the mobile phone*
Well, at first I thought that DiGi's so-called new introduction wasn't something to shout about..
The reason I had that thought is because I've been chatting online via mobile phone since 2 years ago..
All these while I've been using Mig33 and get connected via GPRS, on my old mobile phone..The charge rate isn't really that expensive..So what's so great about this new service introduced by DiGi?
Here's the turning point of my skeptical opinion upon DiGi's Windows Live Messenger service..
What I have in Mig33, is almost similar to ebuddy.com where the user interface is very simple, yet a bit problematic..
Where as DiGi's Windows Live Messenger, you can even nudge like how you usually irritate your frens with multiple nudges..
Some of them told me they felt the phone vibrated when it is being nudged..How true is that? Hmm..
Other than that, the user interface is also better than Mig33, in terms of design and functions..
Furthermore, DiGi is now doing a 2-months beta FREE trial where the promotion ends on 16th May 2009, a very significant date to me, for some other reason
From thereafter, they will charge RM3 on monthly subscription where you get to use it for unlimited usage..
How to set up Windows Live Messenger on your DiGi network..
- SMS MSN to 2016..
- Click on the WAP link to proceed with Windows Live Messenger application download..
- Click on the "Subscribe & Download" button..
- Lastly, launch the Windows Love Messenger application and key in your User ID and Password to start chatting around..
Here's the official TVC for this new service..
[youtube=http://www.youtube.com/watch?v=6jJw9blpzsE]
For more info, check out DiGi MSN in their official website..
Then we proceeded with some interactive games to break the ice..

*Debate on the MSN like nobody's business*
So Jonathan picked me and Cindy to play the so-called debate game, where we have to dispute our given personality, the Angel and Devil, respectively..
We had to make a firm stand on some relationship thingy where the Angel has to debate on how he still loves his ex-es while the Devil opposed it..
And for that, we got ourselves a 4GB Sandisk Cruzer pendrive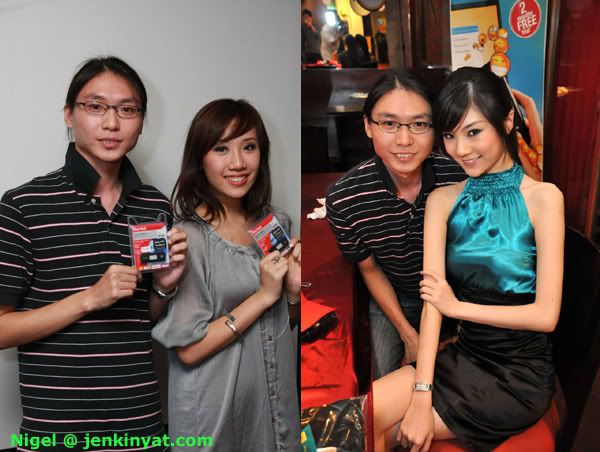 *That's me and Cindy with the prizes*
Well Jamie seemed to be having fun playing with emoticons around..
And talk about emoticons, not long after that we proceeded to the next game where the players have to imitate an emoticon given..
It was hilarious to see them emoticoned their faces..LOL..

*Real-life emoticons*
Other than that, we got lucky draws and heaps of prizes were given out, including Oakley and Rayban sunglasses, Logitech headset, and a Webcam..

*L>R – The shorty David, the mid-range me, and the panjang Thomas*
Then the event ended and people like us started to camwhote around, as usual..

*Andrew licking my hair wtf*
Well I don't know if he finds my hair very delectable or what but, I didn't know he tried to do that at that time being, until I saw this picture..Sweat..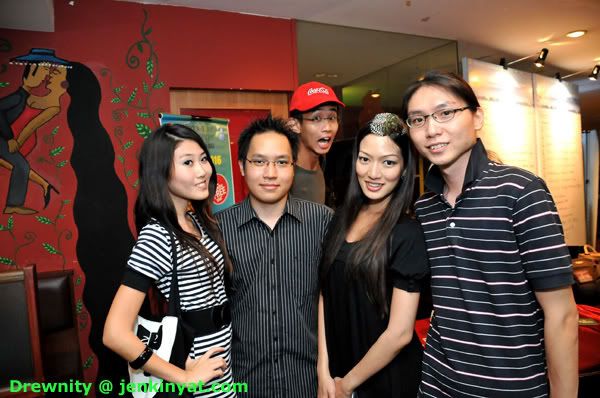 *L>R – Kate, Aaron, Thomas, Kim Ong, me*
Well, other than get connected via online or Windows Live Messenger in this case, it's always good to come out and hang around with your friends to have a drink, chillout, or some serious football match among guys..
Nevertheless, get connected 24/7 is so cool that you still get to chat while you are outside..
Photos credit to Nigel and Andrew..