Few weeks weeks back, on a Sunday night, 28th November 2010, was the first time I boarded a bus express at KL Sentral..
Was at Kl Sentral at 9pm, bought bus ticket to LCCT for check-in at 11pm for my Manila-bound flight at 1.20am via Cebu Pacific, Philippines largest airline..
Been to LCCT numerous times but it's my first time to board a plane in LCCT, and my fourth time to fly on a plane (not including return)..
There I boarded Cebu Pacific, got to know 4 new friends who were in the FAM trip with me, all first time meeting each other..

*Boarding Cebu Pacific*
Although Cebu Pacific being the largest airline in Philippines, it's a low cost carrier airline..Well I can't compare it much with other low cost carriers but I was pretty satisfied with the plane, the service, and of course the journey
The flight from KL-Manila is about 3 hours and 45 minutes..I snoozed all the way from KL to Manila and we arrived Manila slightly earlier than scheduled..
The plane touched down at about 4.30am (Manila and KL have the same timezone) so we had to wait for the tour guide for a little while..
Due to tight schedule, we were brought to a 24-hours spa and massage center to freshen before the real deal began..

*Wensha Spa Center*
Wensha Spa Center is located at Cultural Complex of the Philippines (CCP) area near Starcity..
It has shabu-shabu buffet, shower, pool, sauna, locker, and all kinds of massage..The price range from 500 Pesos to 2,000 Pesos..
I guess the one we had was 680 Pesos, inclusive of the buffet, pool, shower, sauna, locker and a full body massage..On top of that, one can hang out in there for as long as 8-hours!
Since we were on tight schedule so we just had about 45-minutes of sleep in the massage room after the massage session..
After that, we had to head out to Villa Escudero Plantations and Resort at San Pablo City, about 2-hours drive from Makati City..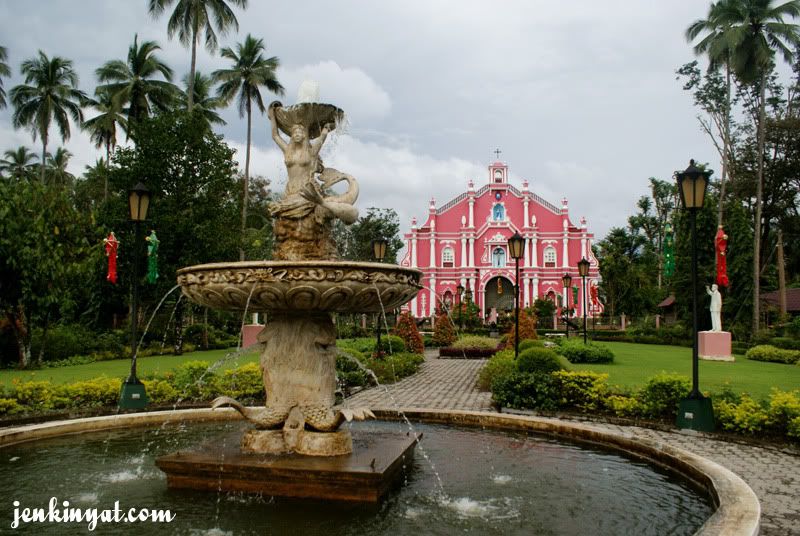 *AERA Memorial Museum at Villa Escudero*
That's the AERA Memorial Museum and the front yard, founded by Arsenio and Rosario Escudero..
It houses alot of rare items, especially the religious arts of silver altars, gilded carrozas, ivory santos, embroidered vestments and intricately carved inages, all dated back in the 17th and 18th centuries during the Spanish colonial era..
Other than that, there are also lots of sculptures, Oriental ceramics from China during its Dynasty-ruling period, items and weapons from World War 2, and things that reflect the Filipinos, from the traditional clothing to some of the modern ones' worn by important figures..
Camera is not allowed in the Memorial Museum so I couldn't show you anything here..I can say it's quite an eye-opener..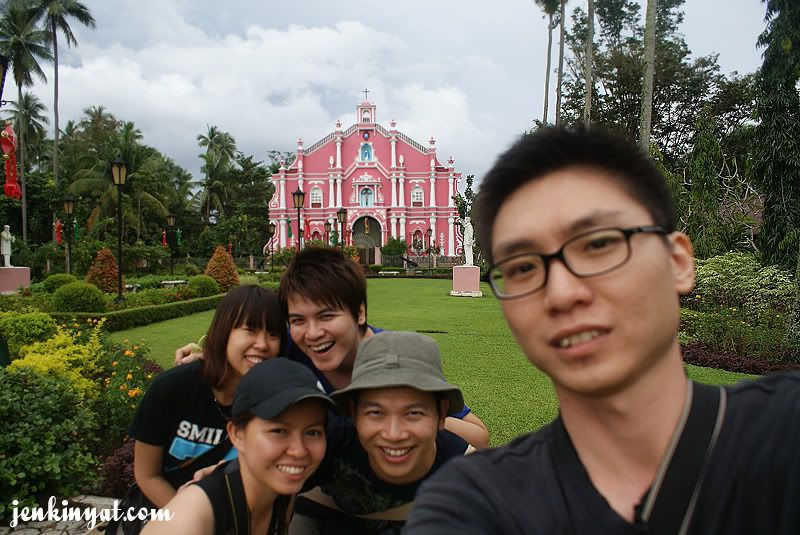 *The journalists with me*
Okay I know this photo is failed..So let's move on..
You can have a great meal with the man-made waterfall as the backdrop and clear spring water running over your feet..It's quite cooling and it's quite a sight to chillax..
The lunch meal we had there was quite interesting..I would say it's almost similar to what we usually had in KL but there's a bit of distinctive taste that it differs from KL's..
Most of their dishes, be it meat or soup or vegie or seafood, their food is slightly more salty and sweet than what Malaysians usually had..
And they love pork alot! I love Manila! LOL! Sorry didn't take any photo during lunch so let's just skip it..
After a scrumptious meal, we proceeded to a cultural performance which I must say that some of their cultures are pretty much the same with Malaysia's due to Portuguese colonization, English colonization, and Spanish colonization, among many others…
Don't be surprised if you think you have seen some of the dances back in our Malaysian shore because there might be "crossovers" due to the colonization era..
Another surprise from the cultural performances is the performers..All of the performers are staff/workers of Villa Escudero Plantations and Resort..
Workers as in janitors, museum keepers, gardeners, front-desk assistants, and other workers, including their children as well..I have to applaud for their versatility..
Before I move on, here's another photo of me and the museum
..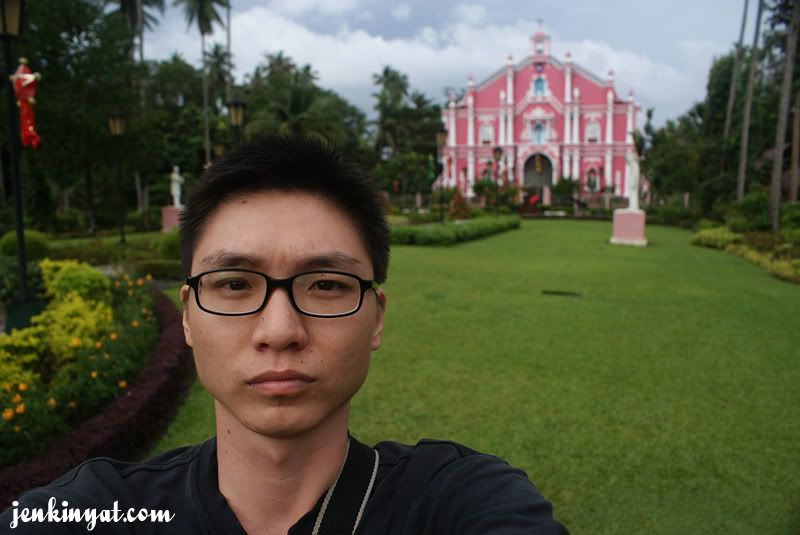 The garden is quite pretty but due to rain we had to pack and leave the place in a rush..
So to travel back to the city center, it took us another 2-hours and by the time we reach city it's about time to dinner..
Like I've mentioned earlier, Manila has the same timezone with KL but Manila is on a very different grid in terms of longitude compared to KL..
So when it's 5.30pm in Manila, the sky starting to get pitch dark like 8pm in KL..Indirectly, we were having our meals earlier than usual..
For dinner, we headed to Brazil Churrascaria at The Piazza, One Serendra in Bonaficio Global City..

*Bonaficio Global City*
Bonifacio Global City is now home to upscale residential condominiums such as Essensa, Serendra, Pacific Plaza Tower, Bonifacio Ridge, and Regent Parkway and office buildings such as Net One and Bonifacio Technology Center. Most trendy restaurants, bars, clubs, and retail outlets are located in Bonifacio High Street, Serendra..
Being in an upscale commercial area, the price in Brazil Churrascaria is considerably reasonable at around RM40-50 (500-700 Pesos) for per pax buffet..
It's something similar to our Carnaval Churrascaria in Damansara Jaya 22..The only difference is the one in DJ22 is a halal restaurant while the one in Manila serves awesome pork!
When I say awesome, it's really awesome..You can have pork belly, you can have roasted pork, you can have many other things..I would definitely go back if I were to visit Bonifacio Global City (BGC) again..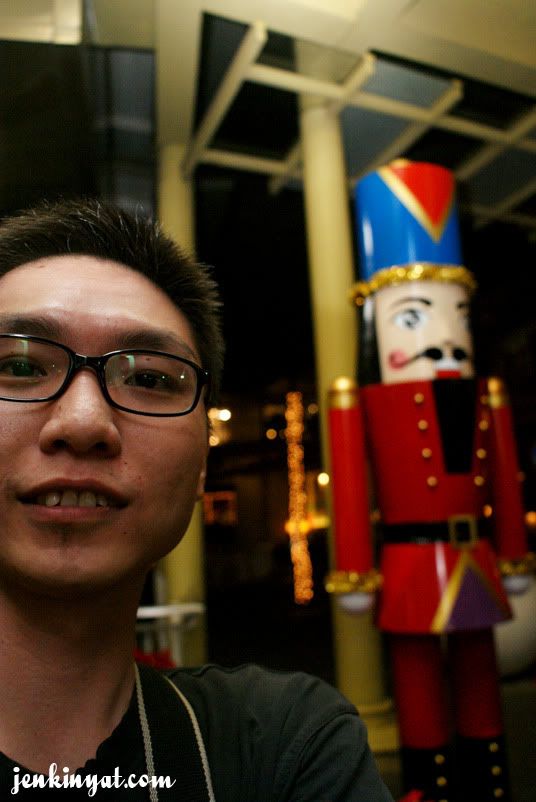 After our porkilicious dinner, we had plenty of time to wander around BGC and the night scene at BGC is quite family-oriented..
Families and groups of friends hang out around the place which I call it a square I suppose, with nice architectures and all, comparable to Bukit Bintang but definitely nicer than BB, IMHO!
The place is also pet-friendly as people bring out their pets for leisure as well..It's a very warming atmosphere considering the first impression that most Malaysians have about the Philippines is chaos, poverty, and security threat..
No photos have been taken due to the rather dark surrounding but I have to say it's quite an eye-opener to know that the Philippines have some commercialized area which is comparable and maybe even better than what we have in KL..
Like many other Malaysians, I, too have my own concern regarding tourist-security and its quality of living..I can tell you that after traveling around on Day One, it has totally changed my perception about Philippines, or maybe just Manila alone..
I shall elaborate more on more upcoming posts regarding my Manila trip..