25th November 2010, exactly 1 month before Christmas Day, is the day Guinness launched its nationwide Merry Guinness campaign to usher the 2010 Christmas at Malone's, Sooka Sentral at KL Sentral..
'Merry Guinness. Share the Magic this Christmas', is its tagline and the magic did work on me coz I felt happy after 3 half pints of Guinness
Some photos credit to Guinness Malaysia..

*Mark Jenner (left, GAB Marketing Director) and Peter Khemlani (right, GUINNESS Marketing Manager) flanked by Merry-rinas toast to launch the nationwide campaign*
Since its launch, there will be a total of 54 Merry Guinness events all over Malaysia with a mix of small and large scale events for consumers to celebrate it the Guinness way..
Immediate after the toast, it marks the beginning of Merry Guinness and the invited guests began to dig in the food prepared in the Christmas way..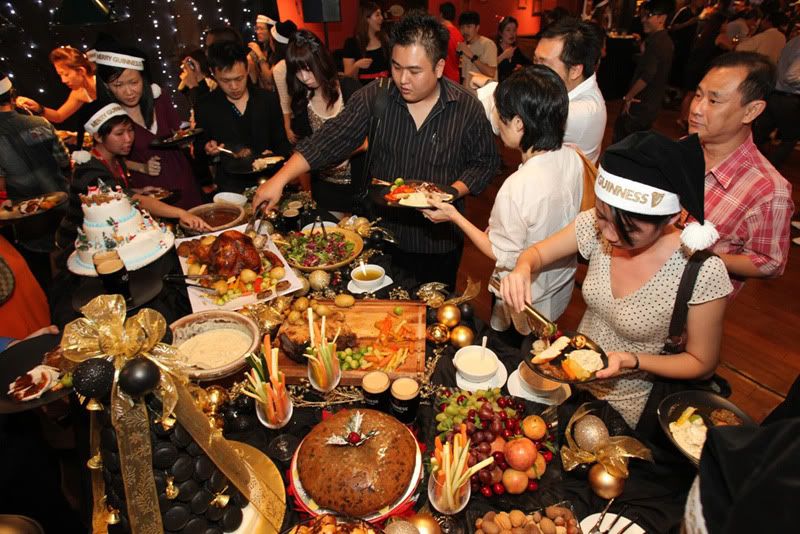 *The Christmas dishes*
We have things like roast turkey (or was it chicken?), roast beef, lots of fruits, salad, macaroons, etc..The food was quite awesome, or I was too hungry
Then we were entertained with some quizzes, and live band performance by the Big Band singing some really kick-ass Christmas songs, from old school 12 Days of Christmas to Mariah Carey and whole lots of it..
Another highlight of the night was the introduction of Guinness Heritage collectible premiums..
The Guinness Heritage Collection will be accessible in more than 2,000 pubs and bars across Malaysia..
For every six pints of Guinness draught or one bucket of Guinness Foreign Extra Stout purchased at participating outlets, consumers will receive a free limited edition Guinness Heritage Collection glass inspired by the famed GUINNESS® Gilroy collection..

*L>R – Kim, Yuenyee, Jess, Aud*
Everyone was taking photos and played games on the Merry Mat, a board game crafted for Merry Guinness and it should be available at Guinness outlets nationwide by now..
After a filling dinner, catching up with old buddies and sit down for a pint of Guinness is quite a bliss..

*Kim and I have known each other long before blogging-era*
The launch-party was pretty good as it was not packed like some other events so I guess everyone had quite a good time chilling out with their company..I had a good time so I hope everyone felt the same too

*Yours truly*
Another cold pint of Guinness from the tap to end the night with joy..We shall hang out to celebrate the Merry Guinness events again..Can't wait for it