It's pretty obvious that I'm standout in my own league with my very own traits..
Everyone knows I have a very distinctive long hair and it's even longer than some, if not most, of the girls that I know..
I mean, how many guys out there have long silky smooth hair like mine wtf..Muahahahaha *devilish laughter*
Somehow it's a tad contradicting that I used to have GI hairstyle back in secondary school and now I'm all out with a rocker image..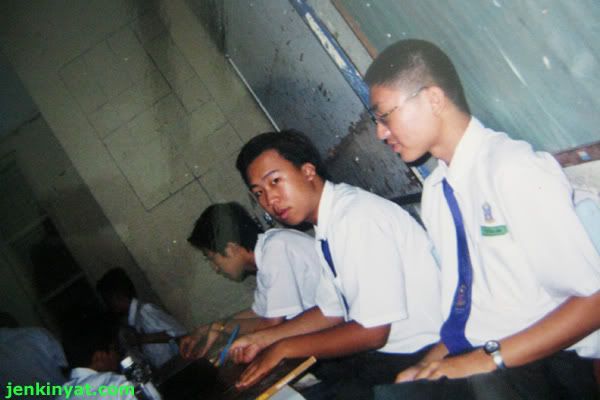 I can even headbang like no one else did but ended up with stiff neck and shoulders..
Now that I can tell people I ROCK with an image, not just crap talkings..

*Head bang to the tune of Muse's Time Is Running Out*
And to cap my so-called success, I headbanged at the recent Sunburst Festival 09 at Bukit Kiara Equestrian Club with Korn, all sing "All Day I Dream About Sex (A.D.I.D.A.S)" together yo~!!
[youtube=http://www.youtube.com/watch?v=Q4vIEKJ5LiI]
Live it up as a rocker yo! Talk about rocker, I've impersonated John Lennon before..

*Make love, not war~!!*
After the event only I thought that I should impersonate Kitaro instead of John Lennon..LOL~!!
Apart from headbanging and being a rocker all, I can do just about anything with my long hair..
I've cosplayed dressed up as Sadako, of The Ring fame (some thought it's of Ju-on fame, which is not) at Nuffnang's Silent Halloween Party last year..
And how many of them actually fully utilized their body parts? I mean, hair?

*Hair down or hair up?*
If you think that's not standout nor cool enough, I even roamed Jalan Kia Peng with the crazy bunch and created a bit of havoc on the street..
[youtube=http://www.youtube.com/watch?v=gMzv6xMj5OA]
If you still think that's not standout enough, we walked all the way from Borneo Baruk Club to Pavillion and sat down for some coffee talk at Coffee Bean..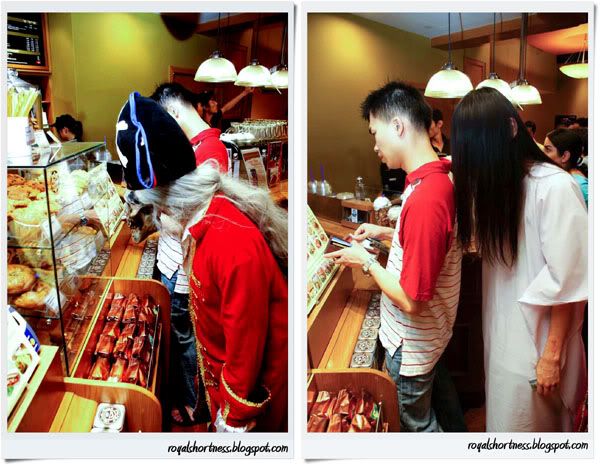 *Queuing for some coffee and scares the customer in front of me*
Well, I don't only have long hair but I'm funny at times, too..I dare to say it's one of my best personalities that gets me clique and connected with friends and all..
I've fallen asleep in the bathroom and was captured by the camera..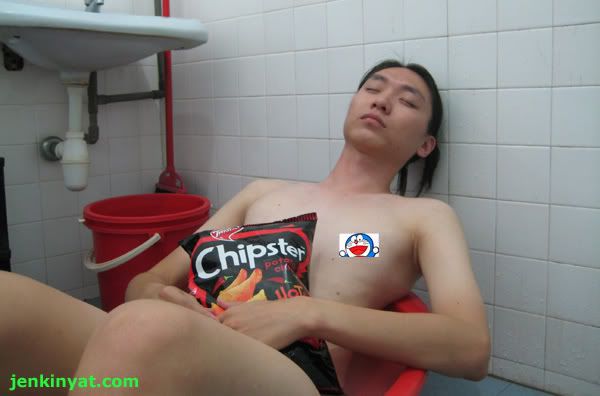 *Me likes Doraemon..Doraemon likes me*
If sleeping in the bathroom and got captured by the camera isn't standout enough, how bout sleeping in the lecture hall?
It was an early morning class and I couldn't stand it, I just slept there and then..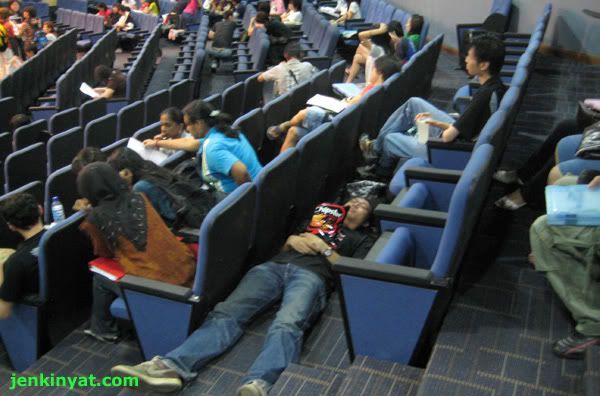 *Lecture? Sleep better*
Not standout enough just yet? I sleep on the road as well, it might prevent accident..Think if you are god damn sleepy and you still want to drive..
Possibility of running into an accident is quite high..Best remedy, sleep it away..

*Sleeping on a winding road*
Standout or not, it's up to you to decide..But then again, I do believe that everyone is standout in his/her own way, whether you like it or not..
Of course, to be an outstanding person, do it with something that is rare or get a limited edition item, such as the new limited edition bottle of Tiger Beer..

*Graphysics, Rise, and Energy*
Should the most outstanding blogger please stand up, please stand up..
Maybe it is me indeed~!!!
Til then, see you guys at Nuffnang Standout Tiger Beer Party..