Now, at last, it's N.E.R.D in da house..N.E.R.D is a rock, funk, hip hop band formed by Pharrell Williams and Chad Hugo, later joined by Shay Haley..
Photos credit to Jen, Nigel, and David..
Their performance started later than scheduled and with sound-check and all, the crowd was cheering, and some jeering because it was getting a bit late..
Well honestly, I know shits about N.E.R.D and I got no idea about the tracks or songs..
By the time N.E.R.D was getting ready to take the stage, some hardcore rockers and I were already waiting for Korn on the other side of the stage..
As soon as they started off with the first track, everyone was mosh-pitting and it was great..
Great thing was, Pharrell made some mandatory rules about getting into the spirit of partying with them..
He said, there MUST be crowd-surfing (which I've always wanted to try), MUST be most-pits, and also few other rules which I've forgotten..
That didn't take long for the crowd to abide by the rules and crowd-surfing can been few times during their performance..
Roughly into the third track, some people pushed the security guards at the front of the stage..Pharrell was so mad that the crowd was pushing around and all..
He even said that if there's any more pushings, they'll leave the stage for good..The crowd was smart enough and didn't push anymore..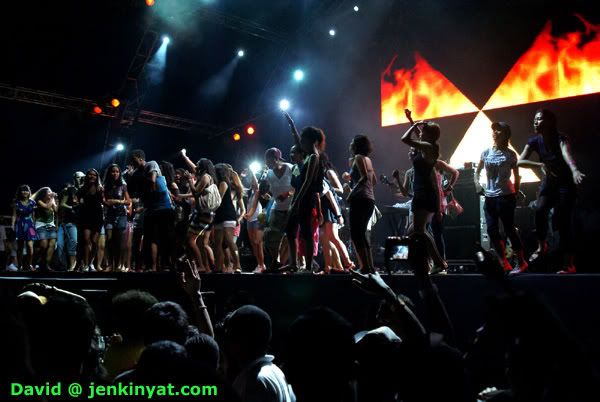 I must say that N.E.R.D's showmanship and to move the crowd into party was really great..
To reward the crowd for abiding by the rules and for not pushing around, they first grabbed about 10 guys up on the stage and they began to mosh-pit and danced on the stage with the international act..
Then on the next track, roughly another 20 guys were pulled up to the stage and they really had fun up there..
After about 2 tracks, the guys left the stage..This time, N.E.R.D pulled the girls onto the stage..
Well, like I said they did a very great job in moving the crowd and I guessed they got a bit hyped up, they pulled at least 50 ladies onto the stage to party with them..
That was totally awesome shit that could happen to an international act..
They performance lasted near to an hour, and they began to switch stage for Korn..
Korn wasn't even ready and still behind the backdrop, people already crowded the front stage and chanting the band name..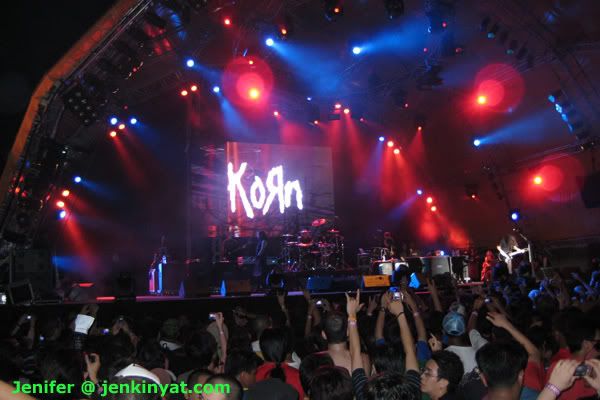 When the Korn word is being displayed on the screen, people started to cheer and really, Jonathan Davis and his bandmates all coming out to take on their music equipments..
They kicked off their performance with "Got The Life" if I remember correctly..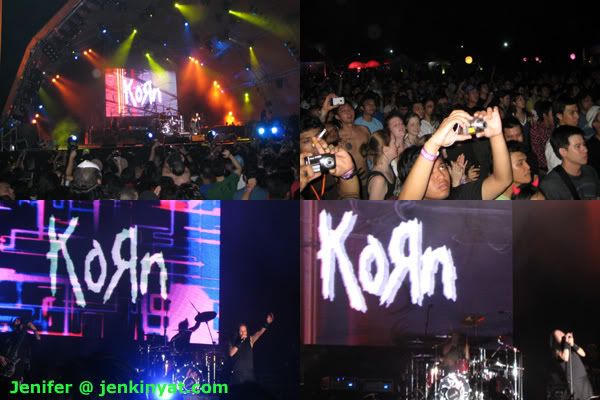 Mosh-pits began built up at the front stage and to make sure we are all safe, Jen, Junn, and I moved backwards to avoid the hardcores..
Then, the euphoric moment came when they played "A.D.I.D.A.S" as the second track if I'm not mistaken..That was like the moment that everyone had been waiting for..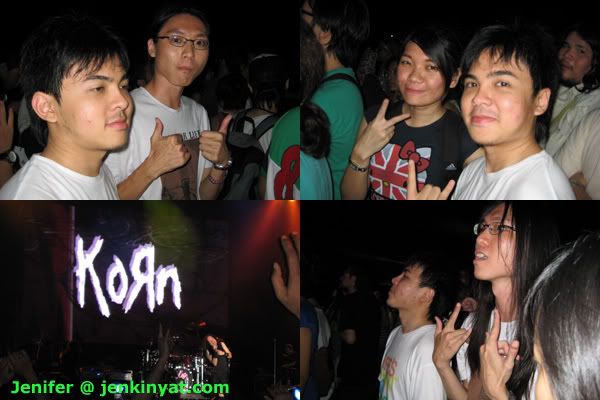 Well, the mosh-pits were still bearable and we really had fun head-banging and all..
After about 20-minutes, they took a quick rest behind the stage..Then Jonathan came out with a bagpipe in hand and blowing it like nobody's business..
Since it's bagpipe, I thought they were going to sing "Shoot And Ladders"..Unfortunately, they didn't sing that and proceed with "Blind"..
In "Blind", not long after the introlude, there's a sentence where Jonathan is screaming "Are you ready??" in his grunt voice..
Same thing, as soon as he screamed that, the mosh-pits began to body-slammed each other massively..
We couldn't handle the excessive slammings so we moved further backwards..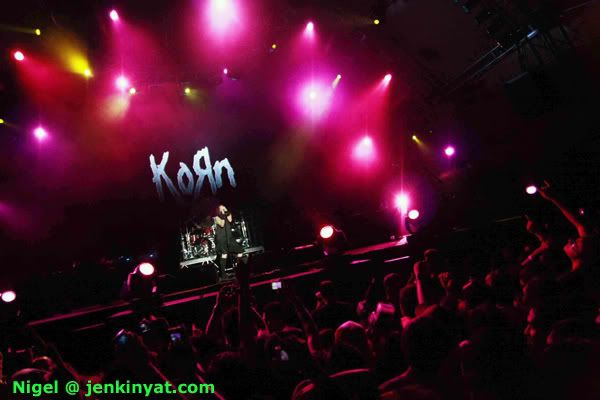 All in all, I enjoyed myself very much to Korn's live performance that I actually let off my hair and started to head-banging like some crazy lady guy in Hospital Bahagia..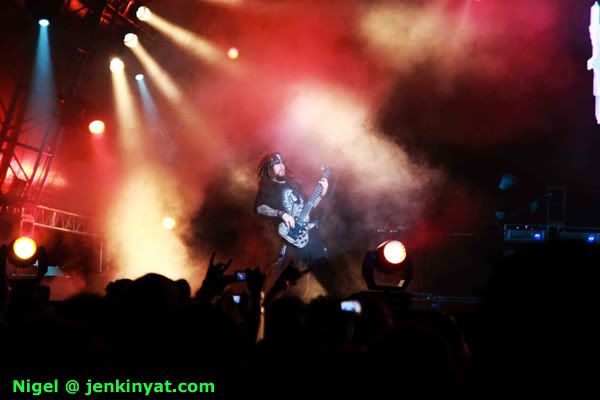 The only thing I was not satisfied is, they played most songs from their earlier albums and very little of their signature singles..
I was hoping for their hit singles of "Word Up" or "Twisted Transistor" but to no avail, they didn't..
They did sang "Freak On A Leash", "Here To Stay", "Right Now", and "Thoughtless", to name a few..Few more others I've not heard of them so I'm not sure whether they are of older albums or the newer ones..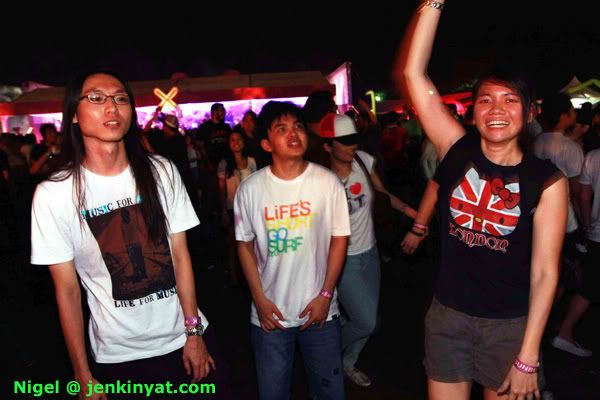 Korn ended their performance at about 1am and it was a great performance..
We were exhausted at the end of the festival and didn't stay back for Twilight Action Girl..We made our move back home for some serious supper meal..
My body was aching like hell for the next 4-days after all the head-banging and all..My neck was stiff that I could barely move my head..