After the day time where most performers were local artistes except for Russian Winters and Sixx (Indonesia), night time has arrived and it was the time for the main acts..
First off, local band Estranged kicked off the evening slot at about 7.30pm..Well I missed the opening part, was there when it's about to end..It was quite a show..

*Sing your lungs out*
That's Estranged's vocalist Rich doing his thang..

*This pic is damn nice*
When you couldn't squeeze yourself into the crowd, you just have to stand far away and of course, equipped with some sophisticated gadget, that's a DSLR with a 300mm F2.8 lens..

*The Nikon 300mm F2.8 cannon*
That thing is damn heavy and it needs a bit of strength to hold it..Advice, use a monopod or tripod..
Andrew got to shoot the whole event with that cannon, but at the same time have to carry it everywhere he went..
Next of after Estranged's performance, Nidji (Indonesia) took the stage and they were really good..
Initial I thought it must be some crappy band or something but when they played along, I've heard of few tracks on the radio..
Their showmanship were simply awesome! I bet it's as good as any international act, if not better..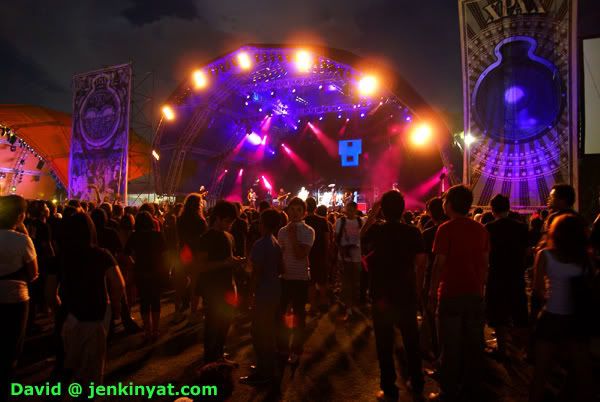 Right after Nidji's overwhelming performance, it's local artiste's turn, veteran band Butterfingers..
I guessed the crowd put high hope on Butterfingers but I would say that Butterfingers let us down, big time, especially after a great performance from Nidji..

*Butterfingers on stage*
I don't know why but it seemed that Butterfingers totally let the audience down, big time!
They did some slow-mo tracks instead of some fast-paced to hype up the crowd..
To make matters worse, the crowd chanted and requested for "The Chemistry", one of Butterfingers signature tracks, but they never intended to listen to its fans..
After about 3 tracks, the crowd started to get bored and some of them dispersed the front stage..They performed for about 30-minutes or so, that's about 6 tracks..
The remaining crowd requested for an encore and again "The Chemistry", they decided to stop there and then with a bow and thank you note..
That's why I said the performance from Butterfingers was a big disappointment..
After Butterfingers, it was Agrikulture, another Indonesian band, took the stage..They played some electrofunk-synthesizer-mix and surprisingly quite a number of people liked it..
Where as for me, I felt the vocalist was a bit gay..No, not happily gay..Gay as in homo gay..The vocalist even took off his pants in the middle of their performance, left him with his jacket and boxers..
Well, I don't know why but I felt a bit irritating..Maybe I was too excited with the Korn hype and not quite interested in other so so bands..
Okay, more on Korn and N.E.R.D in next one..This post is getting too long..
N.E.R.D in action!