Okay this is one quite a delayed post coz was waiting for the photos, then busy mode, edit photos, and err, lots of other things..
And before that, I've a good news and a bad news..The good news is I just finished my exam on Thursday and I feel great..Even went to clubbing right after that..
The bad news is I only have 1 week holiday before the new semester starts..When students from other uni or colleges finished their exams in early May, I've already into the second week of the new sem..Sucks..
Anyway, Sunburst Music Festival, a whole day long awesome event, was brought to you by Pineapple Event on 28th March 2009..
It's in its second consecutive years, the first was in 2008 (of course), where the main internationals acts were John Legend and Incubus..
This year, we had lots of rumours going on and on with not even a single confirmed artiste, until roughly 2-weeks before the event..
It's the least you would expect them to come and it was KORN~!!!! In the picture was also N.E.R.D, a hiphop group of Pharrell's..
Well, I didn't even plan to go to the event because the ticket cost RM140 for pre-sale and RM200 for door-sale..
On the event day itself (Saturday), Junn called me in the early morning (about 9am) and asked me whether I want to go to Sunburst or not..
Still in dreamland, I asked him was it tomorrow coz I thought that day was Friday..Then only I know it's Saturday after few funny arguments..
Then Junn told me that Lohman couldn't make it to Sunburst due to emergency..Since he already got the ticket, might as well give it away, else will be thrown into the bin..
Junn knowing I'm quite a fan of Korn, thus the morning call..Well instead of throwing it away, I'd gladly receive it~!!
Ok, friendship aside, I planned to pay back Lohman to compensate for his lost..It isn't really good to get it for free, even though it might be in the bin if I wasn't going..
So Junn, Jen, and I went to Bukit Kiara Equestrian Club and reached the place slightly before 4pm..
There, we met Andrew, Nigel, Kelli, Hsu Jen, David, and Chris..
Photos credit to David, Jen, and Nigel..

*Sunburst at Bukit Kiara Equestrian Club*
Okay roughly this is the overview of the field of Bukit Kiara Equestrian Club where the 2 stages with the yellow and blue roof are the main stages, with another 2 smaller ones in another area..
The yellow stage is called Sun Stage and the blue one called Sky Stage..

*Other places and landscapes*
The red igloo with a chimney is the place where Speedzone promoting their event 1-week before the F1 race..
There is also Xpax thingy but we weren't allowed any entry because none of us were Celcom user..
Then the stage, is where Silent Disco was being held..Silent Disco concept has been done in few occasions including Nuffnang's Silent Halloween..
Read on for more of Silent Disco and other stupid stuffs about the people there..IQ level-10 wtf..

*Silent Disco*
As you can see, Silent Disco concept needs you to put on a headset and dance to the tune that you are listening from it..
Although it might look stupid on the outside, but the euphoria is inside you and only you know what's happening from your own ears..
And it seemed that the crowd were enjoying it!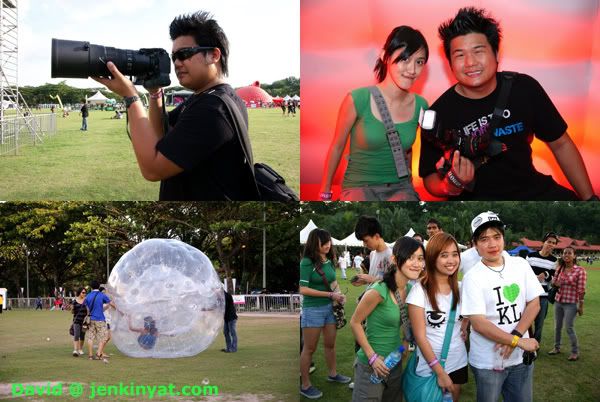 *The peeps and a Zorb ball*
That's Nigel holding Andrew's 300mm F2.8 lens..Stimmm~!!! That's Kelli with Hsu Jen and Chris..
Oh, the Zorb ball..It's the stupidest Zorb ball I've ever seen..The ball wasn't really solid enough to have some smooth rollings *Limp Bizkit's Rolling playing in background*..
To make it even worse, most of the IQ-10 level of people entered the Zorb ball in pair..Yes, 2 freaking people in the ball and no one was monitoring it..
2 people in a non-solid Zorb ball, resulted in 2 people body-slammed each other while their stupider friends rolled them from outside..
That's not all..Other than body-slammed each other, they actually slammed their body on the ground due to the non-solid of the ball..A round of applause to the smartass people..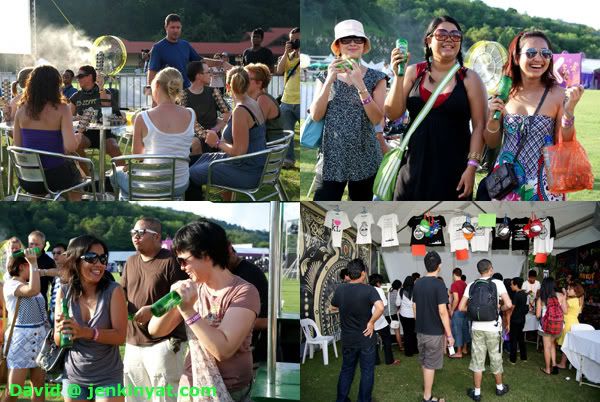 *Tuborg to cool your heat*
Yes, one of the main sponsors was Tuborg the Beer..Tuborg was being sold and they even provided a chill-out area for the people to sit down for a drink..
And I would say it's not quite expensive considering it's in this kinda event..
3 glasses (almost the size of McD's regular drink) of Tuborg cost just RM20..Or was it RM25? It's still cheap okay..
The food being sold there was expensive..Food like burger, hotdog, spagethi, and many others, cost at least RM10..RM10 for a burger wtf..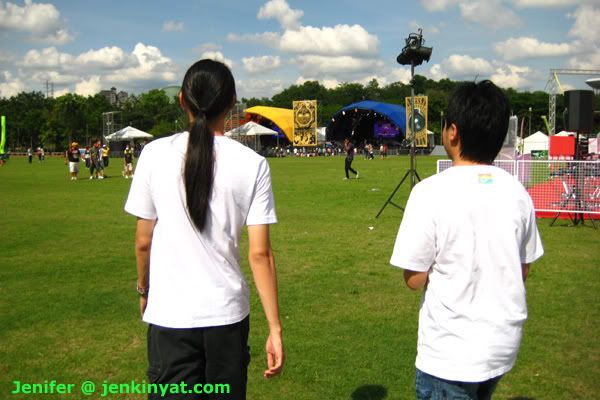 *Wanderers*
So we walked around to see the local acts and other performances all..
In the afternoon, local acts such as Hujan, Meet Uncle Hussain, Estrella, Nao, and many others were performing before the sun set..
The performances were not bad but the weather was quite bad..Bright sunny day and we had to sweat all the way..
But on the brightside, it's better to have a bright sunny day than a cloudy rainy day..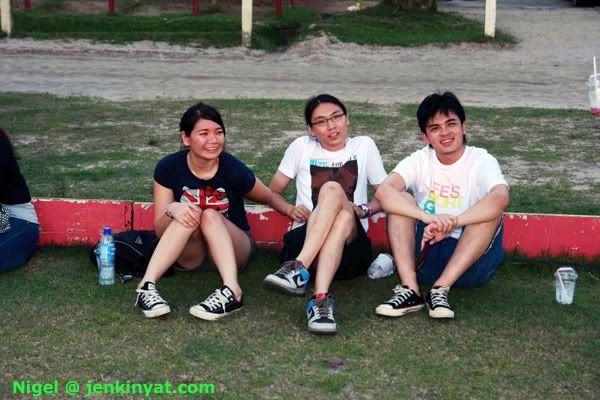 *Lepaking, Jen, me, and Junn*
That's us lepaking for about an hour before we decided to move our asses..Damn tiring to talk around and mosh pit around..
Will continue the night time in the next entry..