Make love, not war..Check out Red Carpet if you have not..
Okay, here's what we got from the games and contests..
By the way, I went as John Lennon okay..Some came up to and asked, "Who are you ah?"..I stared cock at them..How can you not recognise the hippy style?!?!
Okay fine..One came up to me and said to me, "Are you a Red Indian??"..I stared cock him as well..I mean, which part of me look like Red Indian, other than the head band..

Then, Germaine asked me, "Are you Pocahontas??"..I was like WTF~?!?!! Which part of me look like Pocahontas and which of Pocahontas looks like music celebrity to you??? =_______=
Photos credit to Aaron, by using Andrew's Nikon D300..
Not any great games as compared to previous events but I must say that it's relatively relevant to its theme, Music Bash..
So everything that we've played, we've done, we've enjoyed, we've laughed, all based on music thingy..
So first off, Liang picked up 6 contestants, 3 girls and 3 guys, to compete in the sing-your-lung-out contest wtf..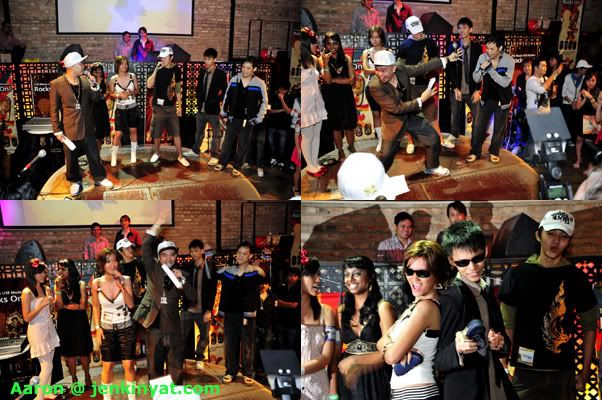 *The participants and Liang the funny guy*
Well, not that I know who are they, I only know Bryan and Zach, and the eventual winner for guys was Bryan and the winner for female was Natalie..
They won a pair of sunglasses from…..I don't know what brand is that..Ask them yourself..
Then, another game went on..Another 4 participants went up the stage..
They were Jeffro, Jason, Hitomi, and, the girl in that sexy dress, I've forgotten her name..Yvonne or something? LOL wtf..

*Jason and Jeffro showing their thang*
Okay, the catch was, they have to follow the dance or the moves in the MTV of Single Ladies by Beyonce..See the screen on the background..

*Hitomi and the other girl, is it name Yvonne?*
Even Hitomi couldn't resist laughter and all coz it was so funny and hilarious that the whole club laughed at it..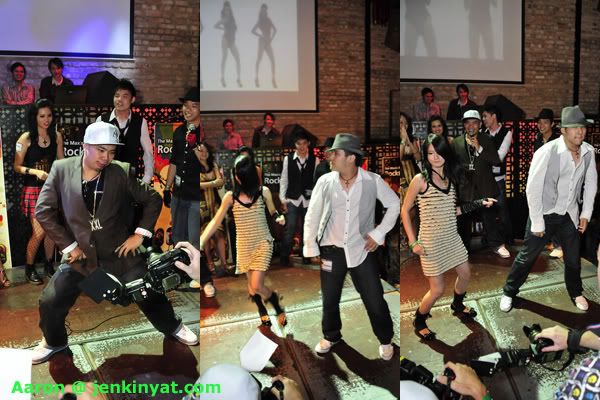 *Liang doing it..Then Evelyn and Ben went on stage*
The Liang gave another chance to other bloggers and it was Evelyn and Ben's luck to win an Armani belt..Is it Armani? Or CK? Forgotten..Bummer..
Okay, it proves that Evelyn did better than the other two and Jeffro still kicked ass..Ben, apa la luuuu..
More about The Nuffnang All Stars, Jai Ho dance, and most rationale reason why I got nominated for Best Impersonator..

*The Nuffnang All Stars*
Then, performances by the Nuffies a.k.a Nuffnang staff..Some of you got misunderstood that you thought Nuffies are Nuffnang bloggers, NOT~!
They called themselves the Nuffnang All Stars, singing "Let The Music Heal Your Soul" by The Bravo All Stars..

*The female Nuffies dancing the Jai Ho dance wtf*
The female Malaysian Nuffies, Shalyn, Andrea, Vernice, Carol, and Sue did the Jai Ho dance, of Slumdog Millionaire fame..
Yeah you can learn that dance from the movie..It is shown at the end of the movie..Carol, I'm so proud of you..You didn't hide this time..LOL~!!

*The nominees for Best Impersonator*
The nominees for Best Impersonator were Jolyn as Pink of Lady Marmalade image, Jolene as Lady Gaga, Cindy as Britney Spears of "Hit Me Baby One More Time" image, Huai Bin as Eminem of "attending court hearing" image, Julian as Bob Marley, and me as John Lennon of "hippy era not Beatles era" image..
NOT Red Indian..NOT Pocahontas..I was John Lennon..Make love, not war..
Well, for others to stand on the stage, I could understand that and they really put lots of effort in their make-up and all..
But honestly, there were more good-looking Jason Mraz wannabe with fedora hat and vest and even blazers around, why am I selected for the Best Impersonator?
The only reason I could think of is, I looked different from others..Like I said, there were at least 10 Jason Mraz or Justin Timberlake wannabes walking around the club..
Yes they did looked smart and all in their vests and hats but it's so insignificant, as in too many of them..Some might even answer you that they came as themselves when I asked them who they came as..
So I guessed that's one of the many unforeseen reasons that I got nominated for Best Impersonator, which is quite unique, as the only John Lennon there..Not sharing the same identity with others..
As for the girls, there were at least 5 Katy Perry walking around the club..It's so, un-unique..
So yeah, you might think I could say whatever I want because I got nominated but rationally, that's the only explanation to it..

*Me shaking my booty, Bob Marley doing his Rastafarian dance shits, and Eminem doing some shuffling*
Well, other than got nominated, we were required to entertain the crowd with a 30-seconds Talent Show, by dancing or what ever shit..
How often do you see John Lennon shaking his booty and Eminem doing a bit of shuffling eh? LOL wtf..
Long story short, Bob Marley was the eventual winner for Best Impersonator and he got himself a Sony PS3..Eminem was the Worst Impersonator and got himself a broom and 2 GSC Gold Class tickets..
Guess a good boy image of Eminem didn't pull off the trick very well..
I won in the Best Dress For Male category and got myself a RM500 Topshop voucher..Yay~!! Shopping time..

*Britney, Lady Gaga, and Pink doing their thang*
Lady Gaga won the Best Dress For Female and got herself RM500 Topshop voucher as well..
On a side note, both Jolene (Lady Gaga) and I have the same birth date, that's January 16th..How cool is that~?! Both male and female best dress born on the same date..
Jolyn (Pink) won The Next Big Hit Award (Female) and got herself a 8GB Ipod Touch..
Sam also got himself a 8GB Ipod Touch for Next Big Hit Award (Male) for his amazing video, or rather song, or, whatever it is..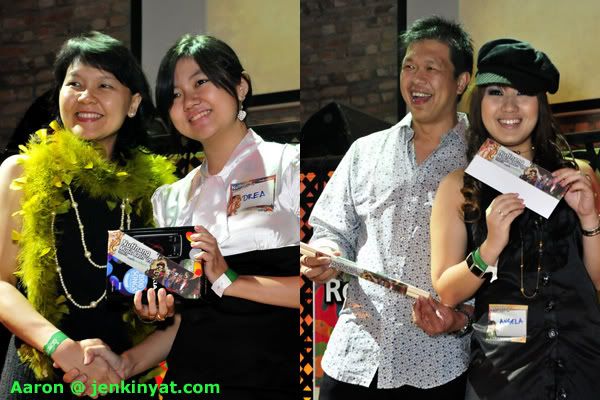 *Andrea and Angela*
Andrea won herself a Nokia 5800 Xpress Music for the The Most Creative Blogger Award for her video and singing..
Angela got herself a pair of drumsticks, for the drums, not the KFC one, and 2 GSC Gold Class tickets for Most Uninspiring Blogger Award..

*The party goes on*
After all the prizes were given out, the party went on and I guessed the people enjoyed themselves much..
While I on the other hand, got something else better to do, so I left the scene not long after the party..
Some of them they left Maison for some Karaoke session at Neway at One Utama..

*That's Pam's friend with Aaron (front), Thomas (back), and Pam (front)*

*Meet Germaine and Yeehou*
Be friended with Germaine since Nuffnang Wild Live Party (also powered by Maxis Broadband) but I didn't attend that party back in June 2008..
Bumped into her once in Zouk and this is only the second time I met her..If you didn't know, Germaine was one of the finalists in Miss Malaysia World (or maybe Universe?) in 2008..
Last but not least, a signature clubbing pose of mine, double thumbs up, made famous by Borat with the tagline, "Nice~ I like~ How much?"..

*Me with my RM500 shopping voucher and Hikaru wannabe-ing*
Oh by the way, the whole event was covered by NTV7 Breakfast Show..You can watch the clip here..
A joke from the clip, Nigel was being introduced as Andrew and Kelli was being introduced as Nigel..LOL WTF~!!!! Funny shit..
And oh, you get to see me shaking my booty in the clip as well..
[youtube=http://www.youtube.com/watch?v=1Bp1wIh15L8]
Also, it appeared in The Star Metro Central, it's a Saturday issue, dated 11th April 2009..Check it out HERE..