Okay, here's another traffic offender spotted, another nice car..He thought with that big ass nice car he could do as he wishes wtf..
Before I continue with my suppose entry, here's a bit of story argument that I'm having with the so-called owner of the Jaguar that I've posted in my last Traffic Offender entry, Jaguar Double-Lot Parking..
So, here's the so-called owner, chung, debating the issue with me..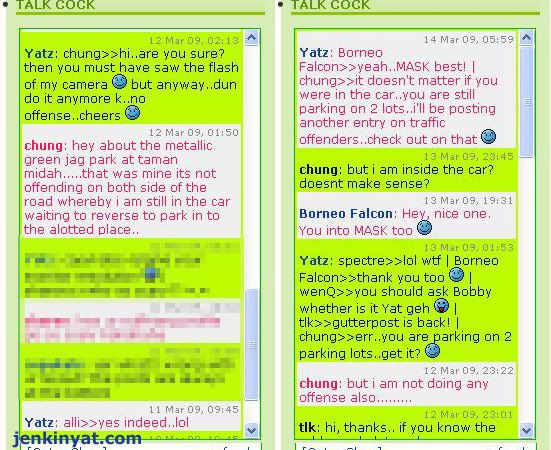 *My Cbox*
Now, he claimed that he's still in the car and he's not doing any offence at all, by parking his car on TWO FREAKING parking lots..Just because he WAS IN the car..
Well, take this situation into account..You are on Jalan Ampang, in front of Citibank (or any busy road that you could think of)..
You stop your car on the road side, with yellow line all the way..You are in the car waiting for your friend or who ever it is..
So, are you committing any offence? What say you?
Well if there is no traffic police, of course you are not committing any offence, in a way..
But if there is one, they will ask you to drive on and NOT to wait there because you are stopping your car on a yellow line..
The same applies here..BUT, I don't see any common sense here that you claimed that you were NOT committing any offence..You parked your car on 2 parking lots for God's sake..
Well, we'll leave that for the Jaguar owner to ponder..Let's proceed with the new traffic offender, almost similar to the Jaguar ones..
Last Friday, which was Friday 13th, I was having lunch with Jason and Kelvin at Taman Connaught..
Then, came this somewhat sport car, Toyota Soarer..

*Toyota Soarer*
Sorry for the bad quality as I was using my cheap ass mobile phone to take the photos..
As you can see, there is nothing wrong in this photo as most cars are parked on the road side for their lunch at this mix rice stall..
But, from another angle?

*Epic fail parking skill*
Try to compare the way the lorry at the front is being parked and the way the Soarer is being parked..FAILED~!!!
Again, just like the Jaguar scenario, if the owner thought their big ass cars are so high privileged or whatsoever, then don't bother to come to eat at road side stalls~!!!
IN FACT, I tried to hold myself that day because I didn't have a decent camera in hand BUT I just can't take it when I see all the vehicles tried to past the narrow road left by the dumb driver..
Bad quality camphone, hell with it..I'm exposing this shit to the whole of Malaysia..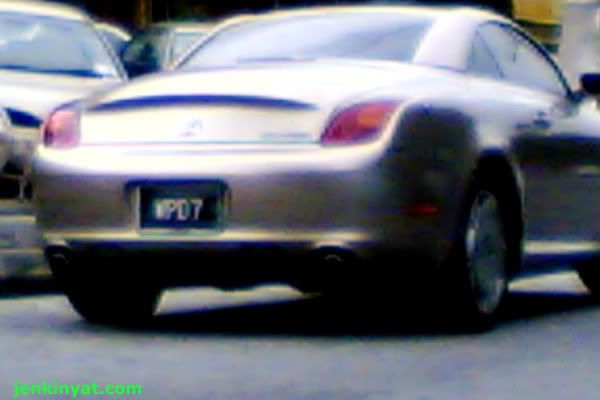 *Toyota Soarer – WPD 7*
What if you have a car plate number of 7 but you have the IQ of 7? It doesn't match at all..You are more suitable to drive a SLK, Small Little Kancil..
Of course NOT Mercedes Benz SLK..It's too big for you..A Toyota Soarer already gives you headache, what's more of a Benz SLK??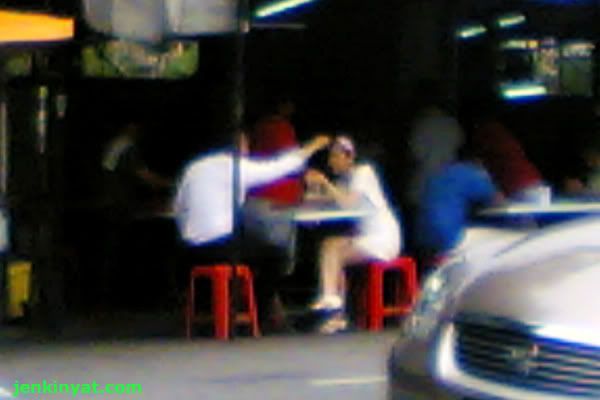 *The owner and his friend*
Okay this is NOT voyeurism as the lady was wearing pants and NOT dress..
The guy in white is the driver and I assumed he's the owner of the Soarer..You just put yourself to shame in front of your date or whoever she is..
Before I left, I snapped another pic from my car..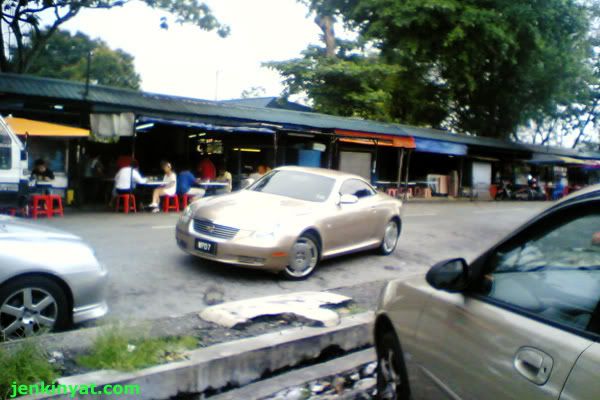 *Ignorant is not bliss*
Now I wonder will this so-called owner debate with me on my Cbox..
I don't simply snap photos of cars and I don't really like to publish it in here..
Those cars that appear in here really irritate me because those drivers make me think that they didn't think with their brain..
They think with their balls knees, perhaps..