Yes, a very sad day indeed..Well not exactly on Valentine's Day, it's after 12-midnight after all..So it's post V-Day..
I started off my day in Sunway Pyramid, watched "New In Town" movie screening with Nuffnang, an invite courtesy of Tzia..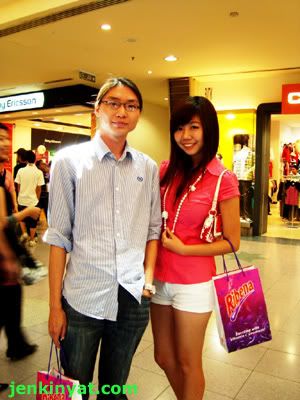 *Me and Tzia*
"New In Town" starring Renee Zellweger and Harry Connick Jr. for both leading role..It's another chick flick for Valentine mood..Not bad..I would give it a 6/10..
Then, was out to my relative's house for dinner..When night came, I turned into Batman wtf..LOL..
Of course not, I went to Zouk, for second consecutive days, with old friend Ji-ann, for no reason wtf..Just don't feel like sitting at home and it's been quite some time since I last met her..

*Ji-ann and me*
There I met with few familiar faces, Ryan, including Andrew who took this photo for me..Best!
Everything was normal until the end..Here comes the tragic part..Parked my car in Maya Hotel..
Before that, I have to insist that I was NOT drunk and not even tipsy at all..Of course I did drink but I'm not on high or blur or anything..I was fine and conscious
Ji-ann wanted to go home so badly, I could have just drove off from the carpark and then got off from the accident..
I don't know what's in my mind at that very moment, I stopped my car for a while because of the long queue on the Auto-Pay machine at the exit..
There I stopped right before a movable ramp..Next to my car is the wall, in front of my car is the movable ramp..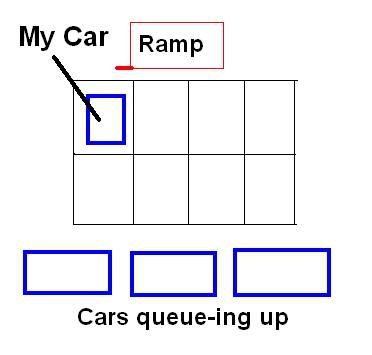 *The red thing is the fucking extra metal that's sticking out of the ramp*
I saw a quite a big metal sticking out from the ramp before I stopped my car..Then Ji-ann kept saying she wants to go home, coz she was quite drunk..
Then, I don't know what got into my mind, I've totally forgotten bout the metal that's sticking out of the ramp..On the outer part of the ramp, the size of it definitely just right for my car to pass through..
So I pulled the auto gear to D and I went off..KRAK~!! The sound I heard not long after my car moved..I knew it's damn shitty..How could I forgot the metal stick?!?!
So I switched to R, I reversed..KRAAAK~!! Another sound I heard..I got down from my car and have a look on it..My car bumper fell off, one-sided..
I just put it on its original spot and tried to get it hung on the screw or whatever shits..
From Zouk, I drove my car pass through Jalan Ampang all the way to Ampang Point..Then turned into Taman Cahaya to fetch Ji-ann home in Pandan Indah..
From there I drove back home, pass through Taman Shamelin..The whole journey I was driving around 40-50 kmph, only..
Along the journey, there were some dragging sound, which we thought is the bumper..But I've checked it few times..Not the bumper..
Upon reached home, I checked on it again..The mudguard actually fell off and the thing that I was dragging all the way back home is the mudguard..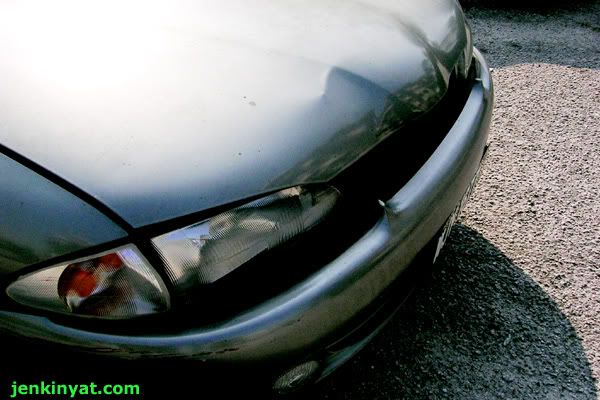 *The obvious gap*

*Jaws drop wtf*
So on Sunday, I didn't mobilize my car, until Monday morning..Sent my car to a workshop nearby Red Sun in Pandan Indah..
Good friend Jason fetched my to uni after that..Then at 5.30pm, we went there again to get my car..Cost me RM150 to fix the bumper, the fron grills, and my old dented bonet..
Now my car is good as new again, just that the paint is fading away..I need to do a paint job, when I have the cash to do so..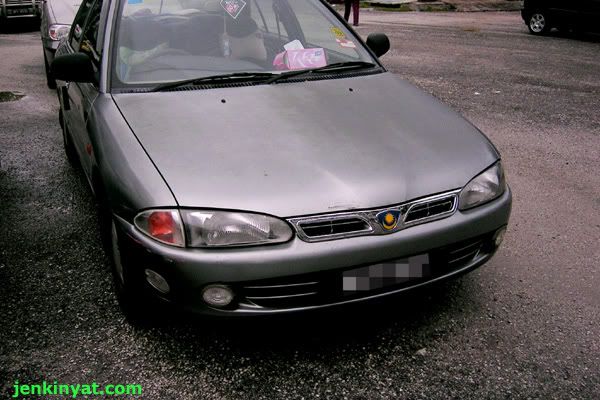 *New face*
Wheeee..New face with new identity..Baru confident sikit wtf..