If you have know me long enough, you'll know that I usually eat out before I go to shopping malls instead of eating in shopping malls..
The reason is simple..I would prefer nicer and cheaper food..If I'm eating in malls, most likely I'll choose fast food over other restaurants or Japanese restaurant..
Firstly, I'm not a fan of raw Japanese sushi nor sashimi..Secondly, eating in other restaurants most likely are noodles or fried rice and such..
Of course, that led to my first ever eating session in Gardens, Midvalley Megamall, in Cova, a cafe cum lounge cum bistro..
If you didn't know, Cova is situated at the bridge connecting Midvalley and Gardens, where Cova is on the Gardens' side..
All photos credit to Ken, Chung Lern, and David..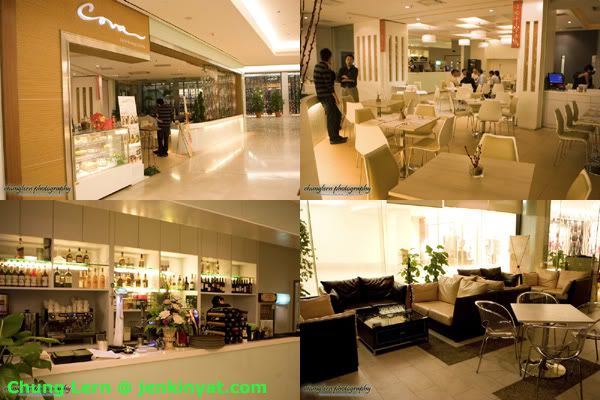 *Cova in Gardens..A cafe, lounge, and bistro*
As you can see, the interior design and set up are pretty cozy and I like it very much..The tables and seats are not cramped up which gives diners a tad bit of privacy..
Cova is a restaurant where you can have almost everything, from local food to Western steaks to Italian and lots more which I don't really know their origins..LOL..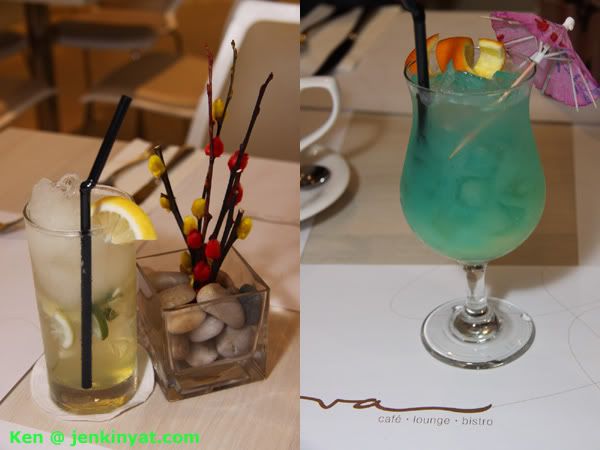 *L>R – Cova Citrus Crush and Passionate Blue*
First up, we were served with drinks to clear our esophagus before we proceeded to stuff in all kind of food..
The Cova Citrus Crush, a favourite among the diners that night, a non-alcoholic drink with lemon and lime juice, and soda water..
As much as I wanted to like it but I have very very very (repeat 100 times) low tolerance on sourness..So, I guess it's not my glass of drink wtf..
Passionate Blue, if you didn't know, most blue color drinks are made with blue caracao..This blue caracao drink, is an alcoholic drink, with rum and pineapple..Somehow, it gives a different feeling when I drink it..

*L>R – Chocolate Crazy, Strawberry Surprize, Cova Evergreen*
Both Chocolate Crazy and Strawberry Surprize are non-alcoholic and they are normal smoothies..Of course, I love smoothies! Chocolate Crazy made me go crazy..
The Cova Evergreen, an alcoholic drink with Midori, soft liqueur made of melon, vodka, and Triple Sec..It's a pretty good drink with slight taste of vodka, just like the color itself, I feel so green..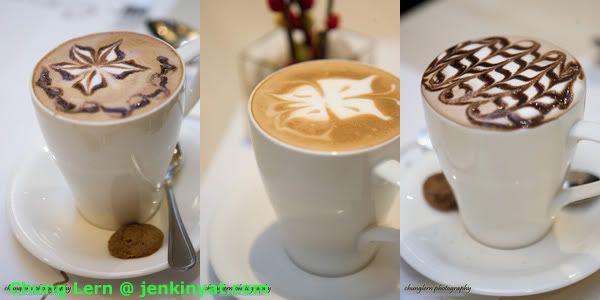 *Hot Mocha, Hot Latte, Heavenly Hot Chocolate*
If you are not in the mood for cold drinks, Heavenly Hot Chocolate is very good and I definitely love it a lot..Hell, I love chocolate drinks since I was a kid!
If you are a coffee-lover, Hot Mocha and Hot Latte are good to drink..Both are too bitter for my liking and my taste bud can't really take it..So yeah..
Beverages are priced between RM6.50 to RM12.50, applies to Tea, Coffee, Smoothies, and Soft Drinks..Not quite sure bout the Cocktails..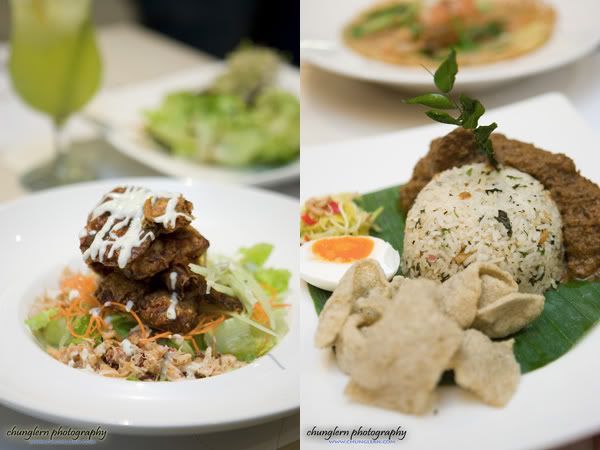 *Soft Shell Crab Salad, Cova Nasi*
For starter, the Soft Shell Crab Salad would kill anyone with its creamy cilantro dressing, together some mixed greens and cucumber..How could you not love the soft shell crab?!?!
Next, Cova Nasi..No, it's NOT nasi lemak..It's ulam rice with the choice of beef rendang or dried chicken, salted egg, mango salad, and some veggies..
Well I don't know bout the others but for me, the rice and beef rendang, mm-mmm~..It's so, so, Asian! And I love Asian food, win hands down..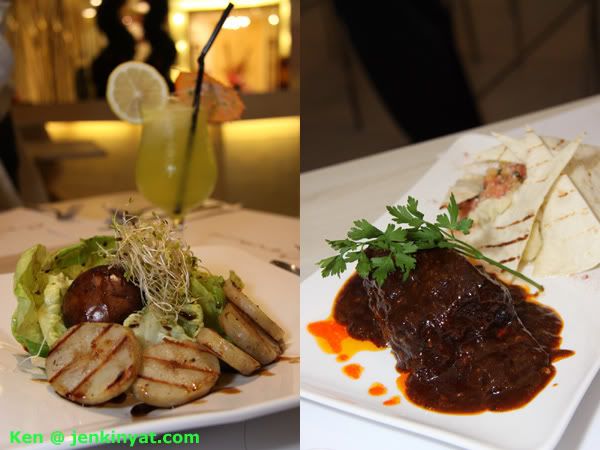 *Portobello Mushroom Salad, Barbeque Beef Ribs*
Portobello Mushroom Salad, another starter, is cooked with balsamic vinegar, grilled potatoes, and butter lettuce..Being a carnivor, I found myself quite fond of this salad especially the fried potatoes..It's just lovely..
Barbeque Beef Rib, a new dish that is not in the menu at the time we ate it..Not quite sure bout now and god, it's so nice that it's finished in no time..It was everyone's favourite!
It comes with tortilla chips, mashed potato, and tomato salsa..Yes, the mashed potato..You gotta love the chef's mashed potato..It's heavenly, kimochi-desu~!
Available Salads are priced between RM18.50 to RM27.50..
Scroll on for more mouth-watering food and desserts~!!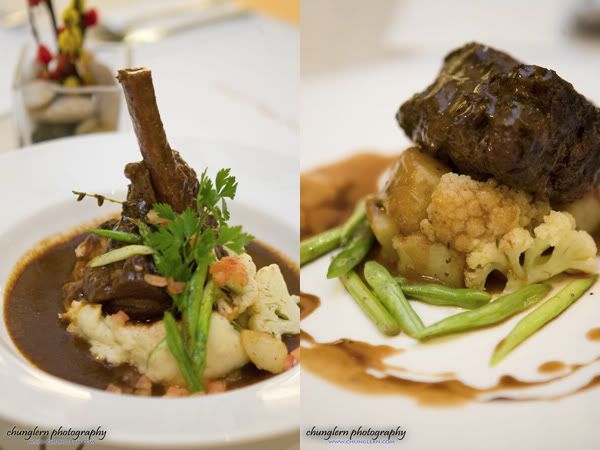 *Braised Lamb Shank, Chargrill Rib Eye*
The lamb shank, braised with home made sauce and I love it a lot! The mutton is so tender and it goes very well with the secret recipe sauce..Did I mention their nice mashed potato? *drools*
But, there's a slight bad taste of this lamb shank..It has quite strong mutton smell and I can't really take it..Yet, I still love the tenderness and I'm still eating it..How good you think it is? Hope the chef will improvise on the mutton smell..
Chargrill Rib Eye, cooked with asparagus, fried potatoes, and a bit of wine reduction..The rib, was so tender as well that I can't choose between the Barbeque Beef Rib and this Chargrill!
I'm so indecisive *frowns*..Think I'll have both..Muahahahaha *devilish laugh with fade-out*..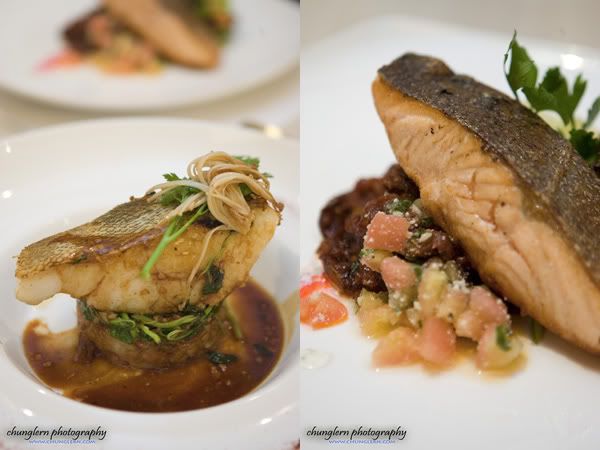 *Grilled Cod, Pan-Fried Salmon*
If you want something different, the fishes are just right in the menu..Get your taste bud savoring on Grilled Cod..Yes, a COD!! It's tasted so GOOD oh my GOD..Wow, it rhymes wtf..
The cod fish, cooked with enoki mushroom and wilted spinach with Japanese sweet sauce..Well, no joke..it's a good fish and if you feel fishy, try this..
Pan-Fried Salmon, cooked with creamy spinach, zucchini, and deep fried ginger and garlic..The skin is fried to crispy perfection and the fish is irresistable..It's not overdone and it's great! Okay I still prefer the cod fish..
As for all these grilled, pan-fried, chargrill, braised, and seared meats from fish to mutton to beef and chicken, priced between RM22.50 to RM52.50..
Those I've recommended in here, Braised Lamb Shank, Pan-Fried Salmon, Grilled Cod, and Chargrill Rib Eye are all priced at RM38.50, RM39.50, RM40.50, and RM43.50 respectively..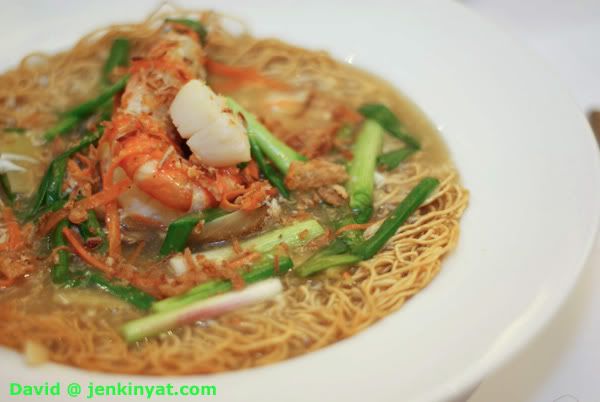 *River Prawn Noodles*
If you want some noodles, here's a Sang Ha Min (directly translated as Raw Prawn Noodles in Cantonese)..No..Sang Ha Min is not Korean..It's something like Kong Foo Chow, and no, Kong Foo Chow is not Chinese neither..LOL..
It has scallops and crabs served with thick broth..Yes, the Kong Foo Chow/Wat Tan Hor style..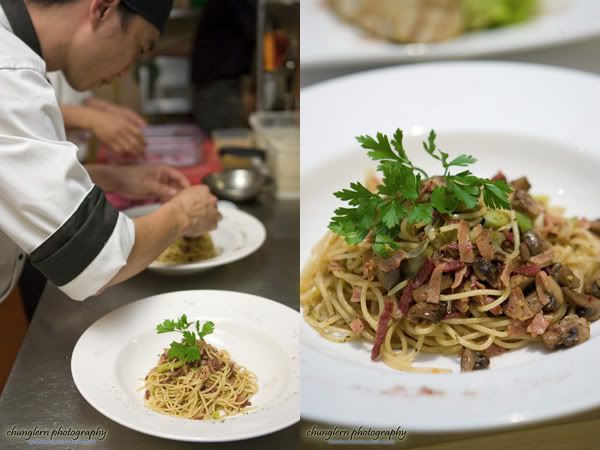 *Spaghetti*
There's a couple of spaghettis in the menu but this, is NOT in the menu at that time, is a MUST TRY~!!! Not sure what they call it by now..Spaghetti Campur?
Why Spaghetti Campur? It's cooked with salmon, mushroom, leeks, beef bacon, and turkey ham..It's is goreng-ed fried to perfection..I've always wondered why there's nothing like Spagheti Goreng in Italian restaurants wtf..LOL..
Spaghetti or pasta wise, averagely priced between RM24.50 to RM28.50..Quite a reasonable and standard price for pasta I would say..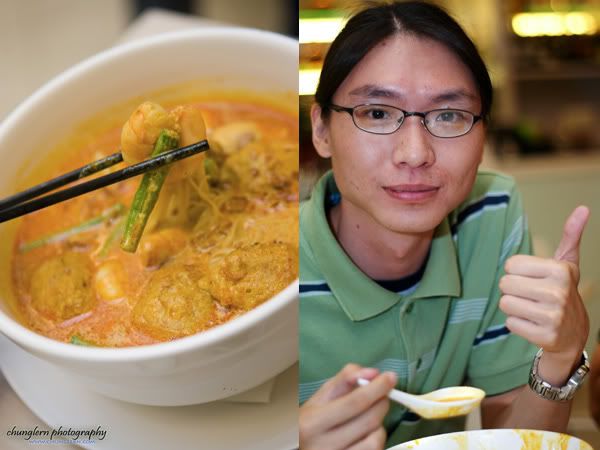 *Curry Laksa*
This Curry Laksa, is one of the bestest curry I've ever had in town..Okay, I'm not quite a curry mee person when I eat out but this one, I'll definitely come fore more!
The curry is cooked with home made aromatic broth, fresh prawns, chicken, shredded cucumber and of course taufu pok! The curry is quite thick and yet it's not too strong and it's just right..
Very strong smell of santan, it's just lovely..I can just drink the curry on and on and on..Thumbs up for the Curry Laksa..
Asian food, namely Cova Nasi, Nasi Lemak,Curry Laksa, and some other noodles/rice are priced between RM15.50 to RM17.50..
Just that the River Prawn Noodles is on another level, perhaps because of the prawn, priced at RM28.50..

*Classic Cheese Cake, Chocolate Mousse Cake, Blueberry White*
Enough of heavy consumption, let's get some fattening desserts, cakes..Wahahaha..
The Classic Cheese Cake, not too cheesy, you would go on and on biting it..Sinfully great!
Chocolate Mousse Cake, wouldn't go wrong for chocolate-lover like me..The mousse is, err, just try it okay?
Blueberry White Cake, it's white chocolate cake with blueberries..The white chocolate is simply awesome..

*Toffee Almond with Peanut Butter Cream, Peanut Butter Banana Pie*
The creamy Peanut Butter cake taste not bad but the toppings of gold toffee almonds not really my liking..So I would give it a pass..
Peanut Butter Banana Pie, if you love peanut butter and banana pie, you'll definitely love this, because the whole thing is nothing but peanut butter and banana..
The banana within the peanut butter is quite an awesome idea, with peanut butter kisses (think Hershey's kisses) on top..The top layer's texture is very much jelly-like..

*Peanut Butter Praline Zucato, Warm Chocolate Lava Cake*
The Peanut Butter Praline Zucato, if you like peanut butter, as in VERY VERY (repeat 1,000 times) much, you'll definitely love this..
It's like you chunk-in the whole jar of peanut butter into your mouth, minus the bread and every other thing..How good is that?
Warm Chocolate Lava Cake, is a chocolate cake with melted chocolate center, served with ice cream and strawberry..
The melted chocolate is mamma-mia lovely..It just goes well with anything and everything! I don't mind to have few more of this..

*Traditional Tiramisu, Creme Bulee*
The tiramisu, is always a good choice for dessert..I can just dip in and eat never-endingly wtf..
Creme Bulee, with caramel sugar on top, and creamy at the bottom..Yes the creaminess, yet it doesn't feel fattening! How am I gonna choose between all these desserts =.=
Last but not least, for Desserts, averagely priced between RM11.50 to RM15.50..

*The Chef, Mr Max*
The brilliant brain behind the kitchen, trying out things fusioned with East and West delicacies..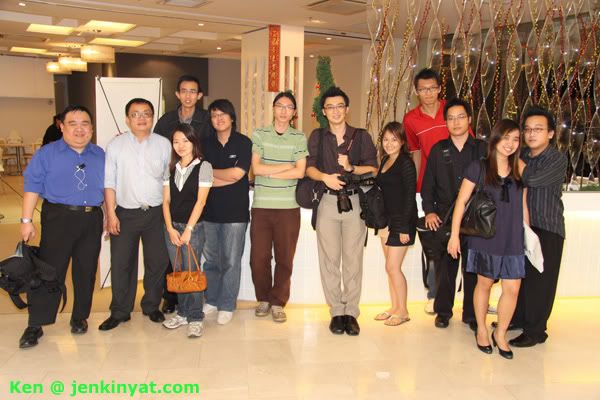 *The diners*
From left to right, Ken, Sid, Celine, Thomas, Joshua, Me, Chung Lern, Stephenie, Stanley, Aaron, Hsu Jen, and David..
We all left the place with a big smile because we had great food with great company..Definitely, go try it..
I know the price is a bit pricey for such food but I have to stress that the food is seriously very nice..If you are running out of idea on where to eat for special occasions or special outings, I would definitely recommend this place..
The ambient is a very nice place to chill out and once again, the food is soooo good..Shit, now I feel like eating the Spaghetti Campur and Curry Laksa =.=

*Cova in the coffee*
Yes, in case you didn't know..You can request for some little messages to be written in your hot coffee