As a Malaysian, Maggi Mee is very synonym to our culture..
As much as I like Maggi goreng, to find a nice Maggi goreng is difficult task..
Indo-Mee wise, I don't buy it coz I usually it out at mamak stalls, other than Maggi goreng..
The Cintan Mee Goreng Pedas is one of my favourite in terms of mee goreng..But the epic of all hot and spicy mee goreng is from MyoJo..
The MyoJo is back with a new branding and new look..How much I miss it, cannot describe at all..
MyoJo has been missing in action for few years and it was the best mee goreng ever..
I still remember when I first ate it when I was in Primary 2..For that one packet of mee I had to drink at least 3 glasses of water..
Now that it's back, it brings back old memories, though the taste has differ a bit, it still taste good..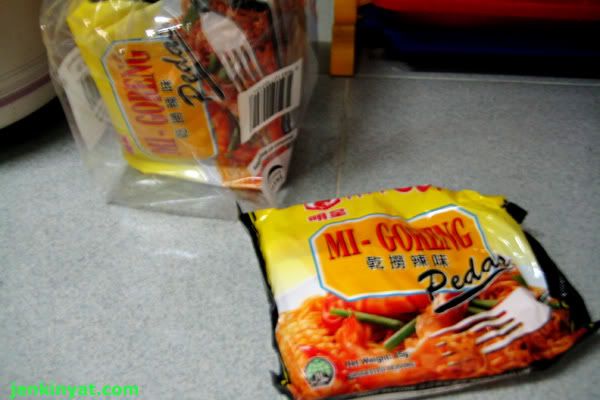 *MyoJo Mi Goreng Pedas*
This is the new packaging of MyoJo..It's slightly more expensive than usual  Maggi/Mamee instant noodles, where 5 packets of MyoJo cost RM6..
Just put the noodle in hot boiling water and cook it as usual..

*After cook*
That's the usual thing that you get after cooking/boiling the noodles..
Then, mix thoroughly with the MSG powder and all that is provided..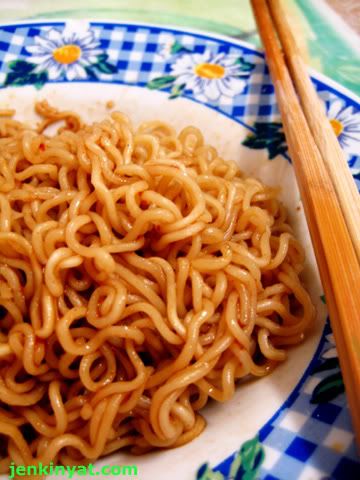 *Delicious Mi-Goreng Pedas*
Shit, now I feel like having one..