The every Wednesday of the third week of the month, Timeout KL presents On The Up, a music night at No Black Tie, in Jalan Mesui, next to Palate Palatte..
Again, some of us music lovers were there to support our local acts..All photos credits to David..
The night kicked off with 2StoreyHeart, with only the vocalist, George Wong, playing that night..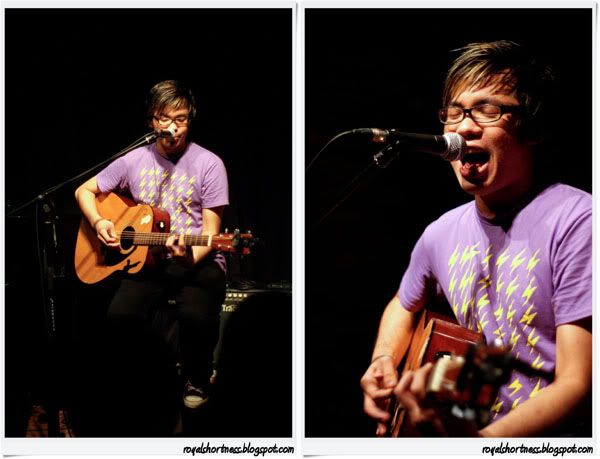 *George Wong of 2StoreyHeart*
I must say that George is quite a talented composer, although most of the songs are very similar in terms of tunes and rhythms..
The only significant thing that differentiate the songs are the lyrics..Mostly emo songs..
The songs that he played that night were not bad, just that he screamed too much in his songs, although I must say that he controlled it very well..
Although it sounded loud, it didn't really make my eardrums want to burst or whatsoever..
Perhaps he need to be more creative in his composing, instead of using the same tune for every song..
Then came second act of the night, Broken Scar..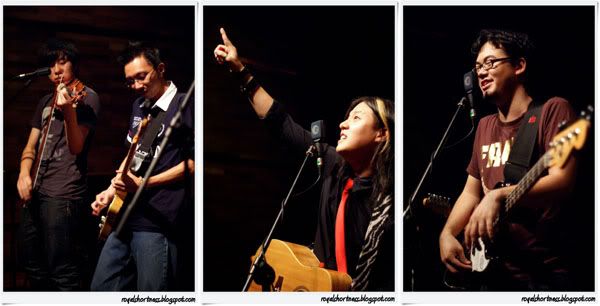 *Broken Scar..Sorry don't have a photo of the drummer*
Being a veteran in the music industry, Broken Scar definitely rocked the house down, with vocalist  Kevin Teh showed a great showmanship..
The other members of Alda Tan on bass, Paul Chuah (of Qings & Kueens) on guitar, and Alex Ang on drums did a great job too..
They invited violinist, Rohnie Tan to perform with them too..He's great too! The first time I saw him performed together with Rendra Zawawi..Great job!

*Wonderful showmanship by guitarist and vocalist, Kevin Teh*
I just can't get enough of Broken Scar after that..They are simply awesome..
Then third act of the night, Izzy Mohamed..Seriously, I thought Izzy Mohamed is a guy, until I saw HER on the stage~!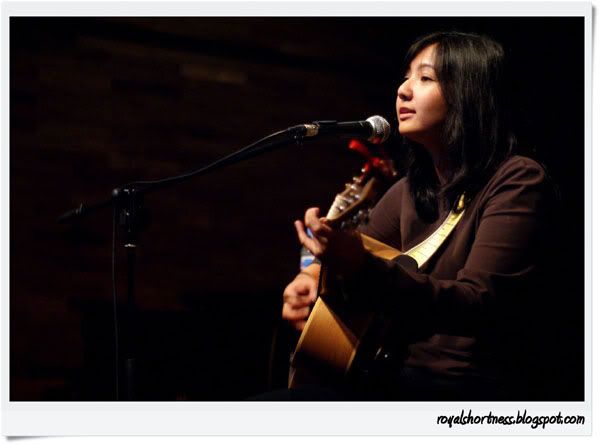 *Izzy Mohamed*
Izzy was doing great too..Slow melodic tune and together with her collaboration of Alda on the bass (again), a drummer, and also a female pianist..Nice songs..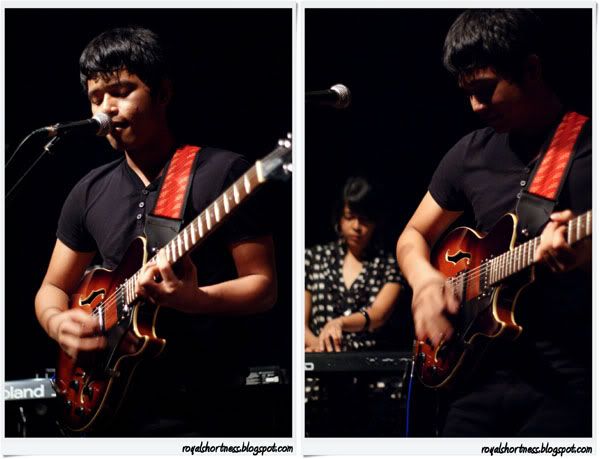 *Secret Love Affair*
Secret Love Affair plays music of rock fusion..Indeed, I was amazed by their performance..
It gave me a feeling of Jamiroquai fusioned with The Killers, where electronica jazz meets 70′s rock style..
I enjoyed myself with the last act but the vocals were simply plain and under par..They seriously have to improve on the lyrics part..
Overall I am really satisfied with all of the performances, quite a rare case..LOL..
Of course, I'm looking forward to another gig by Broken Scar and the likes from any other veterans..