Happy Chinese New Year to everyone FUUUUUUUUUUU~!!! *raise hands up in the air and profusely shaking crotch*
How's your reunion dinner? How's angpow collection?
My CNY Eve reunion dinner was great, but angpow collection rather quiet and slow this year..No motivation at all..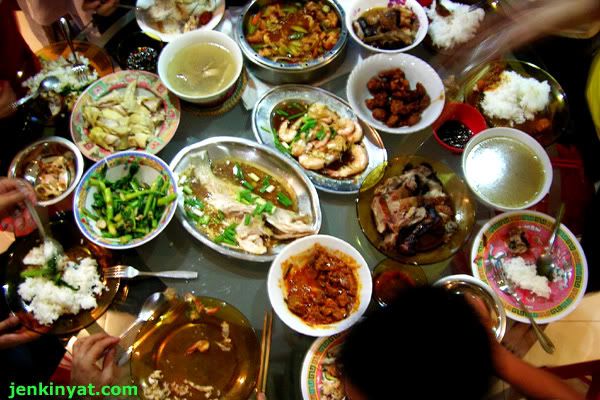 *9 dishes for about 10 people and we have 2 tables*
Had steamed fish, roasted duck, fried pork, steamed prawns, steamed white chicken, vegies, mutton curry, stewed mushrooms and pork, and fried prawns with vegies..All home made..
As most some of my friends already knew that I'm an avid gambler during CNY, and my blog gave an impression that I always go clubbing, it's quite saddening, sometimes..
On the CNY Eve, I've texted most of the people in my phonebook a CNY greetings, wishing them win more if they are gambling and stay healthy if they are not gambling..
And so, some of the interesting replies that I received are..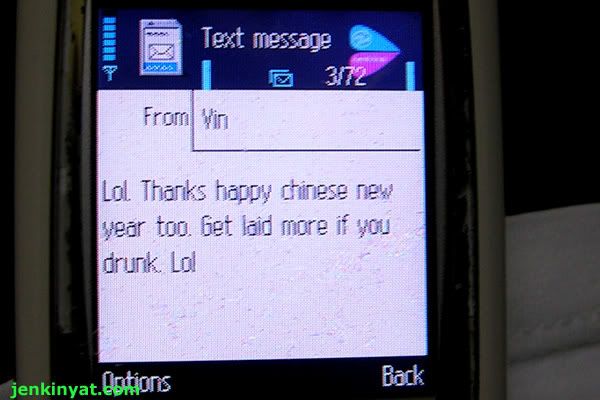 *From Alvin*
This is one interesting one..Get laid more if I get drunk..Hmm..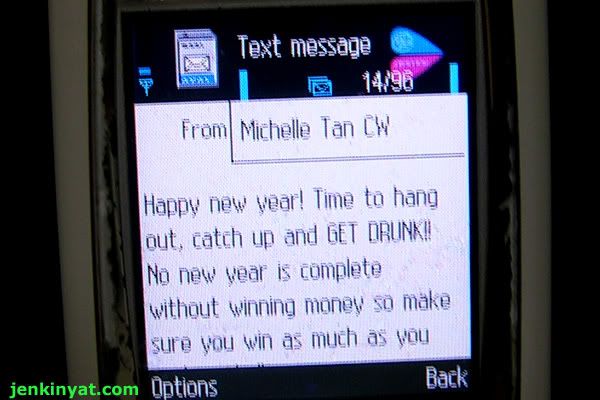 *From a nice ex-Nuffie, Michelle*
Hmph~Another get drunk message..I don't always get drunk one okay..You are the one who….Ehehehe..Think I shall not mention it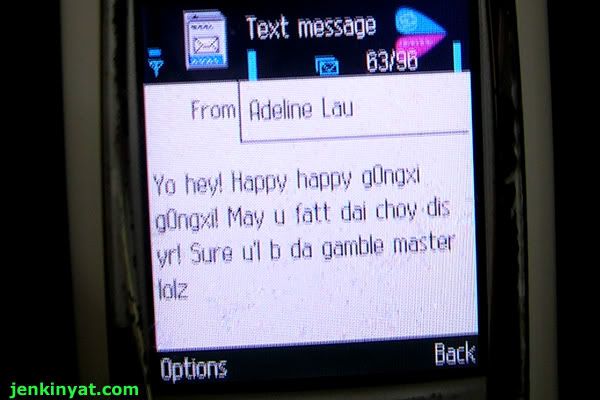 *From ex-colleague, Adeline*
Yeah gambler master just because everyone knows I'm in gambling mood now..I'm still losing now~!!! ARGH~!!!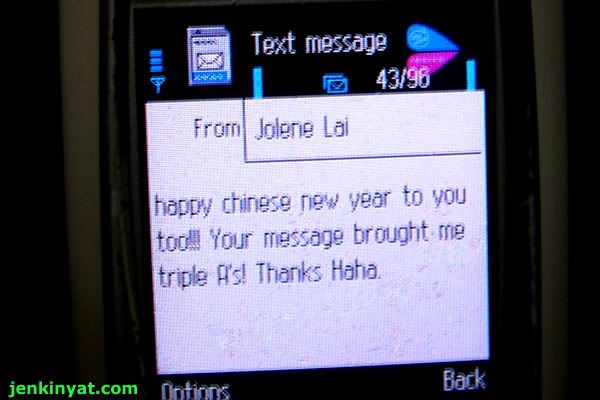 *From funny girl Jolene Lai*
Okay, once in a while I do bring luck to people okay..LOL~!!
Then came Day One..A quiet one..Got up at 12.30pm and didn't do much things..Had lunch, rest, then proceeded to cousin's house..
On Day One, the sky was so blue and nice..

*Blue blue sky*

*Sky high*
Well am not looking forward to angpow collection this year..Maybe I'm getting older already..I'm actually quite surprised how some people of my age still looking forward to that..
Whatever it is..Happy gambling and happy collecting angpoews