The whole new Nokia 5800 Xpress Music was launched on 9th of January 2009, at Pavillion, Bukit Bintang..
A stage was being set up for performances and it was quite a hugegrand launching event..Media and bloggers were invited and it's open for public..How's that eh..
*The center-stage*

*Play, Share, Touch*
They even had a theme for attire and it was stripes, but I didn't know about it..Oh well, a Nokia lanyard will do
That's Robb, Nigel, Soon Seng, and Aaron on the top right pic..
Nokia had even invited Strike Force, a percussion band from Singapore to perform here in KL that day..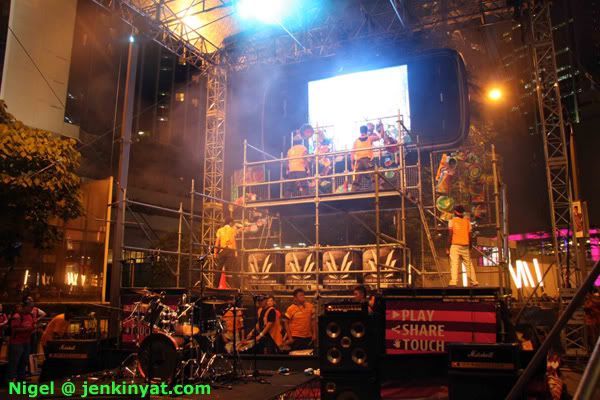 *Strike Force from Singapore*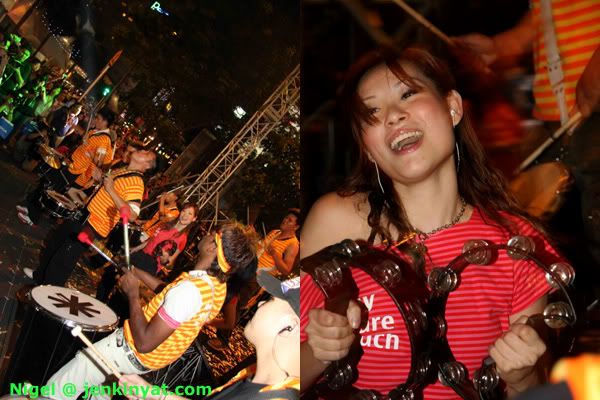 *Power-pack performance*
Get ready with loads of photos..

*Water effect*
The performance was awesomely energetic and full with vibrant and power..
It's like the next best thing I've heard of after Blue Man Group..

*Vlasta Berka, GM of Nokia Malaysia*
The event was officiated by the GM of Nokia Malaysia, Vlaska Berka himself..A good news from him was the Nokia 5800 Xpress Music is retailed at RM1,499..
I would say it's a very reasonable and decent price for a good phone with such wonderful features, touchscreen, good resolution, and many others..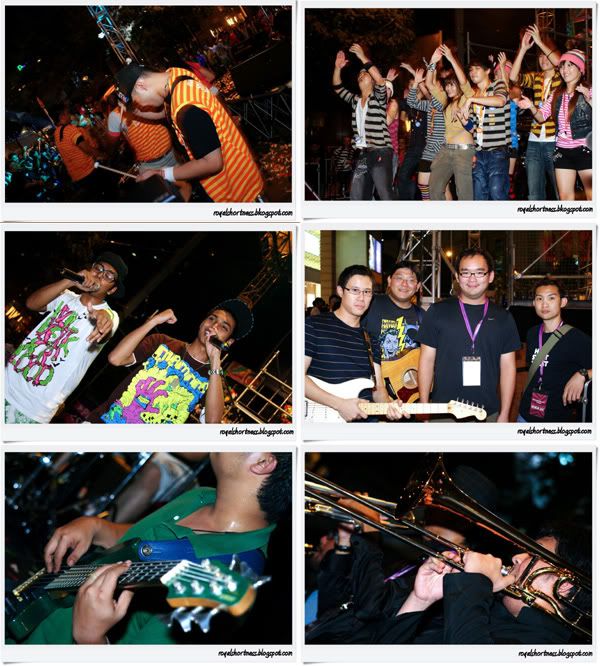 *Some of the performers from Nokia Independent Artistes Club (IAC)*
Then, we bloggers were treated with good food at La Bodega..Well, didn't expect it to be some luxury meal and my first reaction was, "Wow, we got our own corner to mingle around!"..

*Everyone is enjoying their leisure time*
KY having a good time for promoting the phone to everyone and David Lian did a great job
There were more than 20 of us and I thought we would only have finger food or such..

*Fried calamari and cheesy naan or something*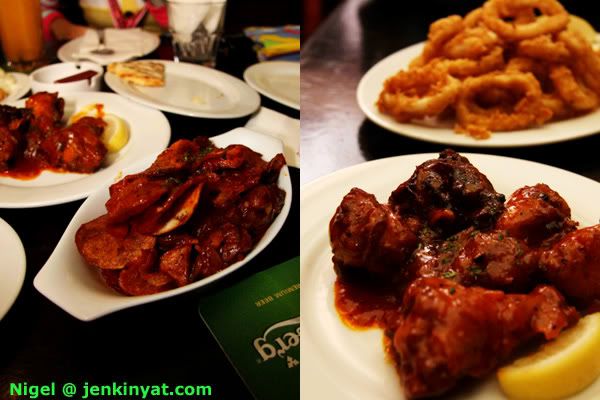 *Chips with frankfurters and small bits of lamb shanks*
Thought it might not be enough with those small portion tapas but we had at least 5 rounds of the same thing for all of us..
Done with the tapas, the main course is yet to be unveiled..A big hot plate of Paella Valenciana mixta, with prawns, chicken, mussels, clams, rice, beans, many more, a.k.a Seafood Paella..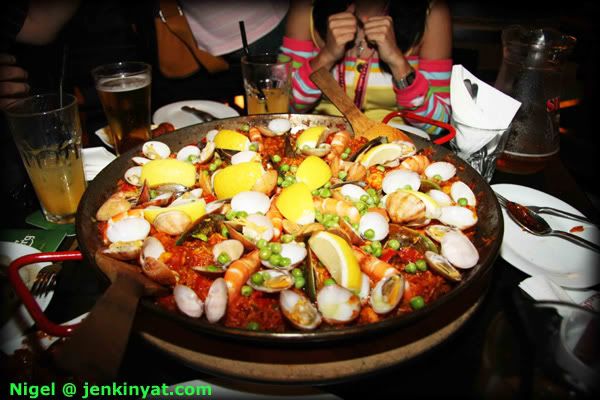 *Paella Valenciana mixta*
Mind you, this dish can be eaten by 3 people and imagine after we had the tapas and all..
Maybe this picture will give you a better view..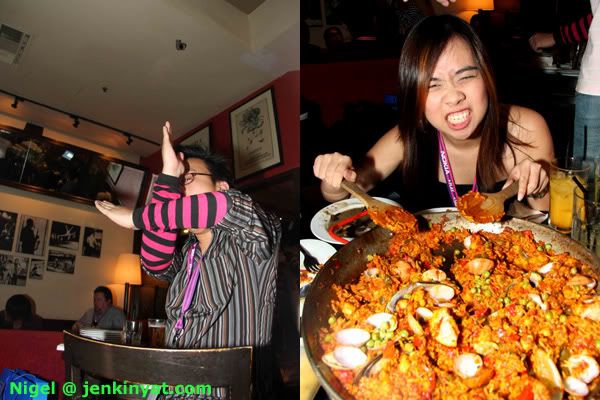 *David firing Ultraman-laser and HsuJen with the huge Seafood Paella*
Well that's not all..We were treated with bottomless of drinks, including fruit juice and also beer to quench our thirst..

*After a glass of beer, it makes you want to get another glass and cheers*

*Promoter wannabes*
Yeah I know..They made a horrible combo for promoting that phone..Hahahaha wtf..
The phone is fully touchscreen-ed..Nice audio system, but bad camera..The night mode is still lacking behind of many other phones..
Other than the camera, it is a good product with great price~!! If not because of the DSLR, I would have bought the sweet 5800 Xpress Music..

*Suanie and me, Kelli with HsuJen*
The night was fun and we had lots of brainstorming session, from playing with fingers to quizzes to horoscope topic to gay/relationship topic..

*Caught in the act by the paparazzi Huai Bin*
Got a bit high, was laughing around with big-eater Cindy and was caught in the act wtf..Guess alcohol makes you let your guard down..
All in all, it was a great and successful event, great food, great company, great night, greatest great~!!