Okay I know this is a super delayed entry but what the heck..I'm just sharing my moments in my blog so it doesn't matter when I post it right?
After all, my schedule is a bit packed now..No thanks to the new sem in my uni..All things screwed up..Sigh..
Anyway, here's a bit intro of my 2008 New Year's Eve celebration party..It's a joint-celebration of NYE and Aaron's birthday, which falls on 31st of December..
Like in 2007, Aaron rented a room in Duta Vista and it was quite a havoc..
In 2008, it was quite a different crowd but things were still happening..LOL~!! We are all crazy bunch wtf..
A little of preview what we had in Duta Vista before the havoc began..

*A duplex apartment*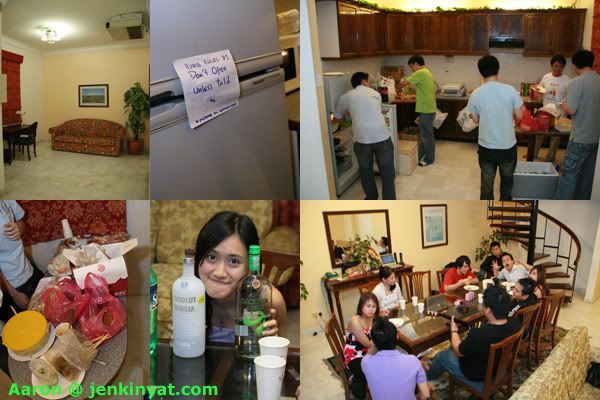 *The many many things before havoc starts*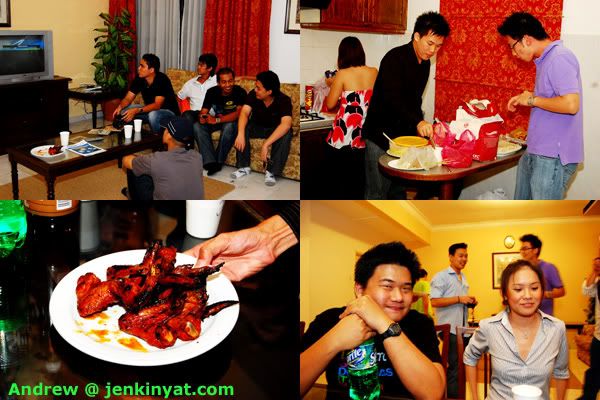 *Lots of food for cravings*
Now, for about 30 plus people, we had 4 barrels of KFC, don't know how many sticks of satay, don't know how many pairs of chicken wings, a whole big bowl of fried linguini, a plate of sandwiches, a plate of cocktail sausages, and some junk food..
Drinks, we had around 10 bottles of Coke, more than 5 bottles of Sprite, about 3 bottles of Kickapoo, more than 1 carton of mineral water, and about 10 packs of ice cubes from 7-11..
Alcohol wise, whole carton of Heineken beers, , 2 bottles of Black Label, 1 bottle of Chivas, 1 bottle of Smirnoff, 1 bottle of Bacardi Apple, 1 bottle of Absolut Kurant, 1 bottle of Absolut Vanilla, and about 3 more bottles which I've forgotten what are them, and a bottle of red wine..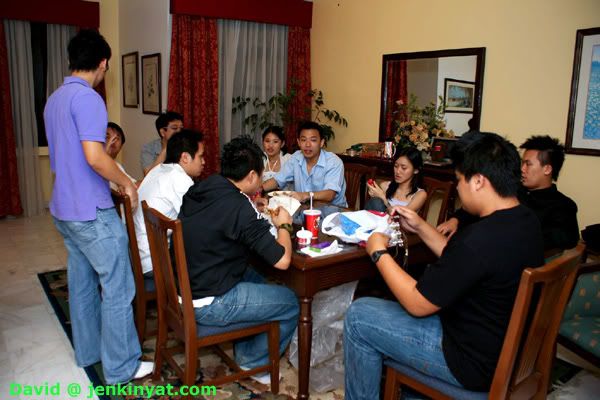 *Eat and play games*

*Chor Tai Di*
As usual, we played drinking games and few of them got tipsy-ed at about 11pm, and I reached that place at about 10.30pm..
But of course, I held myself back to not get drunk THAT fast this time, after a bad experience on Xmas' Eve at Sri Cempaka..
I kept on eating KFC until about midnight, and I had a total of 4-5 pieces in just one hour..And yes, I had my dinner at home before i went there..

*The shuffler*

*Mini electronic Domo-kun*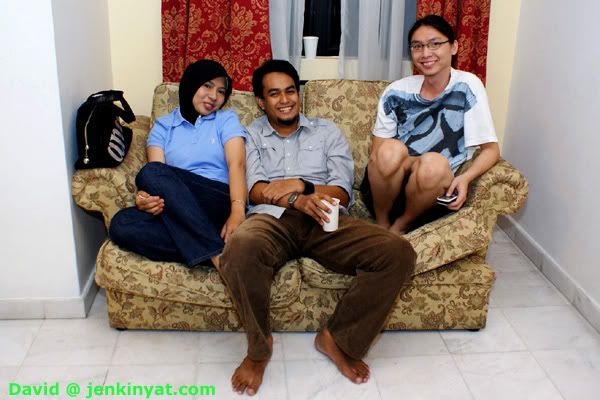 *Me and newly wed couple Zeo and wife*
The newly wed husband and wife were more anticipated this in 2008, compared to 2007..LOL~!!
But of course, they didn't had any alcohol in the games..All they had was just mineral water and soft drinks..Very resistive I must say
Anyway, more to come on Part 2..