Yeah baby..It's Christmas' Eve and it's booze party again..In 2007 we had a secondary reunion by getting ourselves drunk at Nicholas' house in Templar's Park..
Check out our crazy antiques in Part 1, 2, and 3..
This time around, we decided to rent a service apartment so that we won't cause any nuisance to any neighbourhood..

*KL view before midnight*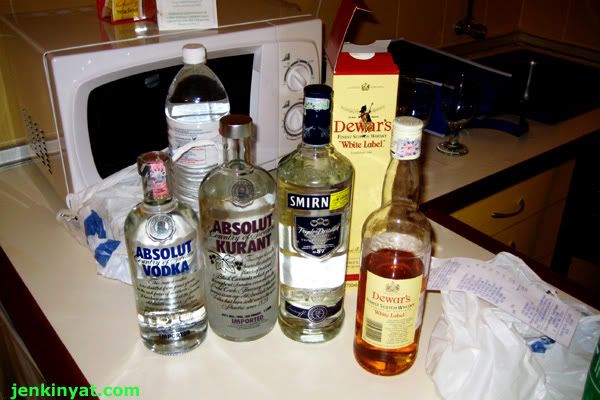 *Our boozes*
Those are Absolut Vodka, Absolut Kurant, Smirnoff with 50% alcohol, and White Label Dewar's..We have 2 bottles of Dewar's actually..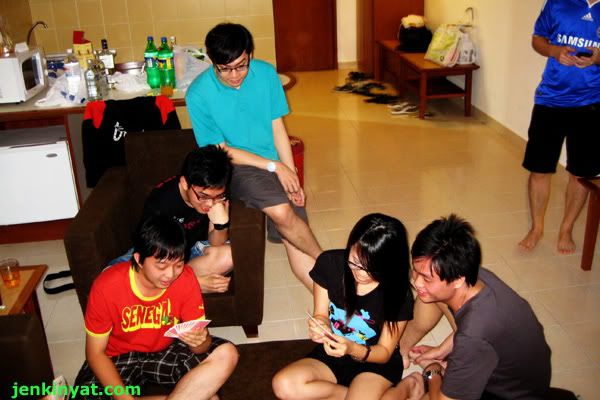 *Chor Tai Di*
Party people, Hikaru, Deral, Nicholas (Bowling), Ryan (Landoo), Junn, Petrol,  Kelson, Kianhow, Jenifer, Kate, and Apple..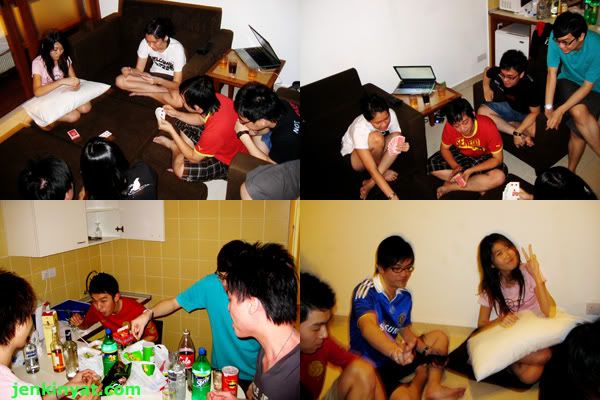 *Some warm up sessions before the real deal*
Yes, some warm up sessions are needed before you head for the real deal, the drinking game..
Well, if you have attended my few previous booze parties, you would know my version of drinking game..It's absolutely  for the win..
But this time around, we skipped all the thinking and hassle..We played by luck..
Read on to see what luck-drinking game that we have..

*We play in-between*
If you are a true Chinese who gambles all the way during Chinese New Year, you will definitely know what is in-between..
Or some people like to call it "Shoot The Goal", literally translated from Cantonese, "Seh Loong Moon"..
The gambling game is simple..Each player gets 2 cards, smallest is Ace and biggest is King..Whichever 2 cards you get, you get to bet how much you want depending on the chances you have..
Say you have a card of 3 and a card of Jack..If the third card you get is in-between the 3 and Jack, you win, out of it, you lose..You hit the post (3 and Jack), you pay double..
So here, we make it simple..In-between the 2 cards you get, you are safe..Out of it, you drink one sip..You hit the post, you drink two sips..Simple and easy..

*The after effect*
We started around 10pm, everyone got tipsy-ed by 11pm..Then we took a break at about 11.30pm..
Yes, after effect tends to make people high and dry and giving out peace sign..
But for Muar-girl Kate, she speaks Cantonese when she is high..

*Guys in action*
As for guys, I think you should reset your thoughts that guys will tend to do "stupid" things on girls when they are tipsy or drunk..
They actually have hidden affections on guys, too..So straight guys out there, beware of your pants when you are drop dead drunk..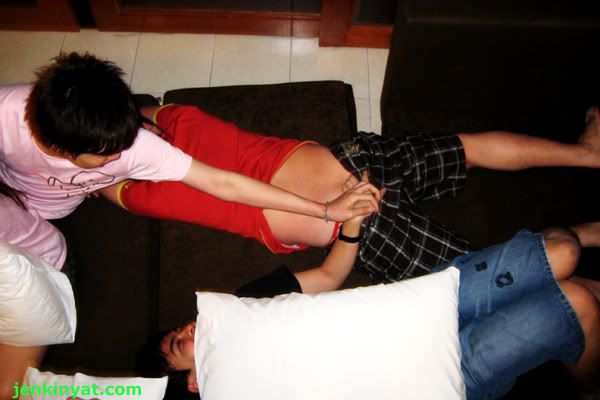 *Petrol's ass being invaded*
Yes, that's Junn's fingers invading Petrol's ass..And Hikaru is encouraging him..Eeeewwwwww~~

*Then the boss, Kianhow is here*
He came around 12 midnight, which was our second around already..He cheated for drinks and even drank on behalf of half-dead Jenifer..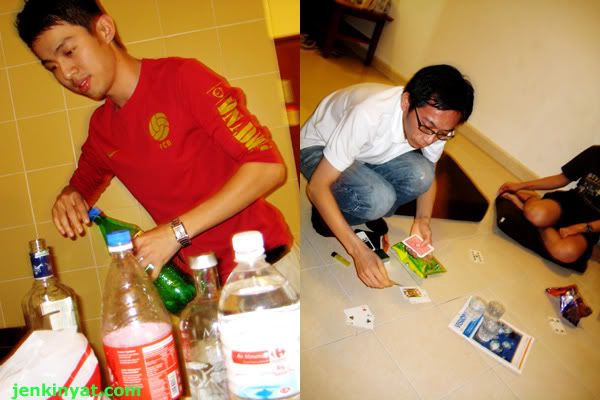 *The two crazy bunch, Kelson (L) and Kianhow*
Kelson drank like nobody's business and we thought he was still okay..Then slightly after 12-midnight he left and said he's joining his other friends for second round..
The next day we heard from him, he says he's not sure how he drove home but yeah, he went back home straight instead of joining his other friends..
Then he slept through the night til the next morning..
As for Kianhow, he even got frustrated for getting lucky..And also frustrated when Jen got lucky, coz he's drinking on behalf of Jen..
I guess he's deprived of alcohol but hell no..With us, was his second round and he went off before 1am for the third round somewhere else..Crazy shit..

*All K.O-ed*
By 1.30am, most of us K.O-ed..Then most of us stayed over and actually had some noise pollutions, snores wtf..
Then most of us either couldn't really sleep or got up quite early despite our alcoholic-activity the previous night..

*KL view on Christmas Day*

*Leftover of ice cubes we had the night before*
I was surprised to see the ice cubes still in good shapes in the cooler box..I thought they could have melted or something..
Okay, the toilet isn't our cooler box okay..Watch the following video to see how the ice cubes got in there..
[youtube=http://www.youtube.com/watch?v=vsD80sh2GOA]
Merry Christmas and a happy new year people..