Ho ho ho! It's year end and it is Christmas again..
This year around, I had an early Christmas dinner on Saturday, 20th December with my Definitely Gang Maybe Bang (DGMB) friends..
And so we went to this high cost housing area of Desa Park City, somewhere in the middle of Kepong and Bandar Manjalara..
Desa Park City is actually some kinda high-class community place for the residents to dine in, light shopping, and even yamcha..
The set up is very much similar to Peel Road's Queen's Park, a smaller version of Jaya One, KLCC park with its outdoor restaurants, etc etc, you get what I meant..
They have shops/restaurants like Secret Recipe, Kluang Station, Starbucks, etc etc..
One of them is Kay's Cafe, a restaurants that serves what a normal cafe would serve, minus the cheese-baked rice..
It is located on the First Floor of the so-called park/city, facing the car park and playground in the backyard..
Photos credit to to David..And thanks to Joshua for suggesting and offered to reserve a table here..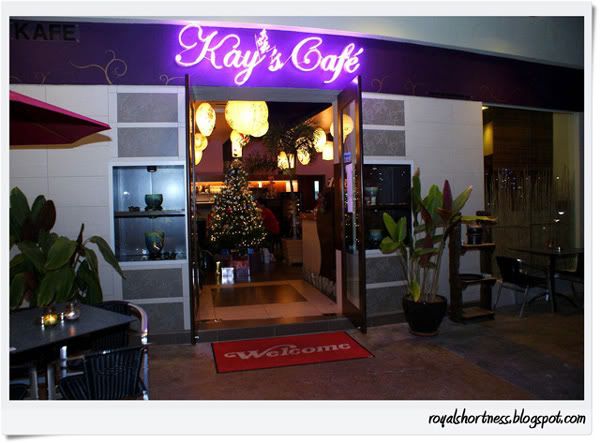 *Kay's Cafe*

*Most of the people*

*Michelle, Dillon, Hsu Jen, and David*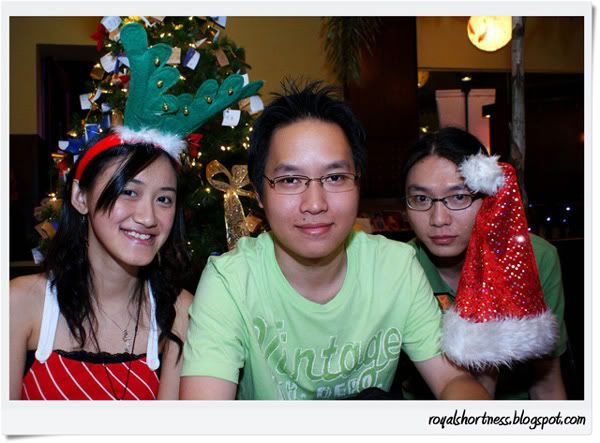 *Kelli, Aaron, and me*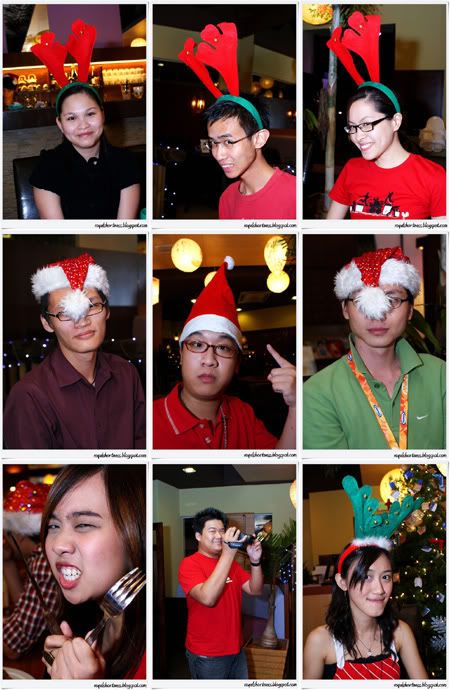 *Collaged*
From top left, Michelle, Thomas, Pamsong..Middle row from left, Stanley, David, me..Bottom row from left, Hsu Jen, Nigel, and Kelli..
More about food and crazy bunch..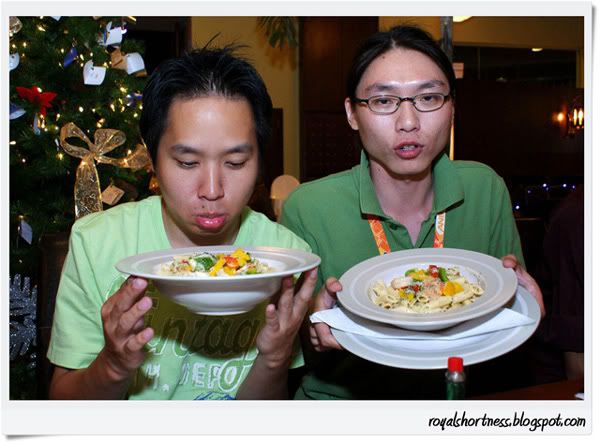 *Aaron and I holding our very same dish*
I've forgotten what we had..I only remember it's a seafood pasta with creamy sauce or something something..The pasta was great, but not the best I had..

*The other varieties*
Clockwise from top left, Tom Yam Fried Rice..It was a good fried rice but very much like its name, Tom Yam..There's not much taste other than the Tom Yam sourness..Brrr~~
That's my seafood pasta, not bad..Recommended..Top far right, I can't really remember..It's either a lamb shank or chicken chop..I heard it was good, too..
Bottom left, garlic bread..Not sure, but don't think garlic bread would taste any different from others right?
Overall the food was good, affordable price, and the portion is just right, for most female aka small eater wtf..LOL..
After that we had some comwhoring..

*Group photo take one*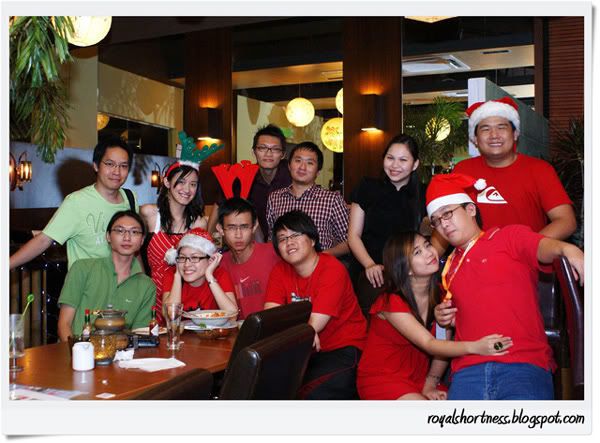 *Group photo take two*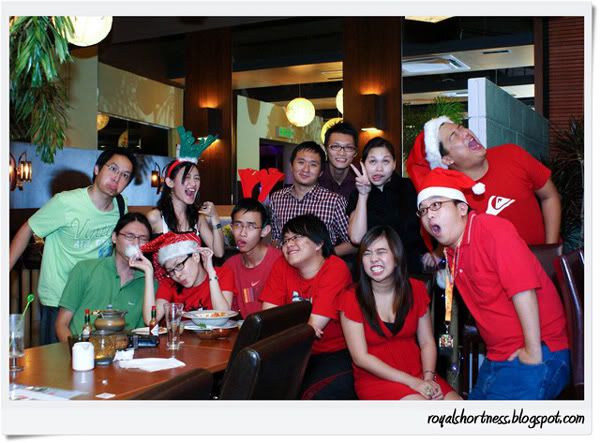 *Group photo take three with silly pose*
We did some good shit video recording for our long-distanced DGMB friends, Hwei Ming and Amy who are now studying in UK..
Poor me and Aaron, the only two fellas with green shirt. Being the minorities, we got bullied to pose ala Bollywood style..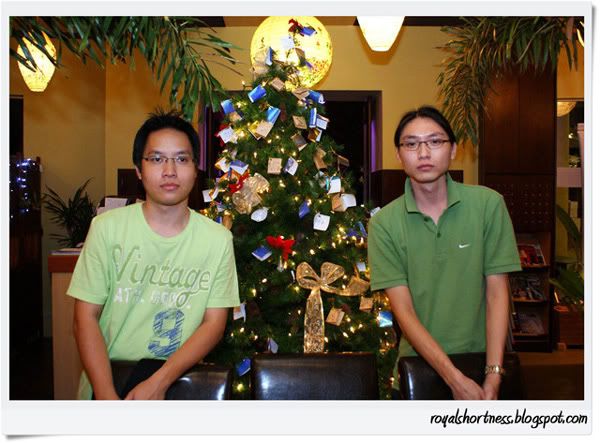 *Our signature stone face*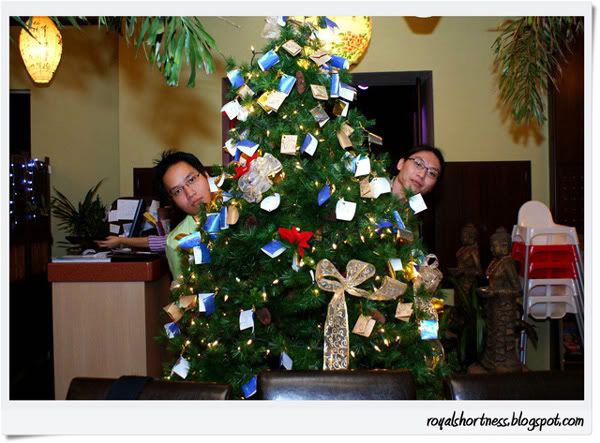 *Pom chak ala Bollywood*

*Tree hugging ala Bollywood*
Enough of camwhoring in the cafe, we went outside and played with the Xmas props there..Diners and passers-by were looking at us awkwardly..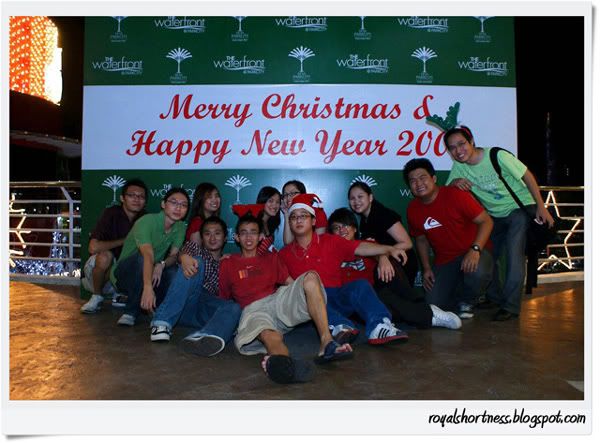 *Group photo take one*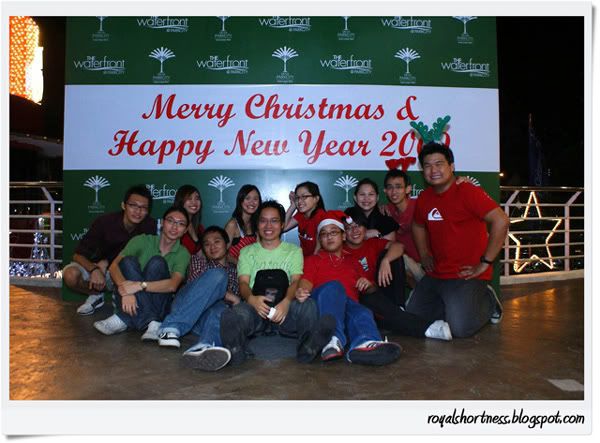 *Group photo take two*

*Group photo take three with me kangkang*
We made lots of noises and a bit of havoc while we were in the toilet wtf..
Check out Nigel's videos for more info at Nigel's I Won't Be Home For Christmas..
More to come in the next part of how we invaded the playground after our great dinner and camwhorings..