Yes people..It was a hectic Sunday for me..Last Sunday, 23rd of November, Aaron and I went to Kapar, Klang to attend a friend's wedding..
Initially Earl and Wingz supposed to join us so we went over to his place at Pandan Indah..
Then Earl got an urgent call and couldn't join us for shit while Wingz fell sick and didn't pick up my call at all..
And it proves it's real shit for us because Earl is the only who one knows the way to Klang and the only one with GPS..So we Google-Mapped..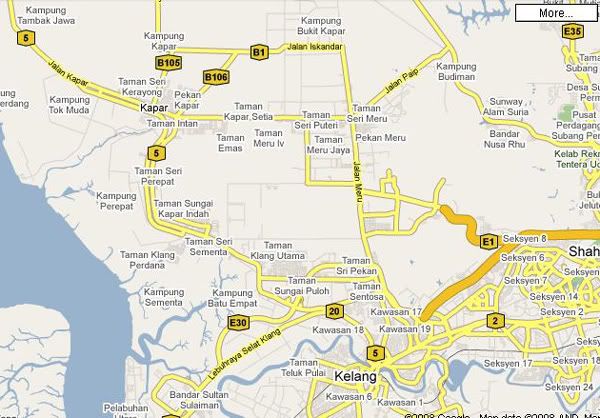 *Kampung Tok Muda, Kapar, Klang*
So, for those who have noticed in my Plurk, I traveled a very long journey, just to visit our friend's wedding..

*My whole journey*
But of course, the whole journey was quite worth it..At least now we roughly know the way to Kapar, or at least Klang..
And the most important, Aaron and I got to attend our friend, Zeo's wedding but we were way too late..We reached his place around 4.45pm..
Most of the guests left the place already..But, we had some personal time chatting with him coz earlier on he was busy with his wife with all the bersanding stuffs..
Then we left at about 7pm..On our way back, we got lost, hence the long journey back to KL from what you saw in my Plurk..
Anyway, congratulations to Zeo and his wife..

*Zeo, Aaron, me*
By the way, I'm damn proud to be his friend because he is one of the very rare person with a site of PR7..KanaSai also lose okay..
Congratulations to the newly wed couple once again..