Yes, a lot have asked me bout my hair..
How long I've been keeping it, when I'll be cutting it, how do I look like if I have short hair, etc etc..
And the most lame question, have you ever go with short hair?? I was like wtf???? Eh I studied in government school of course I've had short hair before..
I know that my hair is longer than a lot of girls but hey, can't blame me..I don't cut hair as often as girls..Girls go cut their hair just like they go shopping and splurge like at least RM100 on it..
Guys damn easy..Go to Indian barber and get a haircut for RM8 or maybe normal saloon, ask for trainee, get a haircut form RM20..
So in this entry, I'll show you guys what I used to look like, a sohai..LOL..
First of all, let me show you guys how I looked like during Form 5..Yeala..Form 5 enough la..What? You want turn back til Primary 5? Go eat shit..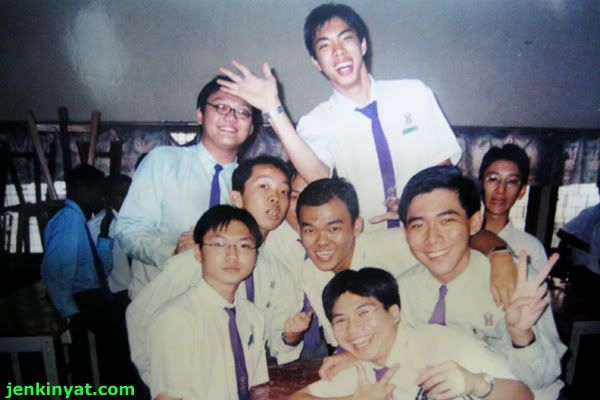 *That's me sitting on the left in 2001*
And also, that sohai Hikaru saying "HI" to everyone on top, Hiew below him, and Pete Nkwai standing tall on the left (green shirt)..
By the way, not to be too surprise if you see me almost bald ala G.I..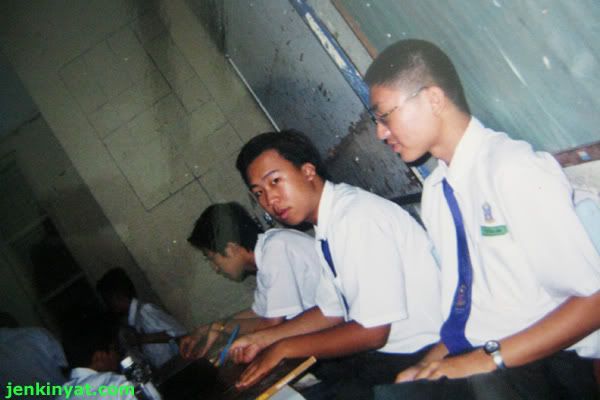 *That's me sitting on the right in 2001*
Then after my SPM, I started to keep my hair a bit..That's like 3-4 months holiday for me before I started my Form 6 life..

*Me after SPM at Sepang watching F1 in 2002*
Then I entered Form 6, a beginning of a new chapter in my life, that's studying in a co-ed school..Yeah, I've been studying in all-boys' school from Primary 1 til Form 5..Damn sad right?
On the bright side, I've got lots of good friends and good buddies..And I think I'm quite fortunate to know them..
Let me tell you guys a bit of my fancy Form 6 life..I made it quite big-time *cough* in Form 6, albeit I'm a freshie in that school..
Thanks to my friends, I was selected as the Class Monitor during Lower-6, and continued til Upper-6..
Then thanks to my senior, I was selected as the President *cough cough* for the Form 6 Council when I was just in Lower-6..
But I didn't do much things back then, thanks to my responsible and efficient Secretary, a guy, whom helped me out during those days..
Also, when I got to Upper-6, I'm the President of the Class Monitors Board..Heh no shit..I was quite noticeable at that time coz of my spiky hair..
So here are my class photo and some clubs/societies photos..

*This is my class photo and remember, I'm the class monitor..Spot me*

*This is my Form 6 Council photo*
The guy sat next to me was my reliable Secretary, Farn Hua, and also all of my supportive and reliable committee members..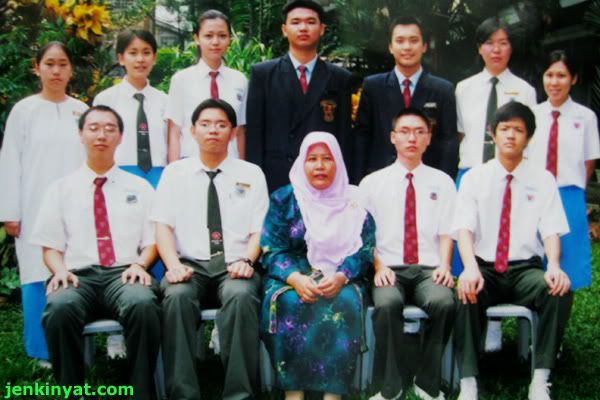 *That's me as Vice-President in Multimedia Club wtf..Useless club*
Well there's a reason for me to cut my hair ala G.I..Remembered I said I was previously in all-boys' school?
Usually all-boys' school is damn strict, especially tidiness of hair and uniform..So when it comes to hair, I was damn lazy coz most likely I would get caught by the discipline teacher..
Once caught, they'll cut your hair unevenly..Yes they did it on purpose..So that you won't have a handsome face hair anymore..
So I was being lazy to comb my hair and getting caught everytime when there were spotcheck, I just shave my hair ala G.I..No need worry bout discipline anymore..
I did that haircut every new year or every new sem a.k.a starting of first-half and starting of second-half of the school's semesters..
And based on the rate of growth of my hair, it's damn slow..I saved a lot in haircut too..Only having to cut my hair once every 3-4 months..
And back in 2002, we already took camwhore to the next level, for beng silly a.k.a sohai..

*At Genting in end of 2002*
Well yeah, my friend and I bought the same jacket (windbreaker) from Nike coz it was cheap and nice..No we were not gay..
Then suddenly came end of 2003, when I finished my STPM exam..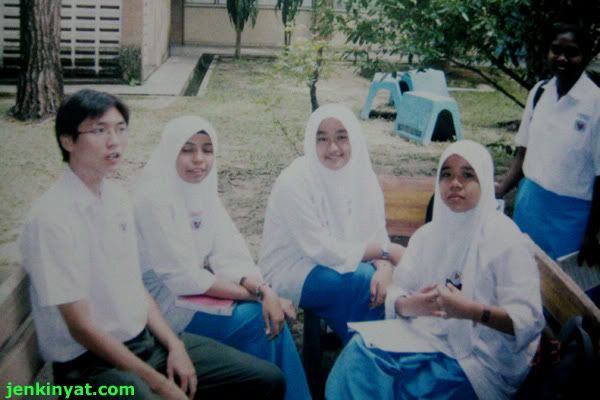 *Last day of my STPM with some Malay and Indian friends*
Well, since it's the last day of STPM and I won't be going to government school anymore, there's no need for me to cut hair anymore..So I just left it just like that..
Roughly 2 weeks after my STPM, I went up Genting again with some friends..

*That's me, Kinyu, Niviak, and Singkin*
Yeah, damn old school right? LOL..Not to forget, sohai at the same time..
Right after the Genting trip, I went to work in Nike and I was somewhat specialist in Nike footwear, because I sold mostly Nike footwears..
It was quite fun and I learned a lot about Nike technology and of course all of the price-and-names-memorizing..I was damn pro after 1 month working there..
Then came result of the STPM and I've to leave Nike around April 2004..I did some tidying on my hair before I went to college..

*Me holding the first generation of Total 90 Series of football in front of Roberto Carlos poster*

*Me and ex-colleagues holding basketballs of different qualities*

*With part of the happy-go-lucky ex-colleagues*
After that, I went off to college life and that's the end of my short hair era..There comes the hard-time of growing my hair and maintaining it all these while..
Stay tune for next part, Long Hair..