Some of you might have already noticed my lansi-no-smile (KY says) that I've generated during my hey days..
See it's not that I want to act cool or so but that the way I am since like don't know when..
What do you think about my short hair era? I know I know..A lot said I looked like a nerd..Lucky me..
I've already filtered quite a lot of photos of the nerd-er side of me..Those I put are selected ones but still, I'm a nerd wtf..
But anyway, short or long, it all depends on individuals..Some of my friends who got used to my short hair era, said I looked better in short instead of long and vice-versa..
So I guess most of you people prefer to see me with long hairdo? =P

*Taken in early 2005 at Sepang for F1*
My hair only started to grow at shoulder length in 2005..That's when I was studying Diploma in lala college, TARC..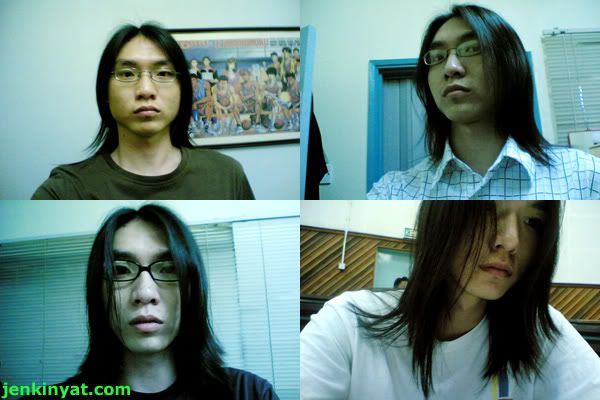 *Pics taken in late 2005 when I've my camphone*

*Taken during CNY 2006*
Then it got a bit longer and some girl friends who got nothing better to do, braided my hair to 2 ponytails..
Well obviously, we were having CNY-routine there and that's when I got to know Earl-Ku personally, despite him being my senior during secondary school..

*Pics taken in late 2005 and early 2006*
Clockwise from top let :
1. That's during Bee Yan's birthday somewhere July 2005 when my hair was still quite in the middle of no where short nor long..
2. That's during Mei Lin's birthday somewhere December 2005..
3. That's somewhere March 2006 when we went to QBar and that night sucks..Yes, I had contact lenses on that time..
4. That's somewhere May 2006 and it's my first time at Wong Kok Char Chan Teng and that in PJ SS2 with the then gang of mine..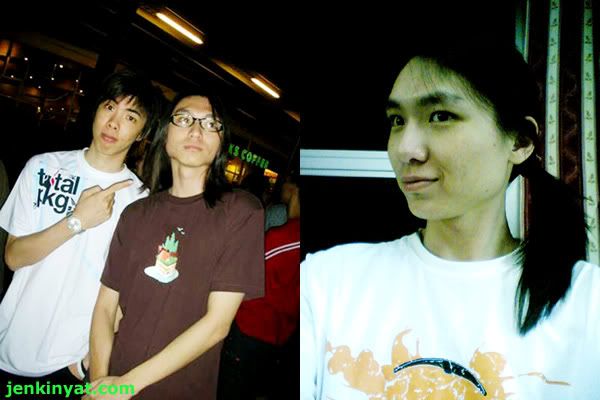 *Taken in late 2005 and early 2006*
That's Hikaru and me at The Curve counting down to New Year 2006 on 31st of December 2005..
The second pic was taken somewhere April 2006..I know I looked like a girl here wtf..

*Taken at Langkawi Hanging Bridge in 2006*
Went to Langkawi to fresh up my mind after my mom's death in May 2006..At the trip were Deral, Hiew, Hikaru, and Lipau..
Check out the entries of Part 1, 2, 3, 4, and 5..And also a greeting from Langkawi..

*Taken in 2006 at Zouk KL*
This photo was taken during Hennessy VSOP event back in August 2006..Yes that's right..I've been attending Hennessy events with the Cooler Club since back then..
Then later on only they've re-branded its name from Hennessy VSOP to Hennessy Artistry..
From the name itself you could tell that Hennessy intended to promote its cocktail and I guessed that failed big time..
We must have music and liquor blend together..So then they re-branded it to Hennessy Artistry where they brought in some local and international acts to perform..
Check out for Hennessy at Velvet, Aloha-1 and 2, and Bukit Kiara-1, 2, and 3..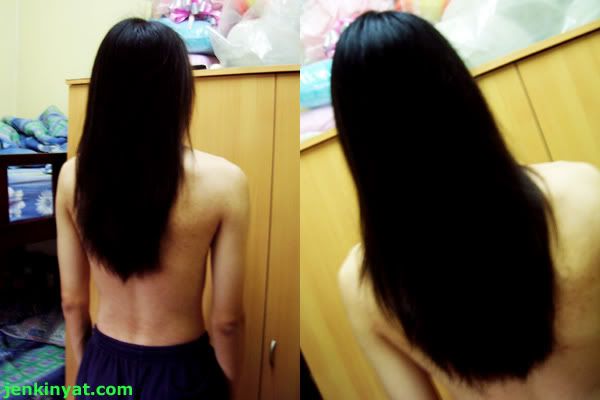 *Taken in 2006 before my haircut*
Back then in November 2006, this was my longest attempt ever before I went for trimming..

*Taken at Cameron Highlands in 2006*

*With my cousin Billy and sidekick Rechelle at Strawberry Farm*
Went to Cameron Highlands for a one night trip in November 2006..Check it out in Part 1, 2, 3, 4, and 5..

*Hikaru and my joint birthday celebration in 2007 at Wings Cafe*
Thanks to Jen Ni and Jen Ai back then in January 2007, Hikaru and I had a joint-birthday celebration at Wings Cafe..Check it out here-1 and 2..

*Taken in 2007 and 2008*
That was me hysterically head-banging to Muse's Time Is Running Out tune in a RedBox session during CNY 2007, that's somewhere February 2007..
Then the second pic was taken at Maison just a week before CNY in 2008..
I know I jumped a lot from CNY 2007 to CNY 2008..LOL..But hey, that's about it..It's not that I've changed my hairstyle during that interval..
It's long and black and silky smooth all year long wtf..
Then, came the latest pic of mine which I took somewhere 3 weeks ago..

*How's the length this time?*
Well, that's all about my hair from short to long and I've no intention to cut it nerdy-short for the time being, unless being compulsory to do so..
Not that my father is annoyed with it..My only concern is in November and December where I'll be doing my co-op (industrial training)..
Should I work in an engineering firm/company, most likely I'll have to cut my hair short..
But for now, I really need to find some time and go for trimming..Yeah, I have split ends too, not only girls wtf..
Til then, have a nice day..