HENNESSY ARTISTRY 2008 FUUUUUUUUUUUUUUUUUUUUUUU~!!! *hands up in the air and profusely shaking crotch*
It was quite an event and helluva night for me..I've had been to concerts..I've had free flow in clubs before..
I've had been to blogger gatherings..I've had been to booze parties..
But there's nothing, not a single one as fabulous as Hennessy Artistry 2008!!!
Where can you find an event that gives you free entrance, not quite packed coz it's limited to invited guests only, free flow of booze, and free concert of 3 helluva international artistes?!
I'm not sure whether it was as great as for you but it's the event of the year..Perhaps the best event so far, of all I've attended..Applies to those events I've attended ONLY..
First and foremost, I want to say sorry if I've neglected anyone who I've invited coz the venue was too big and everyone else scattered around everywhere and anywhere!!
Hope everyone had fun and we'll mingle better in the next event yeah..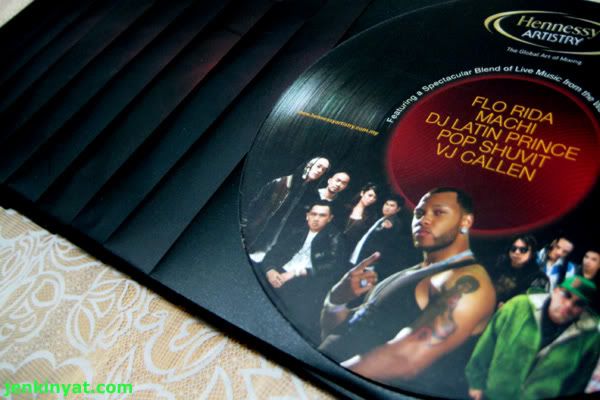 *The VIP invites*
The VIP invites thanks to Nuffnang courtesy of Hennessy Artistry..
I was a bit late than scheduled due to time miscalculation and Dark Knight damn nice!
And because of that I missed the opening act, Pop Shuvit..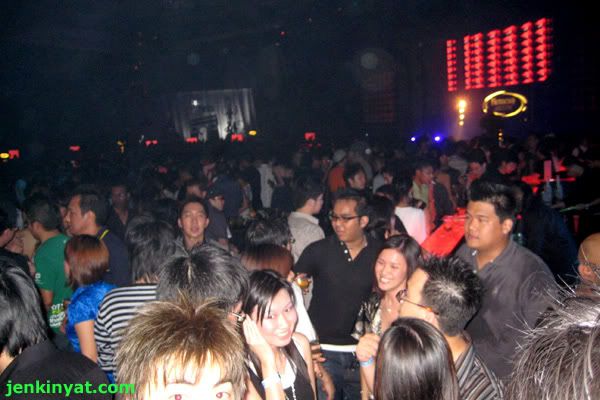 *The crowd is massive*

*The bar preparing boozes*
Reached there at about 10.30pm..Received SMSes from fellow friends saying that it's damn hard to find parking even at freaking 7pm!
Luckily Hennessy Artistry gave out some VIP parking stickers and I was one of the lucky ones who got it..
Not to mention public parking space, even VIP's are very limited..Lucky I carpool with some friends..

*Hennessy Miami*

*Hennessy Shanghai*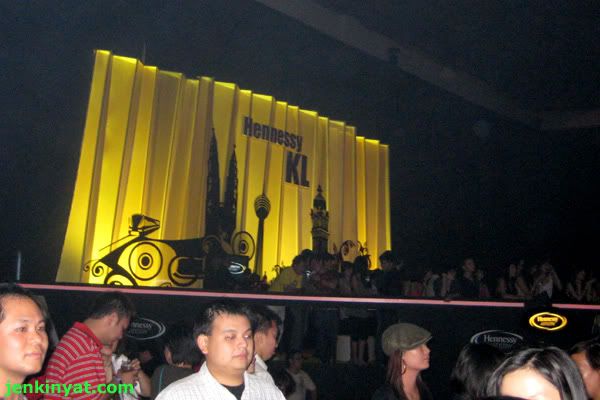 *Hennessy KL for VVIPs*
These were the platforms for the VIPs and VVIPs..I was at Hennessy Miami most of the time..
There were Hennessy Shanghai and Paris, where some people I know like Mikemmery was there..
But too bad I didn't getto meet him coz I missed his SMS..
Hennessy KL was the place for VVIPs, such as celebrities, and many high-ranked people which I don't know coz we were not allowed to go up..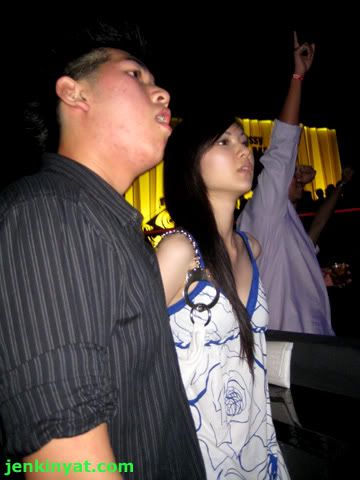 *Jason Ooi and Jamie Chin*
Here's Jason Ooi ex-schoolmate Jamie Chin staring at the stage jakunly..LOL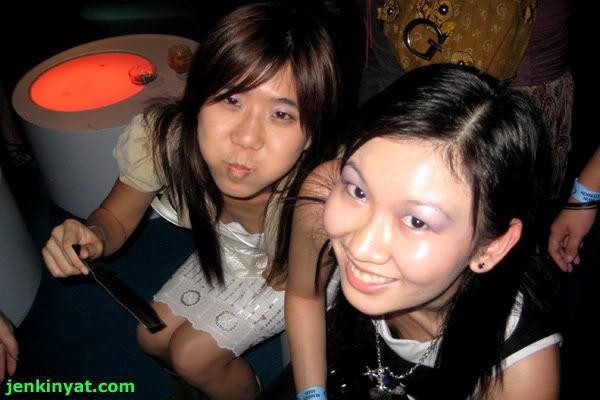 *Jan and Amy*
Jan already looked quite wasted early in the night and bad thing for Amy coz she's not feeling well and nauseated..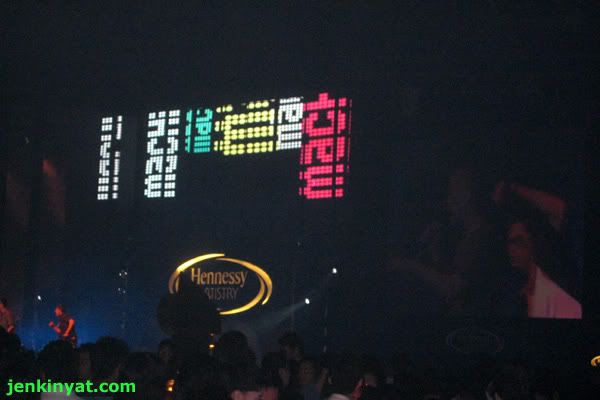 *Machi on stage rocking the arena*
Well, it was Machi's performance and I was utterly surprised that they danced too..That's so not hip hop to me..LOL!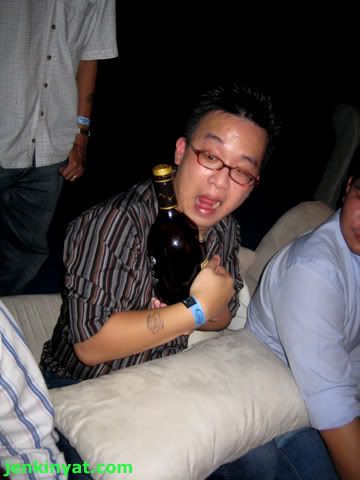 *David with the inconsumable bottle of Hennessy*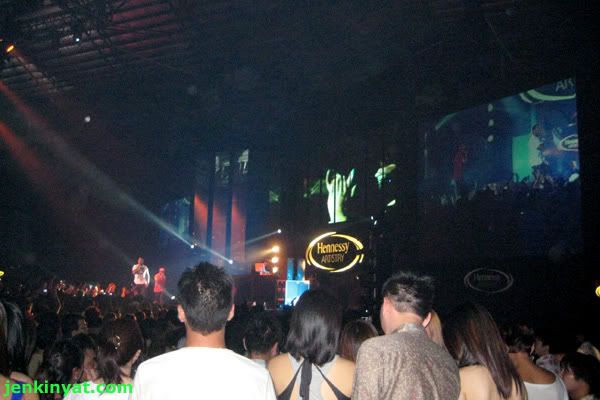 *Flo Rida In the house!!*

*Apple bottom jeans, boots with the furrr*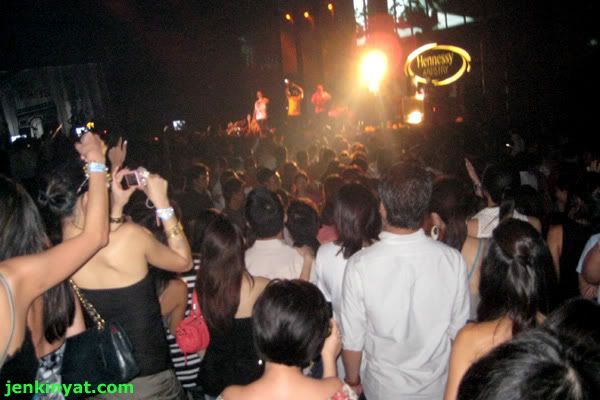 *Stunt crowd*
Well, I'm not too sure whether DJ Latin Prince played before or after Flo Rida coz I was too busy walking around meeting people and all..
Honestly I wasn't really paying attention to Flo Rida's songs..Only the familiar tune of "Apple bottom jeans and boots with the furr" reached my eardrums..
Anyway, I think DJ Latin Prince's pieces didn't suit Malaysians well..Although I wasn't paying attention, THAT'S THE POINT!!
It's not something that caught my attention..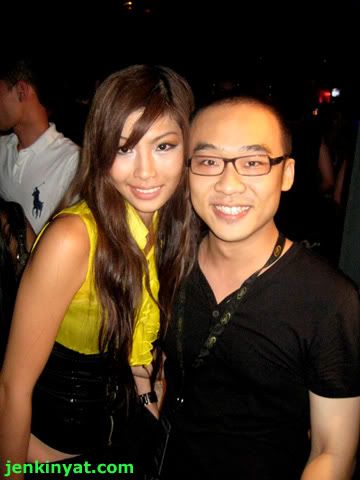 *Nicholas with Miss Malaysia 2008 Levy Li*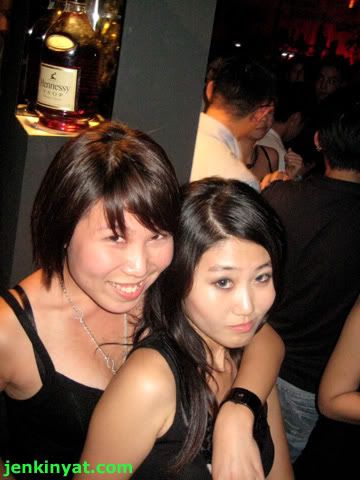 *Ji-ann and Kate*
The closing act belonged to homegrown VJ Callen..I would say that VJ Callen's mixeswere better than DJ Latin Prince..
Perhaps this local veteran DJ knows too much of Malaysia's music background, after being in the music scene for so many years..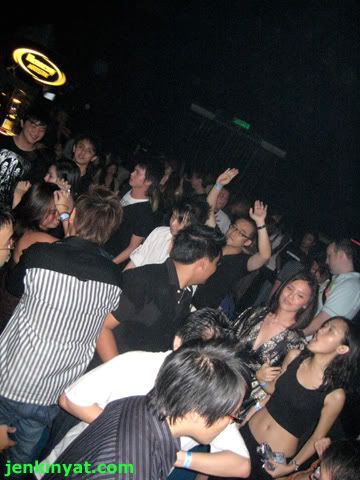 *The bloggers corner*

*Jen tired of dancing*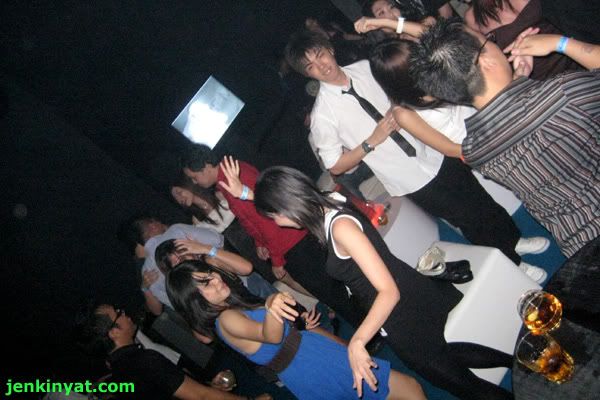 *Everyone is so hype up*
It was quite a scene where all people let loose and party like they never had before..
For sure, free booze and international artistes played quite a major role in moving people's feet..That's what I called "The Global of Art Mixing"..
Quite a lot of people damn wasted, in either way, as in pissed drunk wasted and wasted for not drinking enough..
I'm the latter one coz whole night long, I've only had about 6 glasses ONLY!!! Damn wasted right?!!
Anyway, prepare for Part 2, Me, Myself and The People..