Well, another traffic offender post from my university, yet again..
The vicinity of my uni campus, applies to both Main and School of Engineering/Architectural campuses, are well known for its bizarreness of double parking..
On Thursday, I was at the Main campus side to have my lunch with Kelvin and Jason..Found a perfect parking spot..
It's also famous for its double parking because most banks are opened in areas with insufficient parking space..This one, Maybank that is..
But I was damn hungry and I don't care coz it's very hard to find parking space..I just parked in it and went for my favourite Salad Chicken Rice..
After my meal slightly after 3.30pm, went back to my car and saw this..

*Cars blocking my way out*

*See all the cars?*

*The long stretch of double parking*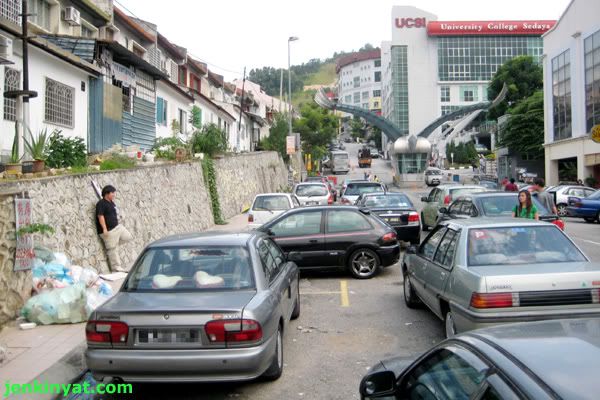 *The Satria R3 goes extra-mile in parking skills*
We waited for like 5-10 minutes, without honking at all..That's when I started to snap pics around..
Coz I wanted to give chance to the drivers..Who knows they were in the bank waiting for the long queue..I understand that..
Then a guy, drove off the car behind the Satria R3..That didn't helped me to move my car an inch at all..
Then waited again, hoping the Iswara driver was in the bank..
Then came 3 people, 2 girls and a guy..One of the girls was the driver..I recognized them, or at least one of the girls, they were from our uni, UCSI..Nice one..
I guessed they double parked the car then went for lunch at one of the restaurant nearby..
How could you double park your car then go to a restaurant far away from your car?
If you double park your car just right in front of the restaurant then it's fine coz you'll have a good sight whether you are blocking other cars..
Anyway, it's total bizarre and if you call the cops to come over to clear up the congestion, they'll arrive in like 5-15 minutes, depending on the traffic..
During my ordeal, a friend of my sis saw what I did and she blogged about it too..Check HERE..Coincidence or what?
Please double park responsibly..This is a community message brought to you by Yatz..