It is Jenai's birthday and we had a celebration in advance on Saturday at Bambo9, TTDI Plaza..
That's my first visit and I've heard so much about Bambo9 already..We reached the place at about 10.15pm..Yes I know it's freaking early..
The club was still much empty with some senior patrons..I guess they were there since happy hour in the early night..
But it proved to be a wise move to be there early as patrons started to swarm the club at about 11.15pm..
Yes I know..We've waited there for like an hour before the REAL party started..

*Jenai's sister, Jenni (in red) with boyfriend* 

*Hikaru and birthday girl Jenai*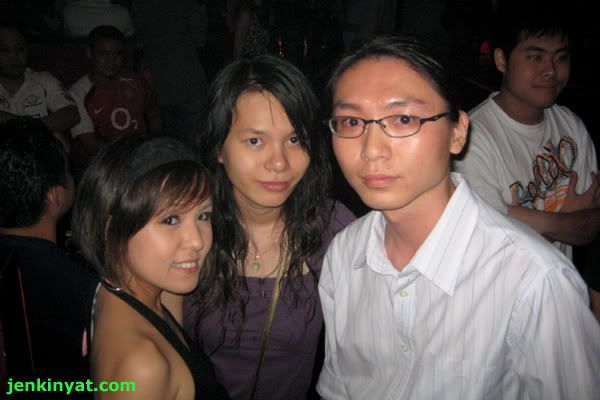 *Jenai with Josephine and I*
Yes, our whole bunch of blogger friends, only Hikaru and I were there that night..Many others ffk were not able to make it due to time constraint..
By slightly after midnight, we were all tipsy because we downed quite a number of glasses..
Not to mention Jenni totally KO-ed..LOL!

*We are quite tipsy*
We stayed and partied until 2.30am where we really can't stand it..And also because most of the people including Jenai had left the club..
So we decided to make our move as well..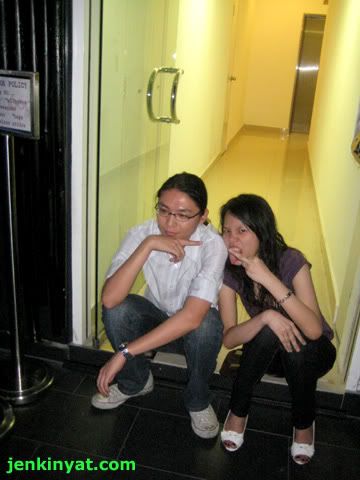 *Totally pwned*
Because we were so tipsy and afraid of roadblocks, we rested there for nearly 30-minutes..
It's not that I can't drive but it's safer to let the level of alcohol inside our body to digest and re-generate before I start driving..
Otherwise, it will be a night of drunktards bribing police force because I'm driving with single hand..
You ask me why? Coz I drink AND drive! LOL!! LAME!!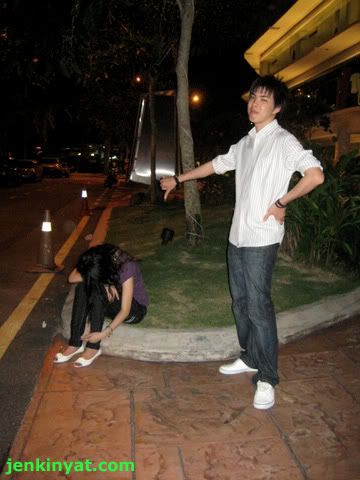 *Rest on the sea road side*
I think that's all..Happy birthday to Jenai..
One day let's go to Bambo9..Enough of BarCelona and Euphoria >.<