Check out Part 1 and Part 2 if you have not..
Now now, wait no more and proceed to pics and more pics..
*Ginny the French maid and Emily the Policewoman*
*The crowd watching a featured video*
It's actually a compilation video of birthday wishes of bloggers from Malaysia and Singapore..
Credits and million thanks to the bloggers involved..
[youtube=http://youtube.com/watch?v=7IdftEHy8i8]
[youtube=http://youtube.com/watch?v=QdB_GGUA1Bk]
*Everyone busy taking pics when Malaysian Dream Girl finalists were on stage* 
*That's professional photographer Kid Chan doing some stunts on stage*
*Daffy Duck is hot? Hmm..Not quite sure*
By the way, that's Kennysia's boxers and yes, that's Kennysia's butt and bulu legs..
*I like the 3rd girl from right..If not mistaken her name is Fiqa*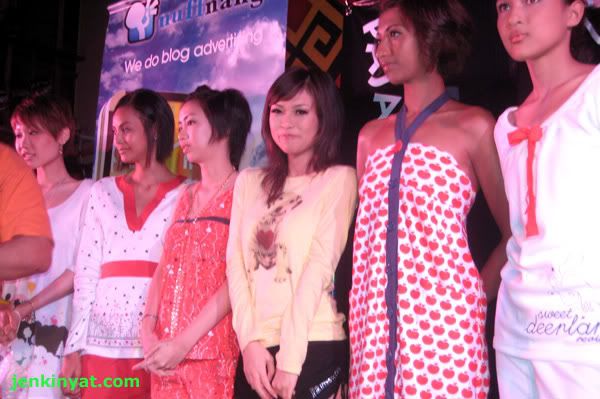 *How could I ever forget Ringo a.k.a Cheesie (in yellow)
*
These are the only pics that are clear in my collection..Think I've used the wrong mode in snapping the pics..
Plus my hands were shaky because I somewhat skipped my dinner..
Well, all the best to Ringo..
Check out Malaysia's first online model search at malaysiandreamgirl.tv if you have not..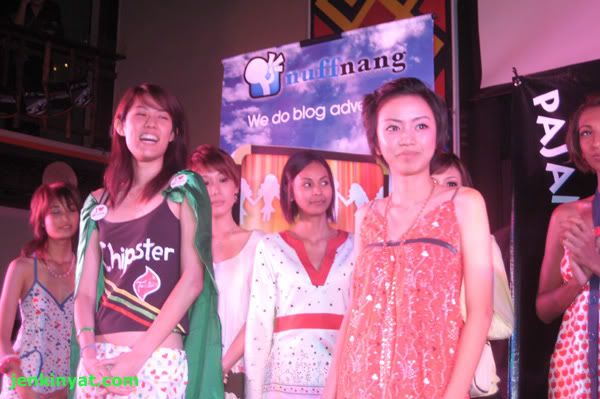 *Valerie the Chipster girl*
Valerie was the eventual winner for Best Pajama Entry, and got herself an Ipod Touch..
*KY won the Lumix in the bidding game*
KY got a stack of Nuffnang cash which he claimed to be around NN8000, which was about 800 pieces..
He got himself the Panasonic Lumix and he is damn happy with it..
*Xiaxue and Kellster*
Kellster was the highest bidder for the prize of "To be featured in Xiaxue's Blog"..
*Sheylara and Nadnut (yellow pants)*
Nadnut from Singapore was the eventual winner for the third and last Lumix that night..
And she got to be featured in kennysia.com as a freebie with the Lumix..
And that's Sheylara, who sang the BESTEST birthday song to Nuffnang at the end of the compilation video..
*Dawn Yang on stage for another bidding game*
The hot and sexy Dawn Yang was on stage for another bidding game..
The highest bidder gets a kiss by Dawn Yang..Now I think this is one of the thing to die for
And the highest bidder was Roshann..
[youtube=http://youtube.com/watch?v=6gRYRoiijJ0]
Well honestly, I would die for Dawn Yang's kiss if I were to choose between featured in Xiaxue or Kennysia..
But believe it or not, I would prefer to choose a Lumix over Dawn Yang's kiss..
*Jonathan, the Macbook winner for Most Chipster Packs In A Blog Entry*
Find his entry HERE..Stop counting..He has 400 packs of Chipsters in his room..
*David Lian, winner for Quirkiest Blog Entry*
Check HERE to see his entry..Yes he has got a Nintendo Wii for that category, which I'm also aiming for that..Sigh..
And that wraps up the whole party..
It ended at about 10pm and I must say it's a success..
Went to Pavillion's Coffee Bean for yamcha session after that and headed to Bar Club at Heritage Row..
I'm not sure bout you guys but I'm having a hard time there..It's so damn boring, I mean at Bar Club..
The Pajama Party was awesome..Am looking forward for next year's which 99.99% will be held in Singapore..