Continue from Part 1..The party kicked off with some ice-breaking games..
*The Nuffies were introduced to the crowd for their hardwork*
First off, the crowd were told to steal Tim's pillow and went on the stage to claim his/her prize..
Tim was smart where he threw his pillow into the back of the club..Fortunately no sound of broken glasses were heard..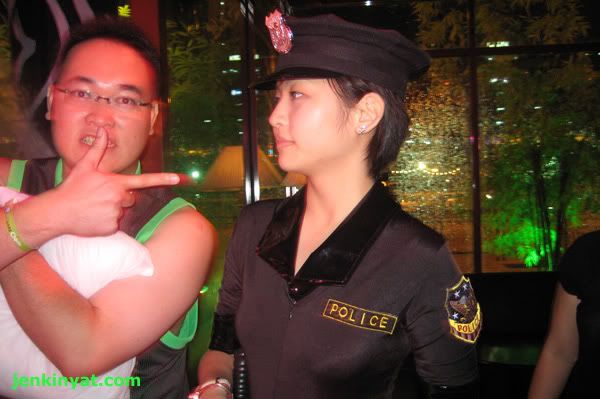 *That's Sheon trying to shoot Policewoman Emily*
Then the emcee, Liang, told Ming to run as fast as he could, for then he told the crowd to steal Ming's sock..
One fella stole it and went up stage to claim his prize..Then, Liang told him to take a 2-seconds sniff on the sock which entitled him another prize..
[youtube=http://www.youtube.com/watch?v=10E-fOD2Sls]
He did looked like he's addicted to the 'fragrance' of the sock as his body trembled like a drug addict..LOL..
Then, the crowd were told to steal Nicholas' slippers, which in the end 2 bloggers got 1 and went up on stage..
To decide who's the winner, they were told to do push-ups, with a girl on their back..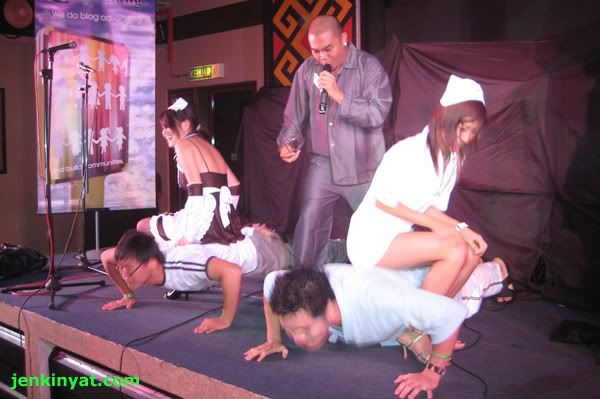 *Guy from PJ (left) with French maid Ginny on top and guy from Sarawak (right) with Nurse Natalife on top*
[youtube=http://www.youtube.com/watch?v=rCIFztUlfQM]
*Here's what they did*
After all that, patrons were given 10-pieces of Nuffnang Cash each for some bidding games later on..
The rules are bet with the Nuffnang Cash on games like 'Thumb Wrestling' and 'Rock, Paper, Scissors'..
*All girls but me*
Supposed all of the girl Nuffies were to sit there to give out the Nuffnang Cash..
I don't know why Ming asked me to sit there to give out as well..I don't think girl would be excited to see me in my sarong though..
*That's KY thumb wrestling with David Lian the Chipster Guy*
*That's me Rock-Paper-Scissors-ing with don't know who LOL*
After all the commotions, people leisure around and camwhoring wtf..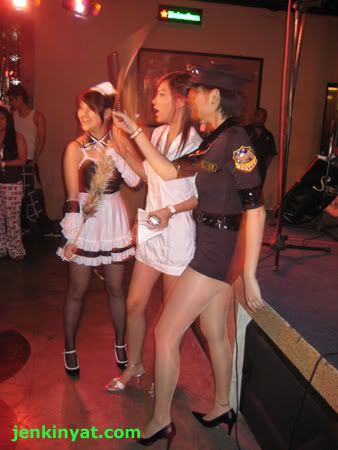 *The kinky Nuffies posed for photographers*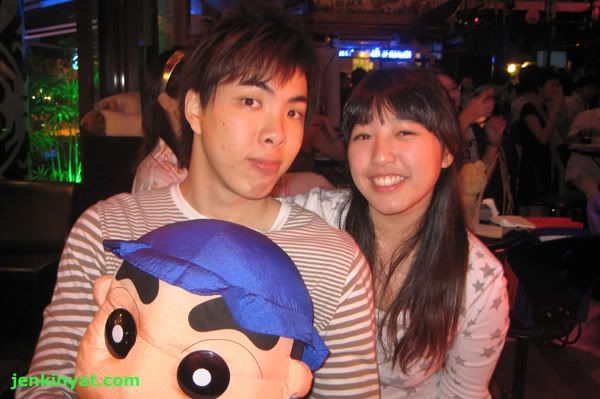 *Hikaru with Shin Chan and Aronil*
*Me with Nurse Natalie Fong*
Then moved on with some other games..I'll call it "The Name Tag"..
Everyone was given a wrist tag, green for singles and red for taken..
Each of the tag has a name on it such as Superman (mine), Tarzan, Hans Solo, Prince Charming, and Brad Pitt for guys, and their partners Lois Lane, Jane, Princess Leia, Snow White, and Angelina Jolie respectively, and few others..
So when names were called out, you have to find your partner to go up stage to claim the prizes..
*That's me with my Lois Lane on stage*
Any other thing I shall continue on in Part 3
Cheers~!!