Yesterday was the day where some of my friends officially graduated from their respective degree course..
It's the UTAR Technology School Convocation at Wisma MCA at Jalan Ampang, as usual..
So Eunice, Tsujimoto, and I went over to congratulate the graduands..
*Eunice (L) and Tsujimoto*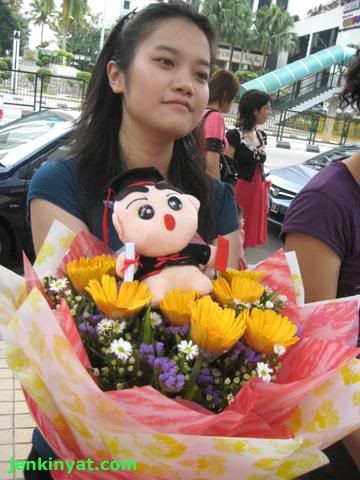 *Tsujimoto with graduand Shin Chan plushie* 
*Hikaru and family*
Convocation is nothing without camwhoring and camgigolo-ing..
*Tsujimoto, Hikaru, and Eunice* 
*That's me want to whack Hikaru with his ninja scroll*
*Hikaru and Eunice* 
*Tsujimoto and Hikaru*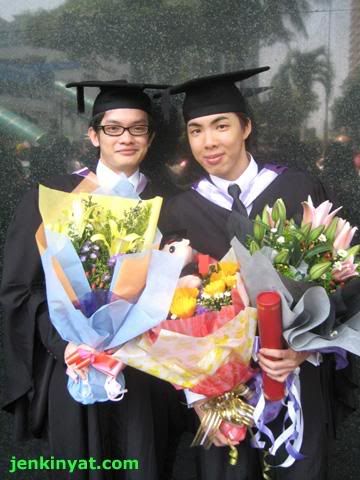 *Ryan aka Landoo and Hikaru*
Here's a rare sight of me smiling naturally..
*Landoo, me, and Hikaru*
Yes, I'm happy that's why looked natural..
That's why most of the times I didn't smile in photos because I didn't natural on the camera..
And my argument is I look like a pervert if I force myself to smile for the photos..
More photos..
*Walter, Hikaru, Landoo, and Ah Wah the genius*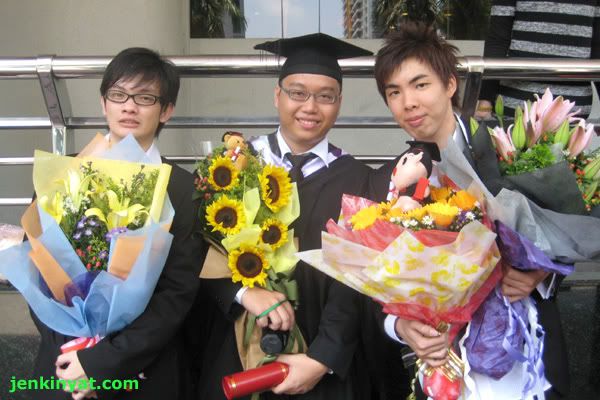 *Landoo, Helmut aka Heng, and Hikaru*
Our commotion ended at 12.45pm while loads of people still camwhoring around for this once in a lifetime experience for most people..
I don't think there's any people who would take another degree course after graduating from one..
Moving up to a higher level of Masters or Doctorate isn't the same as degree levels anymore..
When is my turn laaaaah~~ *frown*..