CHILLI PAN MEE FUUUUUUUUUUUUUUUU~!!! *raise hands up in the air and profusely shaking crotch*
Went to Super Kitchen yesterday with Wetwetwater, Jason and his friend (forgotten her name)..
This Super Kitchen Restaurant is just located opposite of Kin Kin Pan Mee..
I've became a chilli pan mee addict since I worked in Nuffnang..
A lot of friends asked me how to go to this place..I would say this road is a bit secluded if you are not familiar with Jalan TAR, Jalan Ipoh, or Dang Wangi area..
DIRECTIONS
It's very easy..Say you are heading to Maju Junction/Pertama Kompleks from Bulatan Pahang..
Before you reach Maju Junction traffic light, there's a Pizza Hut on the left side of the road..
So when you enter Jalan TAR from Bulatan Pahang, keep to the left lane and spot the Pizza Hut..
Turn in at the Pizza Hut and you will see Kin Kin and Super Kitchen at the back of the main road of Jalan TAR shoplots..
*Restoran – Super Kitchen – Restaurant*
They are selling the same thing as Kin Kin, that's chilli pan mee..
But they have more varieties in the menu, ranging from fishball noodle, porkball noodle, fried rice, spicy chicken rice, and such..
*Spot the signboard*
*Jason and his friend..That's the boss standing there*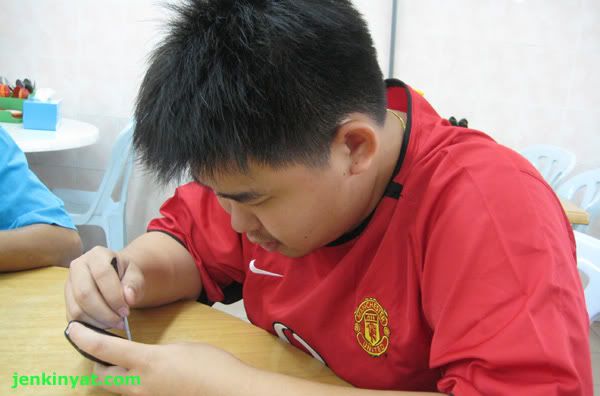 *Kelvin "Wetwetwater a.k.a Sapsap Sui" Leong*
This entry I'm going to teach those who have not tried chilli pan mee before on how to eat chilli pan mee..
Move on to know if you don't know..Jen jen jeng..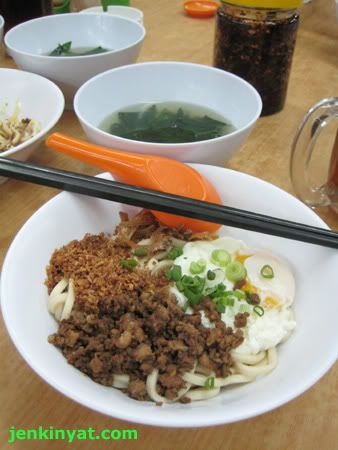 *The dry pan mee*
This is how the dry pan mee looks like when it's served..
There is only 1 size for their menu..No big or small portion..Only 1 standard size..
*The secret ingredient to full satisfaction*
This is the chilli that will make your mouth burn, then burn in your stomach..And lastly when you ahem..
*Put it on top*
REMINDER!! Put only in the range of 1 1/2 to 3 spoons full of chilli into your bowl..
It's advisable to put 1 1/2 or 2 spoons before you add in more chilli..Try it first before you do anything that might damage your internal organs..
To people who can't eat hot and spicy food, I would advice you to put only half a spoon or 1 spoon full..
Then mix everything all over..Add 1 spoon of soup or never add is enough for you to make the whole bowl chilli red..
*Mix around and become like this*
*Red hot chilli pan mee*
This is just 2 spoons full of chilli..Careful when you eat..Think of your love ones..
Honestly, the chilli isn't really spicy but it's hot..I mean burning hot..
It will burn till you sweat like hell..
And it's normal when you feel hot or spicy, you need to drink water or soup..
*The soup with some meatballs*
Again reminder..Careful when you drink the soup..
Your mouth would burn more after you take a sip of the soup..
All in all, 3 guys and 1 girl..We 3 guys, had 5 bowls of pan mee..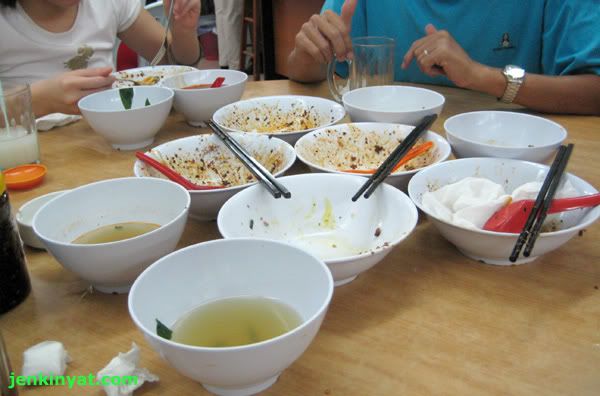 *5 bowls in the middle*
Yeah..3 of us have finished 5 bowls of pan mee and the girl is still eating..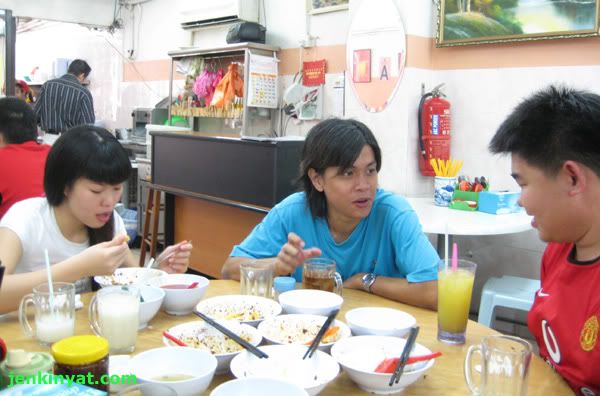 *Full satisfaction shows with a smile*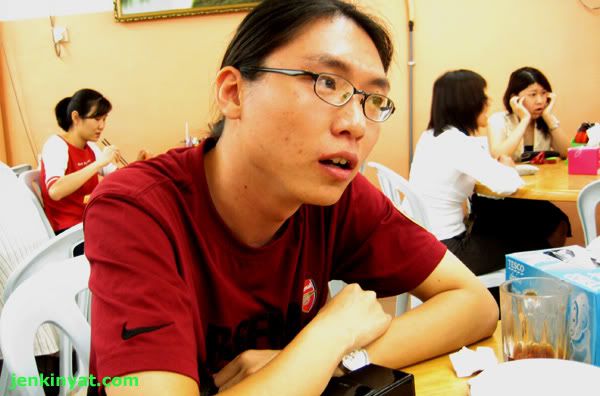 *I'm drop dead full*
The burning hot chilli and full satisfaction hence the phat look..
The price is okay..Rm4.50 per bowl..
Some people say Kin Kin's is better than Super Kitchen's..
Anyhow, I prefer Super Kitchen's because it's air-conditioned and I think it's nicer..
I have only tried the main Kin Kin once, and the newly opened Pandan Indah branch once..
I think it's a bit salty when I ate at Pandan Indah's..
Related Entries
Pan Mee @ Taman Connaught, Cheras

Pan Mee @ Eiffel Restaurant, Yew Lek, Cheras

Pan Mee @ Taman Miharja, Cheras Maluri, KL
Pan Mee @ Bao Bao, Pandan Indah