2 weeks back, there was a birthday party going on at my house..
It's somewhat a Cooler Club event, a private one that is..
So it's a January Birthday Party..So it's the birthday of James and I, which fell on 14th and 16th of January respectively..
Because it's a booze party and it's in my house, so I just invited those who knows how to come over to my house, due to the size of my house..
Sorry for not being able to invite all / everyone coz it's not my idea anyway..
I would invite more people if it's not in my house..
Let's proceed to the pics and with my narrations..All pics contributed by Jason Lee, taken with his Nikon D70..
*L>R – Smirnoff, Bacardi, Gordon's Gin, Chivas, Hennessy VSOP, Don't-know-what-whiskey*
These were the main characters (no not me) of the night..
Stocked in for a great game for drinking..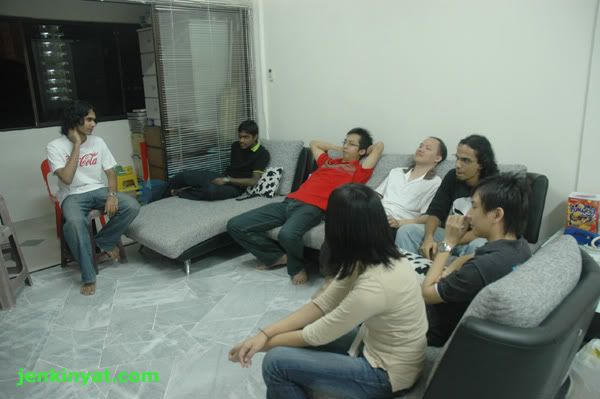 *Clockwise from left – Oliver, Edmund, James, HowZan, HowZan's gf*
*President of Cooler Club, Mixer Fuzz (no not DJ Fuzz)*
*Me explaining the Drinking Game*
*The birthday cake for James and me, Jien (that's what I was being called in the Cooler Club)*
*James and I blowing candles*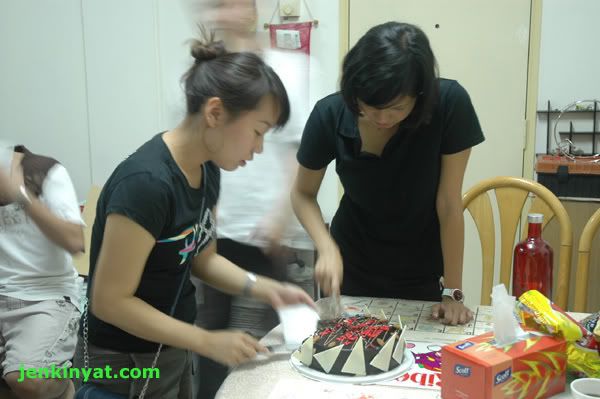 *Sue (L) and Dandelion cutting cake*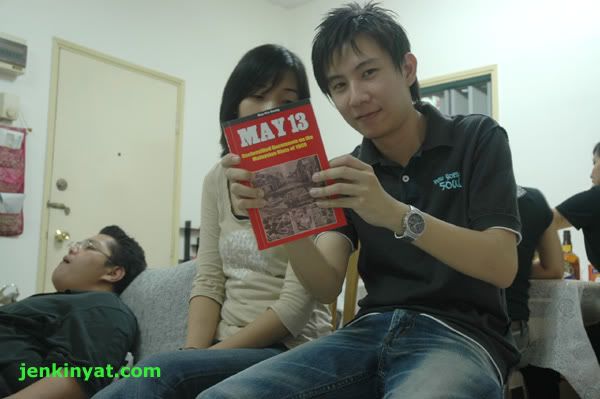 *I don't know why HowZan want to pose with my dad's May 13 book..LOL*
That's us playing the 'Drinking Game'..Yes it's a hell of a drinking game..
Anyhow also will have at least 1 person drink for each round..
Basically there's like a rule or punishment in the game..So Kevin had to do this Shadow Spin for punishment..
I know you feel a bit dizzy looking at this pic..Same goes to him at that time..LOL..
*President Fuzz drinking awfully*
*Hikaru drinking happily*
That's roughly what we did when most of us still sober..
More embarrassing pics (of myself) in the next entry wtf..