On 18th December 2007, Miss Hypertune 2007 Finals was held at Borneo Beruk Baruk CLub at Jalan Kia Peng, just beside Menara HLA, in front of Orange Club..
Hearing the name of Miss Hypertune you are assured with pretty babes, sexy babes, and more babes..
Well let's wait no more and just proceed to pics..
Oh wait..Before I continue, thanks to Jason for contributing the pics, taken with his Nikon D70..
Natalie Fong is kinda hot for her age..Guess it..
She's only 17-years-old during this competition..Yes, she has just finished her SPM in 2007..I know she doesn't look like one..
She's now doing foundation in don't know which college..
Tell me that you are loving her already..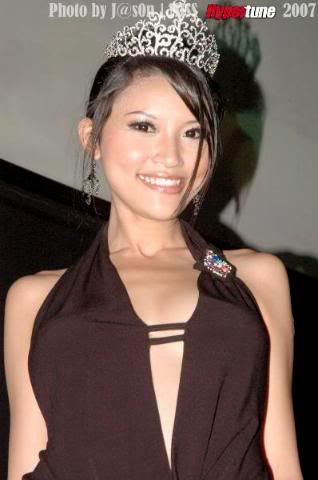 *Miss Hypertune 2006, Carace Kwan*
So the result was Andrea Cheah the Champion, Natalie Fong 1st runner-up, and Katherine Fong 2nd runner-up..
I happened to took a photo with her at KL International Motor Show (KLIMS) 2006, where she was the showgirl/ambassador for Nissan..
And the pic is in my Friendster – Katherine Fong..

*Champ Andrea Cheah and 1st runner-up Natalie Fong*
Well I guess that's all for a quick entry with few pics of pretty young hot babes..
I'm still trying to get the TXN uploaded but too many pics..I can't decide..
Anyhow, for more pics and info, do visit Zerotohundred.com Forum – Miss Hypertune..