Yes, I'm on R.AGE, that is..
The other day, Jolene Lai asked me whether I have a car of my own or not, and I said yes..Then suddenly she said R.AGE is looking for students to interview regarding the petrol price hike furore..
So I said ok, since I always got alot to say about current issues, but you lah, R.AGE is a subsidiary of The Star newspaper, which is one of the mainstream English paper in Malaysia..
Therefore no way my extreme comments will be published in the media..
And one more thing, my surname is spelled wrongly..From Yat, to Yap..Sigh, I already stressed out Y.A.T, T for Thailand, but still..
It's very common for the mistaken identity coz you can hardly know, or even heard of the surname YAT in Malaysia..
And now I tell you yes, there is, and I'm 95% confidently say that all of the YATs you can find in the Yellow Pages, are actually my relatives..
For the Chinese name, yes, there's still a number of other families with the same surname as mine..
But English-wise, the YAT, I can say only my family has it..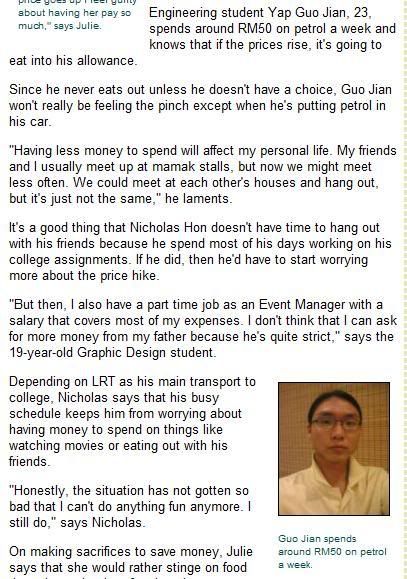 *Taken from R.AGE Online*
Read the full article HERE..