Last Saturday, Korean boyband Tung Vfang Xien Qi (TVXQ) held a concert at Merdeka Stadium, started at 8pm..
TVXQ, also known as Dong Bang Shin Ki (DBSK) in Korean, or Tohoshinki (THSK) in Japanese..
All 3 languages also brings the meaning of "Rising Gods of the East"..
As I mentioned before, Michael Song gave me 2 VIP tickets for FREE..Yes you read that, FREE, FOC..Maybe I'll treat him yamcha someday..Hehe..

*2 TVXQ Concert tickets*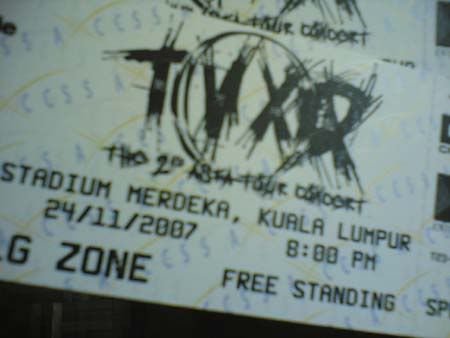 *I thought is VIP zone, but free standing*
I wasn't able to go so I gave it to my youngest sister instead..If it's Japanese band L'Arc~en~ciel or Glay I might force myself to go..Haha..
Anyway, the feedback regarding this concert is quite good, which I already expected..
You can't go wrong with a boyband with cute and handsome-looking guys dancing around on the stage..
All the pre-mature girls would love to see them and it's just as expected..

*On the stage*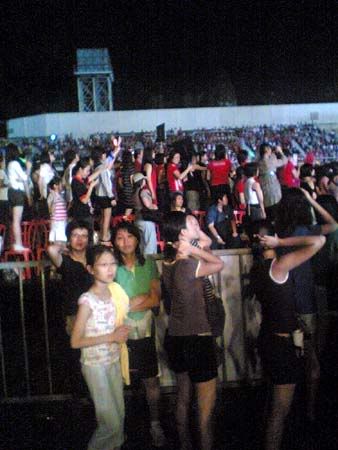 *The crowd*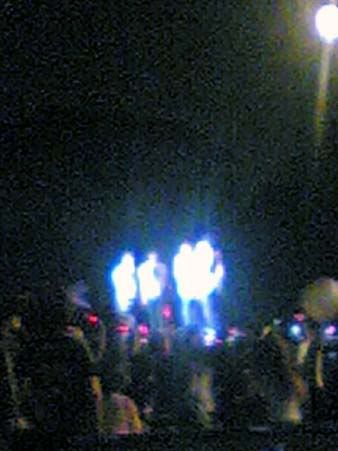 *4 glowing Gods wtf*
Okay, sorry for the pics because it's just taken with my lousy cam-phone..
The only thing I didn't expect is I saw guys, lots of guys at the entrance of the stadium..
It's not that they were accompanying their girlfriend or whatsoever..If accompany girlfriend then I understand la, but it isn't..
I saw this group, just 2-3 girls, with at least 5-7 guys, around the age of early 20′s, all heading towards the entrance..
I was like "Wtf with these guys.? Are they gay or what.?"
Well never mind..I hope people won't say that to me if I ever go to L'Arc~en~ciel's concert..Hahaha..
Okla, at least this TVXQ can sing in Japanese and a little bit of Mandarin as well..I will certainly go for it if compared to Rain's..
Rain is not any better than a licensed on-stage masculine gigolo, with his signature move, shirt-ripping style, plus singing..
See, you won't go wrong with that..It definitely sells like hotcake..Which girl doesn't like to see masculine guy ripping off his shirt, a.k.a gigolo..Hahaha..
Umm, before I go, thanks to Mikemmery again for his tickets, which my sister enjoyed it a lot..
A great relaxation to her stressed SPM-war..